WordPress SEO is a vital factor to increase your website traffic and revenue and therefore you need to work a lot in order to improve the SEO of WordPress.
In this newbie friendly tutorial, I have explained step-by-step what you need to do to optimize your website for WordPress SEO.
However one popular myth that "WordPress is the best in terms in SEO options" is quite popular nowadays. But that's not true!
Let me elaborate.
WordPress is not SEO friendly.
If your into believing that by installing WordPress you will attain top rankings, you have a misconception buddy.
It's your duty to optimized WordPress for SEO so that search engine bots can understand your WordPress blog or website and rank it accordingly. Fortunately, this guide makes it very easy to implement WordPress SEO even if you are a total beginner with zero experience.
WordPress SEO Basics
Altogether WordPress SEO has 3 different levels:
On-Site WordPress SEO
Off-Site WordPress SEO
On Page WordPress SEO
On-Site WordPress SEO and On Page SEO can really be controlled and performed using plugins and a bit of focus.
Off-Site WordPress SEO
It comprises of backlinks generation to your websites. Off-Site SEO can be achieved using broken link building and some other relevant techniques.
However in this post we will cover more of On Page SEO and On-Site SEO.
On Page WordPress SEO
On Page SEO refers to the optimization of web page content for users and search engines. Some common On Page SEO practices consist of optimizing title tags, internal links. content and URL's.
On-Site WordPress SEO:
This involves some essential technical SEO settings like page speed, Robots.txt to help search engine robots crawl and index your website or blog efficiently.
Don't worry! Once you grasp all the basics with this WordPress SEO tutorial, optimizing your website will become quite easy for you.
Let's grip the basics correctly:
UnCheck WordPress Visibility Option:
Inside your WordPress admin panel, proceed to settings –> Readings and uncheck the "Search Engine Visibility" option.
Refer the screenshot below:


By default, after installation of WordPress this option is checked that prevents search engine bots to crawl your website.
WWW vs Non WWW:
A lot users have a common question, which one to use? WWW (https://www.yourdomain.com) or non-WWW (https://yourdomain.com) at the time of WordPress installation.
Both WWW and non-WWW are looked as two different websites by the Search Engine, so you must stick to the one you pick. This can be configured at the time of setting up WordPress, by going to Settings –> General.

NOTE: No matter what you choose, it doesn't benefit in SEO anyways. However non-WWW url's have an added advantage that they are shorter in length and which makes sharing better.
Plugins for WordPress SEO:
There are a number of SEO plugins out there each having different features:
Yoast SEO
RankMath
All In One SEO
I use the Yoast SEO plugin on The Teenage Blogger, since it's quite popular and it constantly adds new SEO features making it quite reliable. Yoast SEO can be used to optimize any kind of blog, ecommerce website etc. for SEO.
15 Ways To Boost WordPress Website SEO
1. Submit Your Site To Google Search Console:
If you haven't heard about Google Search Console before, it's a free SEO tool by Google.
Adding your website to Google Search Console helps you to gather necessary data and help you proceed with faster optimization of your site.
2. Change WordPress Permalink:
The default WordPress permalink isn't SEO friendly and hence it is necessary to change that.
The url that can be easily read and understood is an SEO friendly URL. For example:
Whereas on the contrary, a non-friendly URL consists of numbers that makes it difficult to understand for regular users. For example:
https://yourdomain.com/?p=XYZ
https://yourdomain.com/archive/549
For better search engine visibility, you must use a friendly URL structure.
I have covered this up in my WordPress Essential Settings post, if you have read it then avoid and if you haven't, then you must change your permalink structure for a friendly search engine vision.
Go to Settings –> Permalink and select /%postname%/ as the permalink structure.


3. Implement WordPress Sitemap
Sitemap is an XML file that contains an index of all the important links (Posts, Pages, Tags, Categories) of your website. This Sitemap file helps search Engine bots to find all the pages of your website effectively.
Luckily, Yoast SEO has a Sitemap feature that makes this process quite easy. All you need to is install the plugin and go to plugin settings and generate a sitemap for your website or blog.
Your website sitemap will be something like http://yourdomain.com/sitemap.xml.
Next, head over to Google Search Console, submit and verify your site and submit a sitemap. With this, all your blog's internal pages will be crawled and indexed.
Breadcrumb is a quite vital factor in terms of On-Page SEO, and Google has started showing breadcrumbs in SERP since 2020.
Majority WordPress SEO plugins offer an option to enable breadcrumbs functionality.
Let's see how to enable it in Yoast SEO: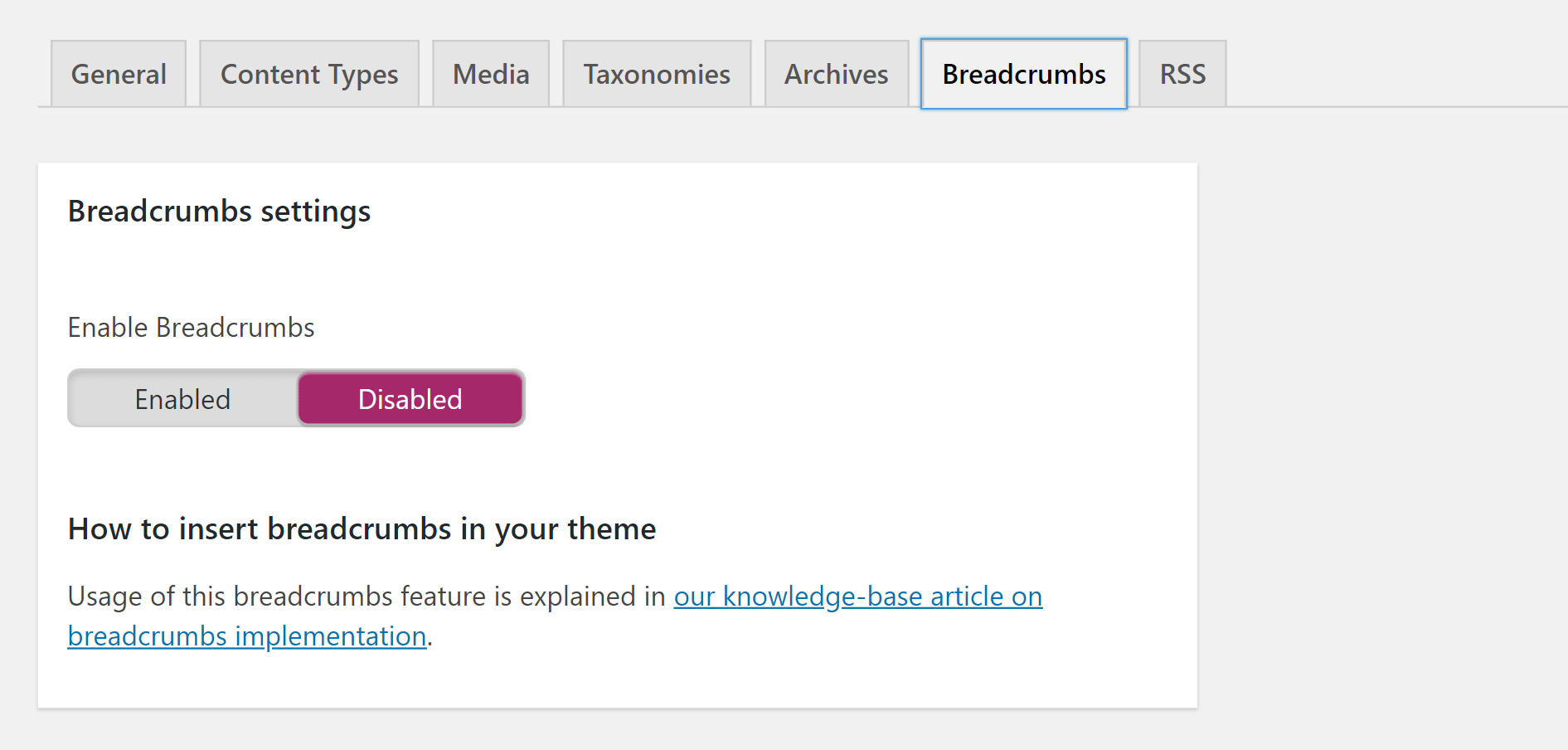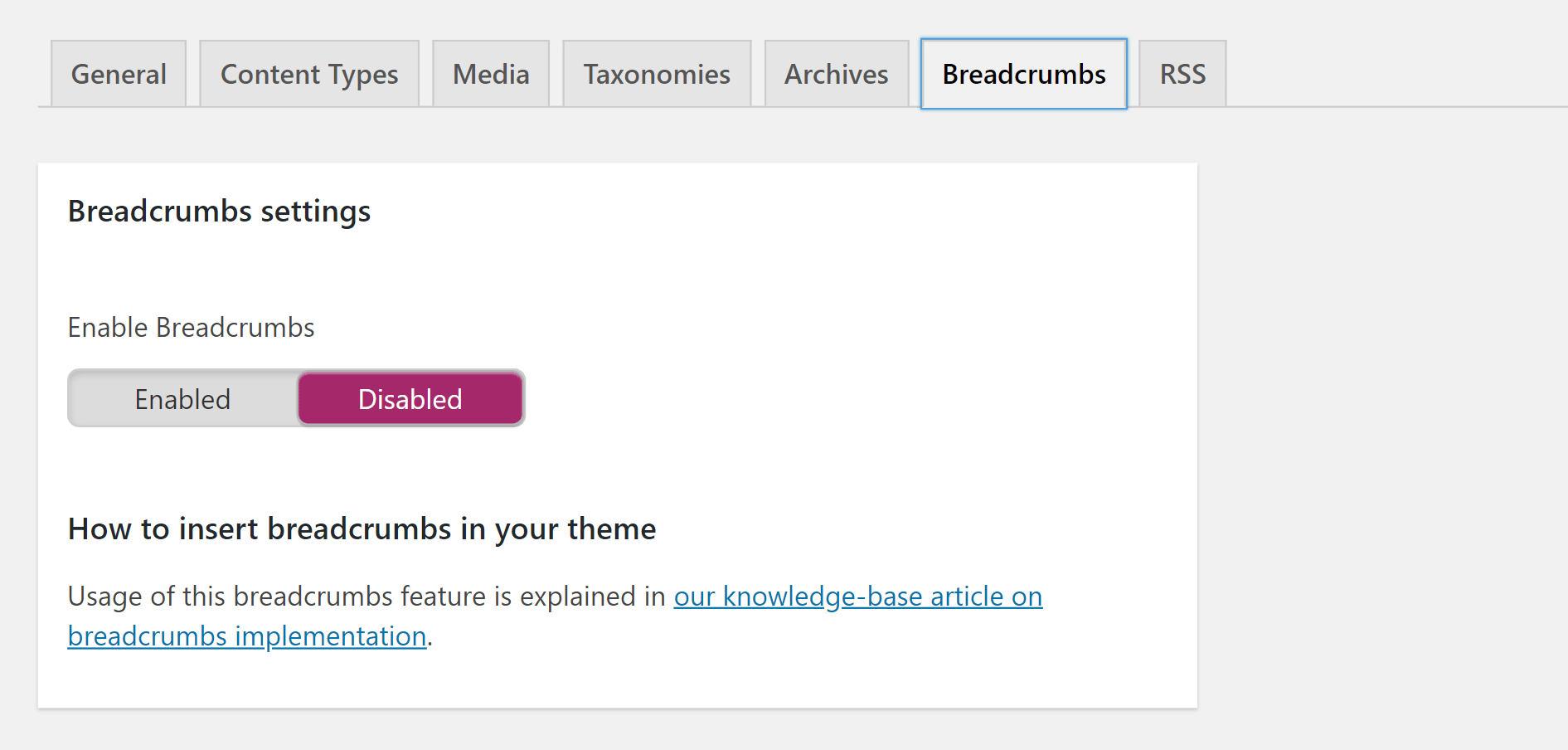 Besides SEO, Breadcrumbs also help in:
Improved user experience
Better search engine visibility
Reducing Bounce Rate
Now we will move ahead with the next SEO tip…
5. Use Target Keyword To Optimize Blog Posts And Pages:
Another unavoidable aspect of WordPress SEO, which if done correctly, can drive massive traffic for you in no time.
For this, you have to perform a keyword research firstly and secondly optimize your website's posts and pages for the target keyword. This process is also popularly known referred to as On Page SEO.
6. Perform Keyword Research:
The process of finding out strategic and profitable keywords for your WordPress website is known as Keyword Research. Without performing keyword research, SEO optimization of WordPress is just useless.
Tons of keyword research tools are available today and some of them just take less than 30 minutes to find 1000's of highly profitable keywords.
One of the best keyword research tool is SEMrush that helps you find profitable keywords for your website quickly.
7. Add Focus Keyword:
Popular On-Page SEO plugins like Yoast SEO offer a special feature known as Focus keyword.
It's quite easy to use this feature, simply add the focus keyword in the SEO settings of your WordPress Post editor section.
Refer the screenshot below: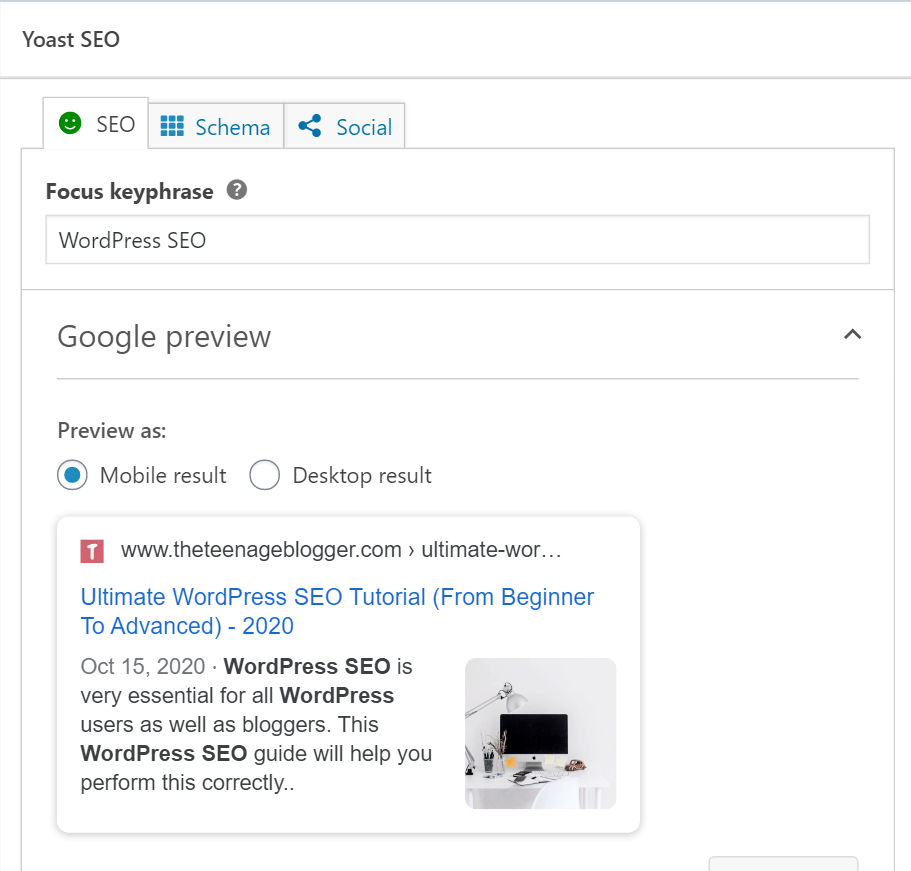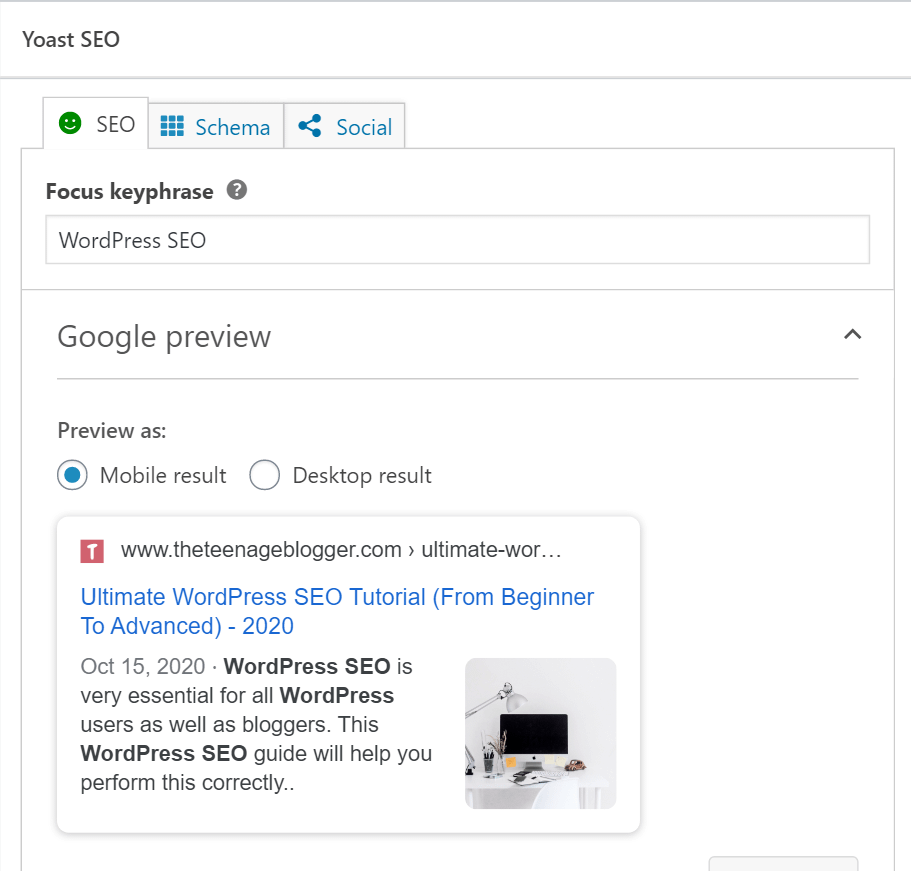 After you've added the focus key-phrase, the plugin will suggest some recommendation like:
Internal Links
Outbound Links
Keyword Density
Keyword in First Paragraph
Keyword distribution
and many more that are related to your article, refer the screenshot below: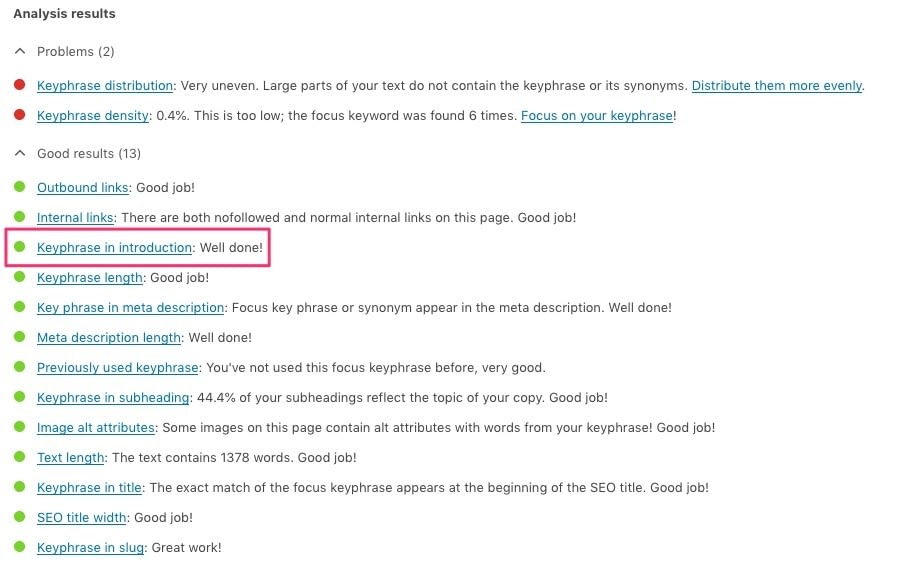 The suggestions in red means it needs your attention while green indicates everything is fixed.
8. Check Broken Links Regularly:
Broken links or the dead end of search engine bots are bad for SEO and hence you should have a regular check on them to prevent a negative score on your search engine optimization efforts.
Some WordPress plugins can easily take care of broken links:
It's quite necessary for you to scan for broken links on your WordPress website regularly and fix them with new links. The plugins mentioned above will help you fulfill this purpose.
9. Enhance Internal Linking in WordPress:
Internal Linking is an under-estimated technique to improve WordPress SEO. As the name suggests, it refers to the process of linking from one page of your website to another.
There are following ways in which Internal Linking helps:
Added benefits for On Page SEO
Passing of link juice from one page to another
Helps search engine to crawl your website in a better way
Normally users add internal links to pages or posts for WordPress SEO manually, however for a better overall link structure you can use a plugin known as LinkWhisper.
10. Use An SSL Certificate:
An SSL certificate allows you to use the HTTPS protocol. This ensures that the data between your website and visitor's browser are encrypted.
Google has clearly stated that HTTPS is a ranking factor and something that should not be avoided at any cost.
My favorite website hosting service SiteGround offers a free SSL certificate which is ideal for any type of non-transactional WordPress website.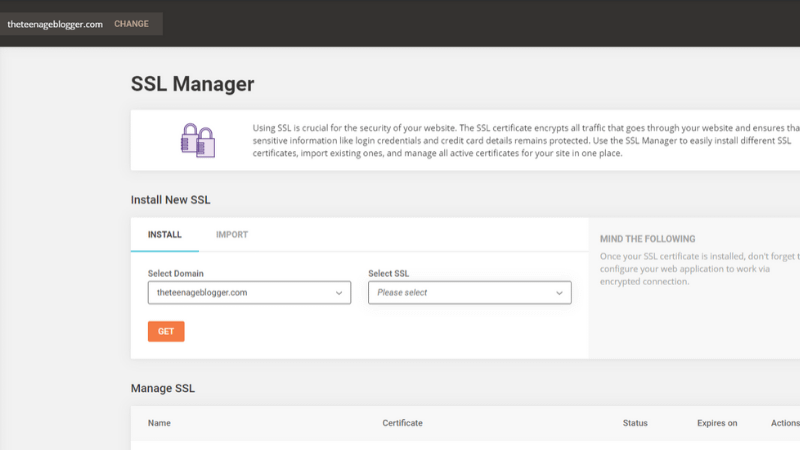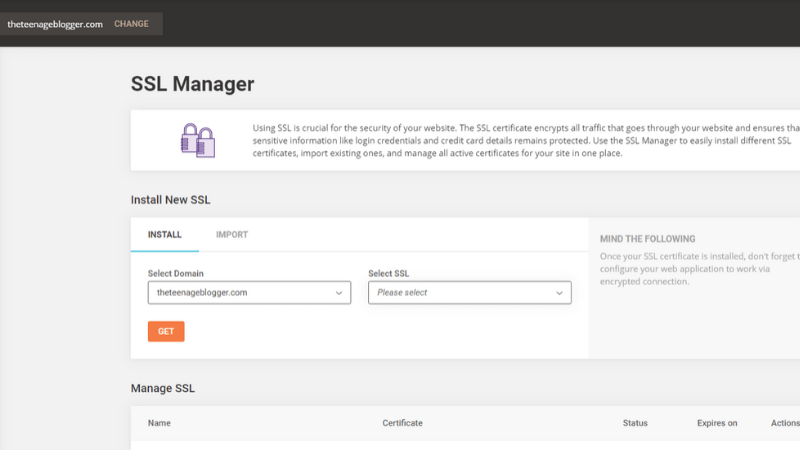 Relevant: How to Install an SSL certificate in SiteGround Hosting
11. Stay Away From Duplicate Content:
A major issue that affects the overall WordPress SEO score is duplicate content. When more than one URL of your website shows the same content, duplicacy occurs.
NOTE: If you structure your WordPress website quite smartly, there's no need to noindex category pages. Rather sometimes search engine understands your website structure using indexed category pages and ultimately rewards you with more traffic.
12. SEO Title And Meta Description for Search Intent Optimization:
Majority of WordPress users complain that they are unable to drive traffic even after writing high-quality content; One reason behind this is lack of proper search engine optimization.
However it's quite easier than you think:
Firstly, analyze the search results for your target keywords
You'll see that Google prefers results such as Shopping, Listicles, How to's articles etc for a particular search query
Then, it's time to optimize the posts/pages meta title, description with the help of information analyzed before
Some important things to consider regarding Title tags:
Make sure that the primary keyword is placed at the beginning of the paragraph
The title tag shouldn't be more than 65 characters in length
13. Image Sitemap and Alt Text:
Most bloggers don't utilize images as a part of their blog posts. This is a wrong practice as images do have a number of benefits that most of them are unaware of.
But what are the benefits of using images in blog posts?
They make content Pinnable on Pinterest
It makes your post attractive and presentable
It helps drive more targeted organic traffic through Images search
The main advantage is that if you optimize WordPress images for Google search engine using Alt text, then the bots use that to understand what the image is all about.
An Alt text is type of an image description that adds a meaning to the image as well as optimizes it for SEO.
You can add and optimize an image Alt text manually by clicking the image in the Gutenberg's post editor section. Refer the image below: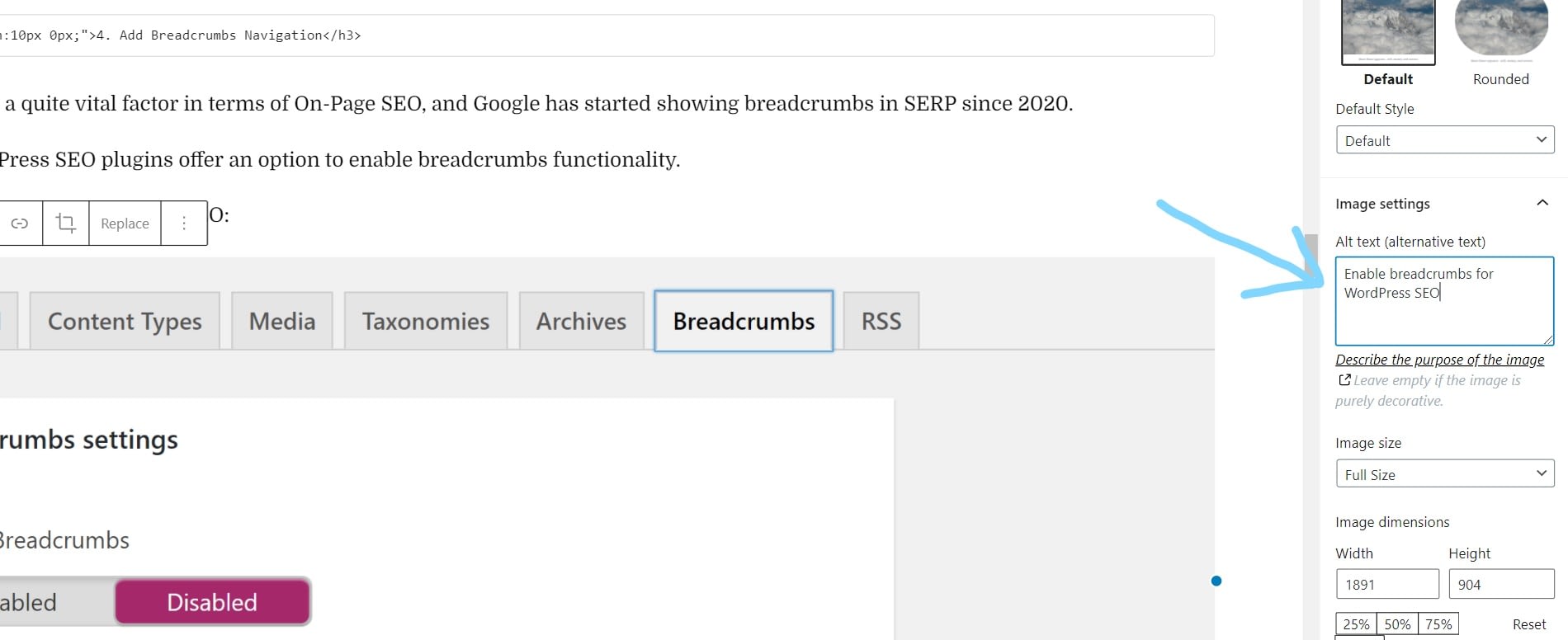 14. Use An Image Compression Plugin:
Although images are quite important in terms of search engine optimization, still they can become a serious issue by decreasing loading time. In such case, an image compression plugin helps reducing image size without decreasing it's pixels and quality.
One such plugin that I use at The Teenage Blogger is ShortPixel which just works wonders.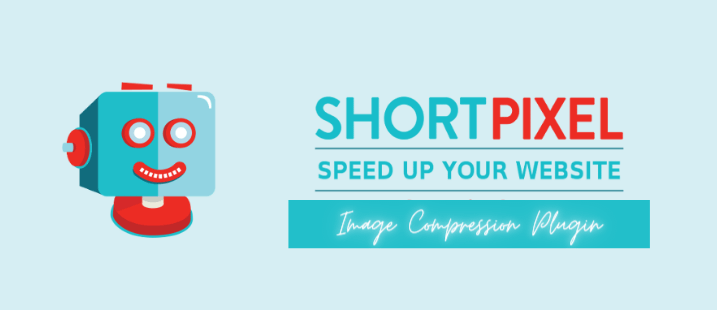 You can use the ShortPixel plugin to compress the existing images as well as new images on your WordPress website.
Try implementing as many SEO tips as possible and you'll will be set to receive an increase in the amount of traffic.
Here are some commonly asked questions about WordPress SEO:
In How Much Time can SEO Results be Seen?
It depends from a few weeks to months. Also your frequency of adding new posts, updating content and backlinks etc add a definite score to your SEO. Moreover the search engine algorithms keep changing so you may or may not see better results.
Does WordPress theme have an impact on SEO?
WordPress theme in some ways does have a direct impact on SEO. Premium themes tend to perform better in terms of SEO as they have advanced coding and user friendly interface. Check out some of the best WordPress themes here.
So that's it for this post. Do mention what other practices you follow for WordPress SEO and which tip did you like the most in this post. Share your suggestions in the comments!
Good Luck 👍