Hey Readers, I am back with a new Review Post! In this post I will be reviewing a recently launched software know as Krowd.
Let's begin…
What Is Krowd?
Krowd is a free traffic generation tool.
The software helps you to drive traffic from one of the world's most high traffic social networks to your websites or offers.
The software sources content that is proven to work (obtain engagement and in turn, traffic) and lets you rapidly replicate what the successful marketers are already doing.
This enables you to obtain similar (or possibly even better) results than platform's most successful marketers.
How Can You Make Money With Krowd?
Quite simply, traffic is really important for anyone looking to make money online, regardless of the method you choose to use.
The fastest way to make money with Krowd (and the method the product creators commonly use) is affiliate marketing. Driving targeted traffic directly through your affiliate link in order to make commissions.
Does Krowd Work?
Absolutely, it does.
The software does exactly what it claims, it gives you a proven formula to drive visitors from a high traffic social network to your website.
In order to drive the traffic, you will need to actually use the software (i.e. entering the keyword) and following the steps to setup your traffic streams.
While the software automates a lot, it's down to you to make the most of it with regular use.
Krowd Demo
Are There Any Upsells?
The Front End Features as well as the Upsells are mentioned below:
Front End Features
Cloud based software
Monthly Quota: 150 Search, Extract, Emulate & post to Pinterest Monthly. (5 Daily)
Search: Search for high traffic pins ready to emulate in any niche, for any keyword
Extract: Add the pins to the 'Inspiration' section by 'add Inspiration'. Software extracts the titles, descriptions, and tags of the high traffic pins ready to use.
Create: Create pins just like the high traffic pins found in step 2 similar pins like using our built-in ultra simple image editor
Image selection: select images from Pixabay and Pexels. Quotes: add quotes similar to pins you added in the inspiration box
Desc: Description, tags, titles can be added manually
Share: Share it on Pinterest manually
Plus: Share manually on Facebook & Twitter as well.
OTO1 – Krowd Control – Price: $67
Same features as FE with the following additions:-
More potential FREE Traffic
450 Search, Extract, Emulate & post to Pinterest Monthly (15 Daily)
Spin – Description, tags, titles added and spinning content option.
Automatically give titles, descriptions, tags options to choose from
Image selection addition: upload your own images
OTO2 – Krowd Stampede – Price: $37
Same features as FE with the following additions:-
Max potential FREE Traffic
900 Search, Extract, Emulate & post to Pinterest Monthly (30 Daily)
Step 1, Step 2, Step3 Included.
Spin – Description, tags, titles added and spinning content option.
Automatically extract titles, descriptions, and tags to choose from.
Automation – Schedule on Pinterest. Huge for hands on operations and scalability
OTO3 – Krowd Instant Traffic (Pixel added to sales page – $97)
User Pixel is added to Swarm sales page enabling them to build a large targeted audience.
OTO4 – Krowd AGENCY (Reseller package – $47)
Reseller package.
OTO5 – Krowd 7Day To 1k (Price: $197))
7Day To 1k video tutorial with Done-for-you products.
All the user needs to do is fill in the blanks, generate and give away high quality pre-configured products. Each product becomes unique to the user after filling in the blanks.
Users benefit from an inbuilt promotional structure.
The Good
Krowd helps you to drive traffic from the very popular social network Pinterest.
Pinterest is a hugely popular site that actually has 322 million active monthly users as of the end of 2019 (actually more than the sales page claims).
The 2020 stats are not yet released, but given Pinterest's rapid growth, we can probably expect this to be significantly higher now.
Suffice to say, the traffic source is a powerful one.
The tool effectively does Pinterest 'competitor research' for you, finding the most high traffic Pins and extracting the relevant data that you can then reuse as your own, replicating proven traffic formulas.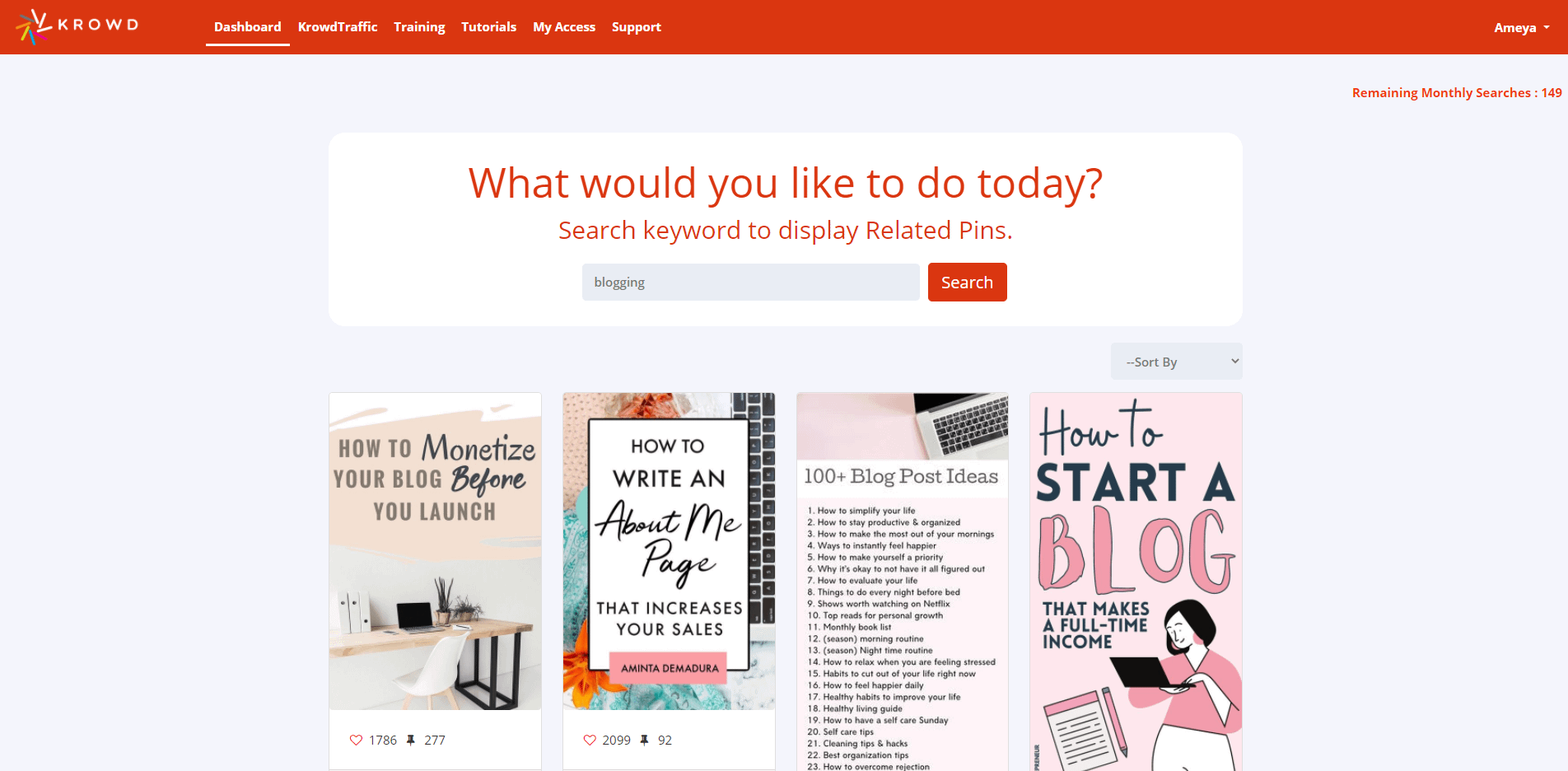 Krowd connects with 3rd party image providers Pixabay and Pexels, enabling you to quickly source copyright free images for your Pins.
The software does a great job at enabling you to replicate (or copy) what successful Pinterest users are doing extremely rapidly. You can of course 'tweak' what they have done to put your own spin on things or potentially see even better results.
>> Click here to check out Krowd. Krowd enables you to drive high quality free traffic in 3 simple steps!
The Bad
Sorry if this bursts your bubble, but in order to obtain this free traffic, you will need to do a bit of "work".
Krowd really does speed up the traffic generation process, but it doesn't automatically do everything. For example, you will need to decide which of the high traffic Pins sourced by Krowd that you want to emulate.
I'd also recommend doing a little bit of manual PEO (that's pin engine optimization) so your data isn't an exact replica of someone else's. Using someone else's data as a starting point is what I've found to be best.
Krowd does over 95% of the traffic work for you (if not more) but there is a tiny bit of intervention required from you in order to succeed.
The reality of being a successful marketer is that tools help, but I've yet to come across a tool which just spits money out without you doing anything at all. So if you want to benefit from free traffic you will need to commit just a bit of time.
But Krowd will certainly help you to do things much quicker than ever before.
Conclusion
There is nothing 'ugly' about Krowd, it's a solid traffic generation product.
Venkata, Mark and Nakul have pulled together all of their years of traffic generation experience and created a product that automates the vast majority of Pinterest traffic generation for you.
If you're an action taker, you will make the money back that you spent on Krowd extremely quickly, especially as the introductory pricing for the software is incredibly affordable.
Look, we all need traffic and Krowd will help you to obtain it from one of the best free traffic sources online.

The current price of Krowd is very affordable, so I strongly suggest to take a look. It comes with a money back guarantee, so you can even take it for a test drive.
Thanks for reading out this post 🙂 . Read more such awesome reviews here.
Peace ✌️