So are you are looking to start a blog and want to earn passive income from it, right?
Then you are at the correct place!
I am a blogger too and would like to give you a step-by-step in-depth tutorial on how to start a blog the correct way and make it a part time business.
These are the exact steps that I followed to start a blog and begin earning a consistent income through it. My blog now makes around 1000$-2000$ per month which made me live an independent life even as a college student!
In this tutorial, I am going to share each and every detail with proper screenshots , so that you can get exactly the point I am trying to share.
I am not an expert or a guru – just someone who loves blogging as a passion and wants to scale it to a full time business or even as a career!
By the way, if you want even more comprehensive guide about how to start a blog the correct way , you can join my free 10-day blogging bootcamp where I will teach you exactly about starting a successful, profitable blog. Sign Up Now!
I have written this post in a very beginner friendly manner so that every newbie can set up a blog in under an hour provided all the steps are followed closely and thoroughly.
Ok ..without any further ado let's start it!
What is a Blog and why you should start one?
So a blog is a type of an online journal which is constantly updated with new articles or posts. Take The Teenage Blogger as an example. Blog can be based on any niche like Travel, Food, Reviews etc.
Mostly people blog for two reasons, either as a hobby or passion they love writing about or for business purposes to earn money. Bloggers earn money by monetizing their blog in various ways. I will talk about blog monetization later in this post.
Now let's dive in to see how you too can make one.
Envato Elements: Introduction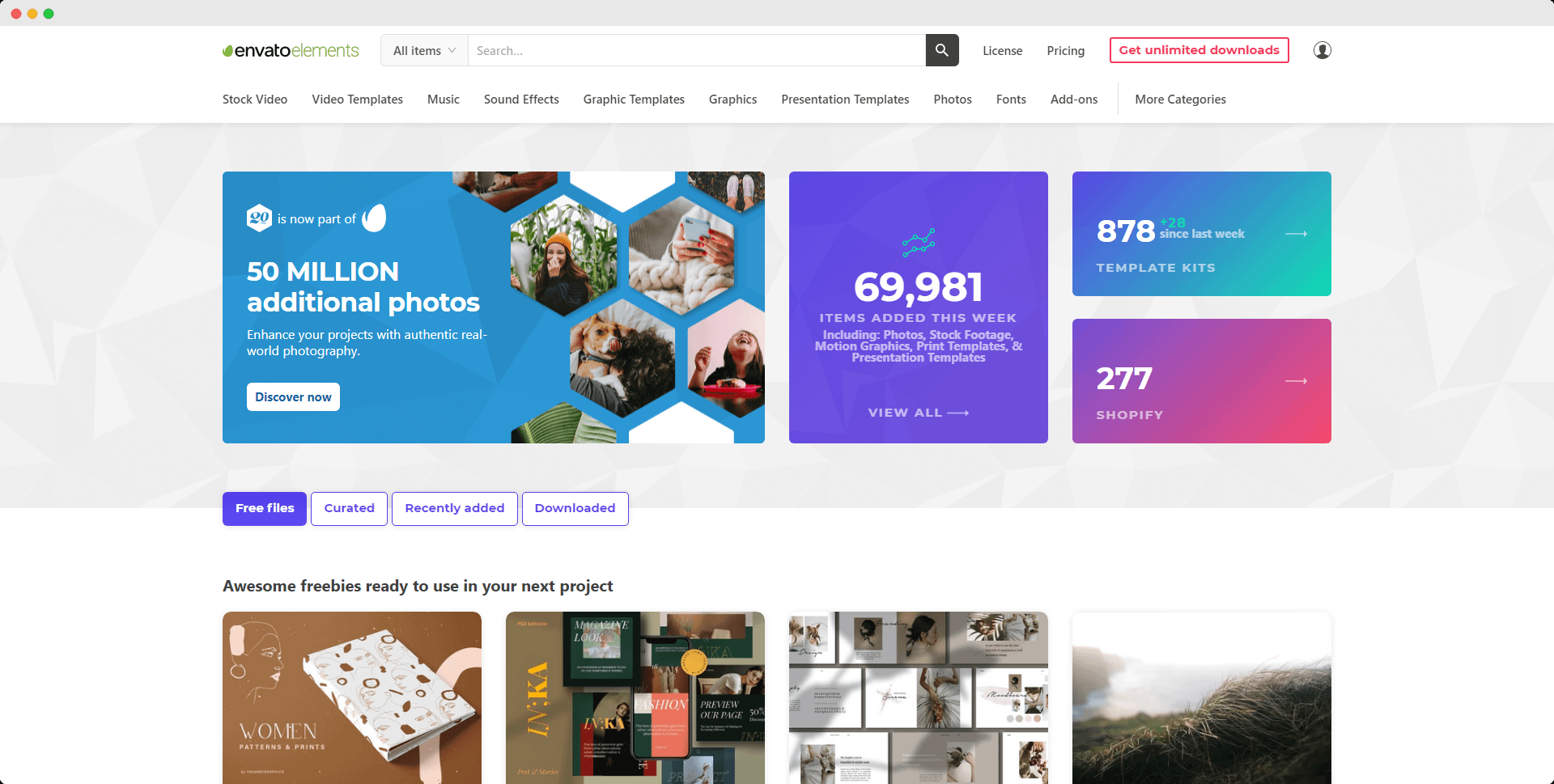 On what topic are you going to write your blog on?
If you are planning to blog as a hobby or passion ,then you are free to choose any niche of your choice. It doesn't matter much.
However if you aim to make blogging a side time or a full time business and make money in the long run, then you need to choose your niche carefully. Jumping into a niche just because it is broad and highly profitable will give you no success.
Remember these points before choosing your niche:
Always follow your Passion – Blogging on a niche you are passionate is the ultimate key to success as it is a driving force that makes your blog reach to the next level!
Go for a Broad niche – Many successful bloggers suggest that if you are just starting out as a newbie, aiming for a broad niche is the safest bet. For example take the dog niche ..it is a multi million industry and good for someone who loves reading and writing about dogs.
Don't Overthink – Be cool. If you can't decide on something right now, just start blogging on whatever topic you like. Maybe in the future you can either make your niche more specific or expand it as per reader's interests.
After deciding on a niche, move on to the next step:
Step 2: Choose a Domain
Domain refers to the name of your website/blog.
Deciding on a domain name is totally your choice, however prefer reading the following tips before you get one:
Make sure the name is easy to spell and remember: Try to go for a simple and sweet name rather than an ambiguous or a misspelled name. Staying away from numbers and hyphens is a good idea.
Make sure to have .com in your domain name: Avoid anything other than .com such as .org, .net , .co etc because they are less popular and don't look much professional.
Pick a niche based domain: If your domain name is related to your name then it becomes easy for readers to remember the name. For example, "The Teenage Blogger" related to blogging niche or "The Tea Story" related to the beverage industry.
If you are unable to decide on a domain name, don't worry about it! Just go for a name you like and move ahead. Or an other option you can choose is having your own name as a domain. This is a safe choice for someone who is not quite sure about a good domain name.
One of the best places to buy a domain is Namecheap.com ( I purchase all my domains from Namecheap ). They provide cheap domains and have a professional and friendly support system.
Step 3: Choose a Blogging Platform
This is an important step that you can't miss upon. If you want to blog that makes consistent money then go for self-hosted WordPress platform. In order to set up WordPress you need to buy a hosting service, about which I will talk in the next step.
But why should you go for WordPress.org? The answer is simple. WordPress provides complete control over your blog/website without any limitations.
Various features and Plugins in WordPress are not found in any other platform. Moreover, majority of big companies, successful bloggers and marketers prefer WordPress over anything else.
I know there are a number of other good platforms as well like Wix, Squarespace, Weebly etc. However these platforms do not provide all the essentials that are required to run a money making blog. There will always be a limitation in one way or the other.
Remember: WordPress.org and WordPress.com are two different platforms. WordPress.com is free and NOT self-hosted. Also it comes with various limitations as I discussed above.
You will be able to install WordPress.org when you buy your hosting.
Step 4: Sign Up for SiteGround Hosting
To run a Self-Hosted blog you need a Hosting.
As always, there are a number of Hosting companies out there to choose from. But I always recommend SiteGround Hosting to new bloggers. Even this blog is hosted on SiteGround.
There are various aspects that makes it stand out from other hosting services available in the marketplace. I have listed some of the features below:
Free SSL Certificate
Unlimited Daily Backups
Free CDN
Free Email
PHP 7.3 Support
Top Notch 24/7 Customer Support
Trust me! Choosing SiteGround Hosting was one of the best decisions I ever made during my blogging journey. Any newbie, even with zero tech skills can set up a running blog with SiteGround's easy Hosting setup.
Sign Up for SiteGround Hosting
Signing up for SiteGround is very easy, just make sure to follow all the steps closely.
1. Proceed to SiteGround.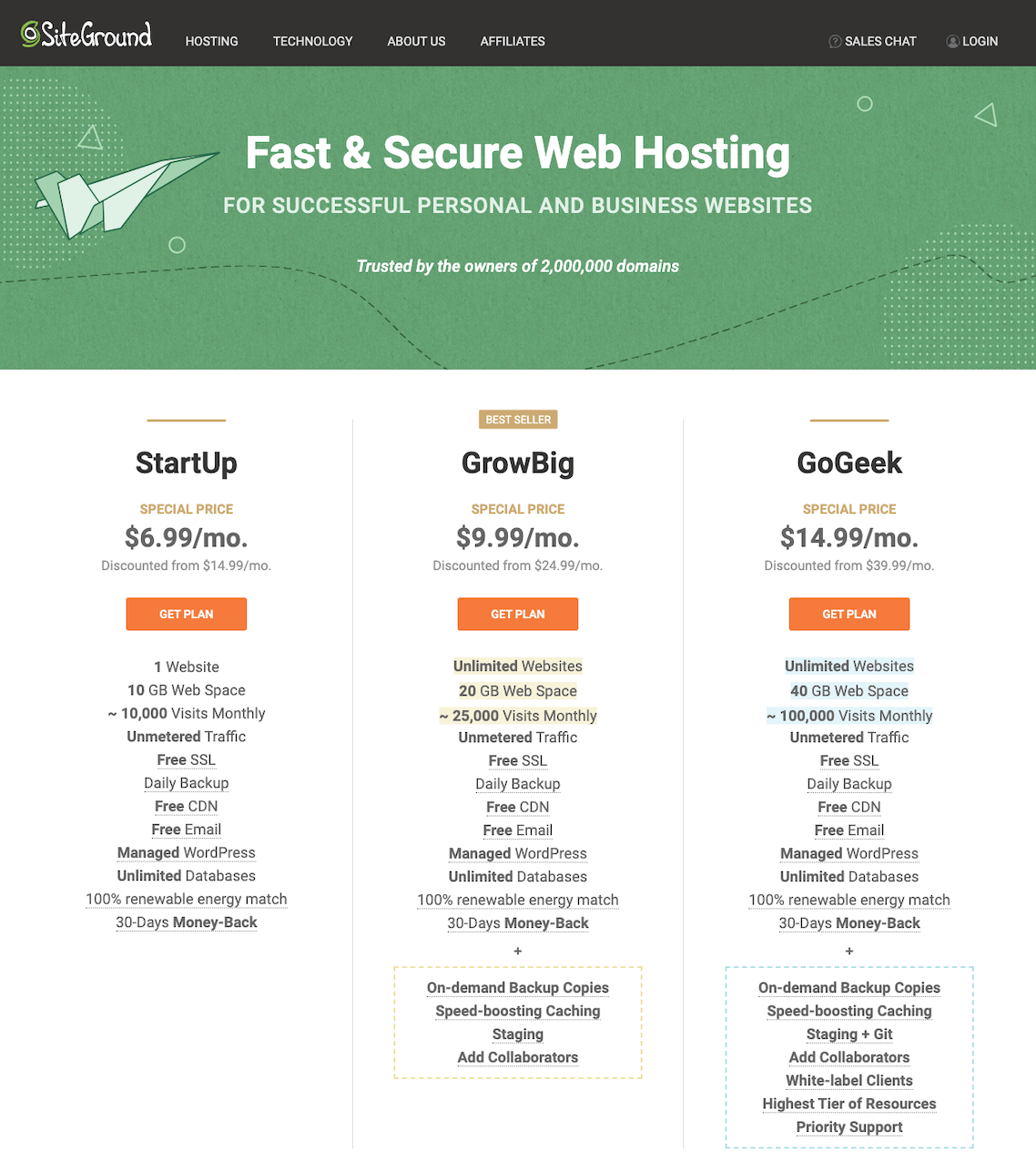 2. Choose a Hosting Plan: SiteGround offers three hosting plans – StartUp, GrowBig and GoGeek.
To new bloggers I would recommend to opt for GrowBig plan rather than the StartUp one, as it has more potential and features that would empower your blog with great speed and performance!
However if you are on a very tight budget, then StartUp plan is fine to go with.
3.Register a domain. You can either register a new domain from SiteGround or enter your previously purchased domain ( It's better to buy a domain name from NameCheap , as I discussed about it in the previous steps). Click 'Proceed' afterwards.
4. Review your details once, enter your payment essentials and click 'Pay Now'.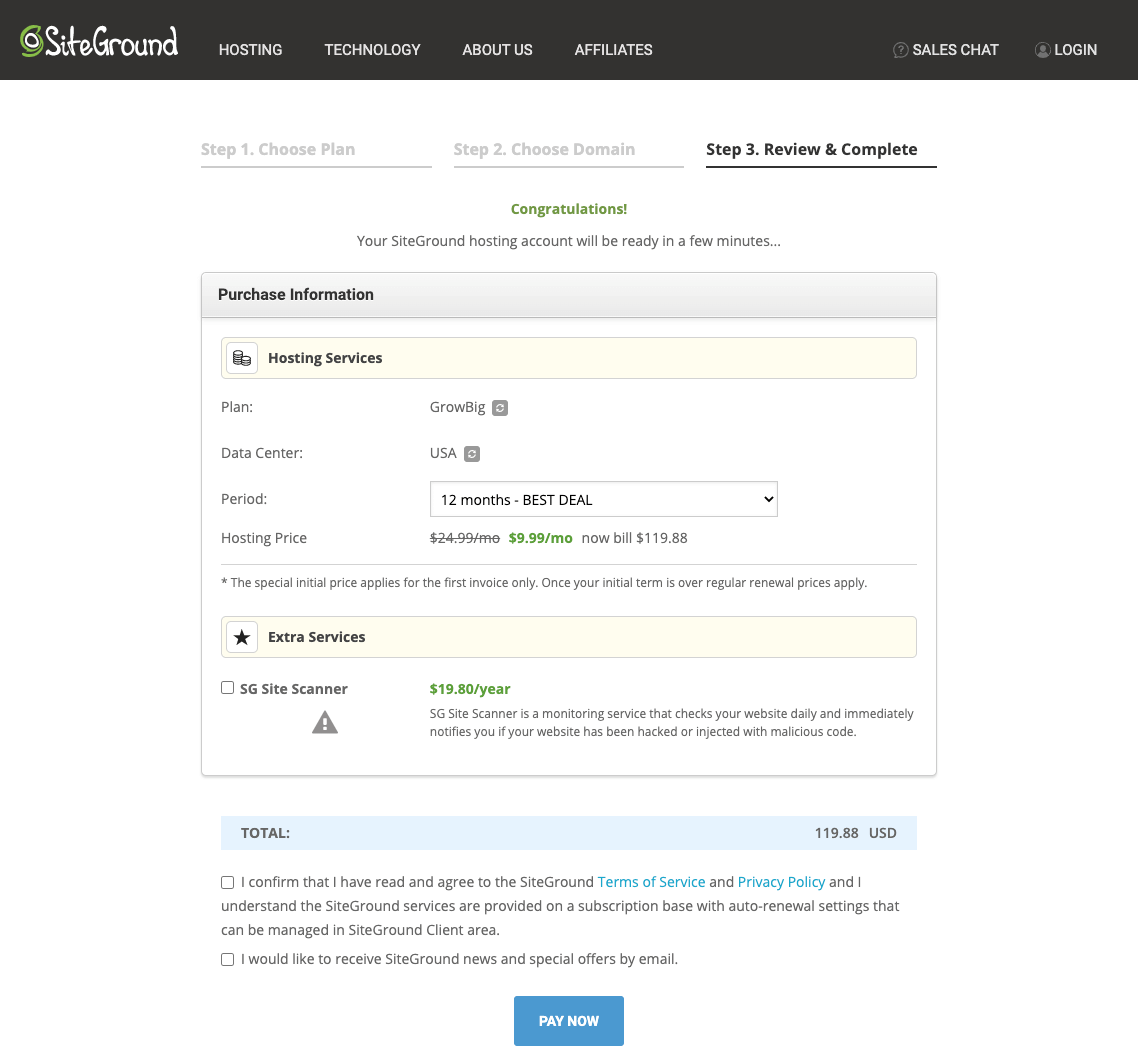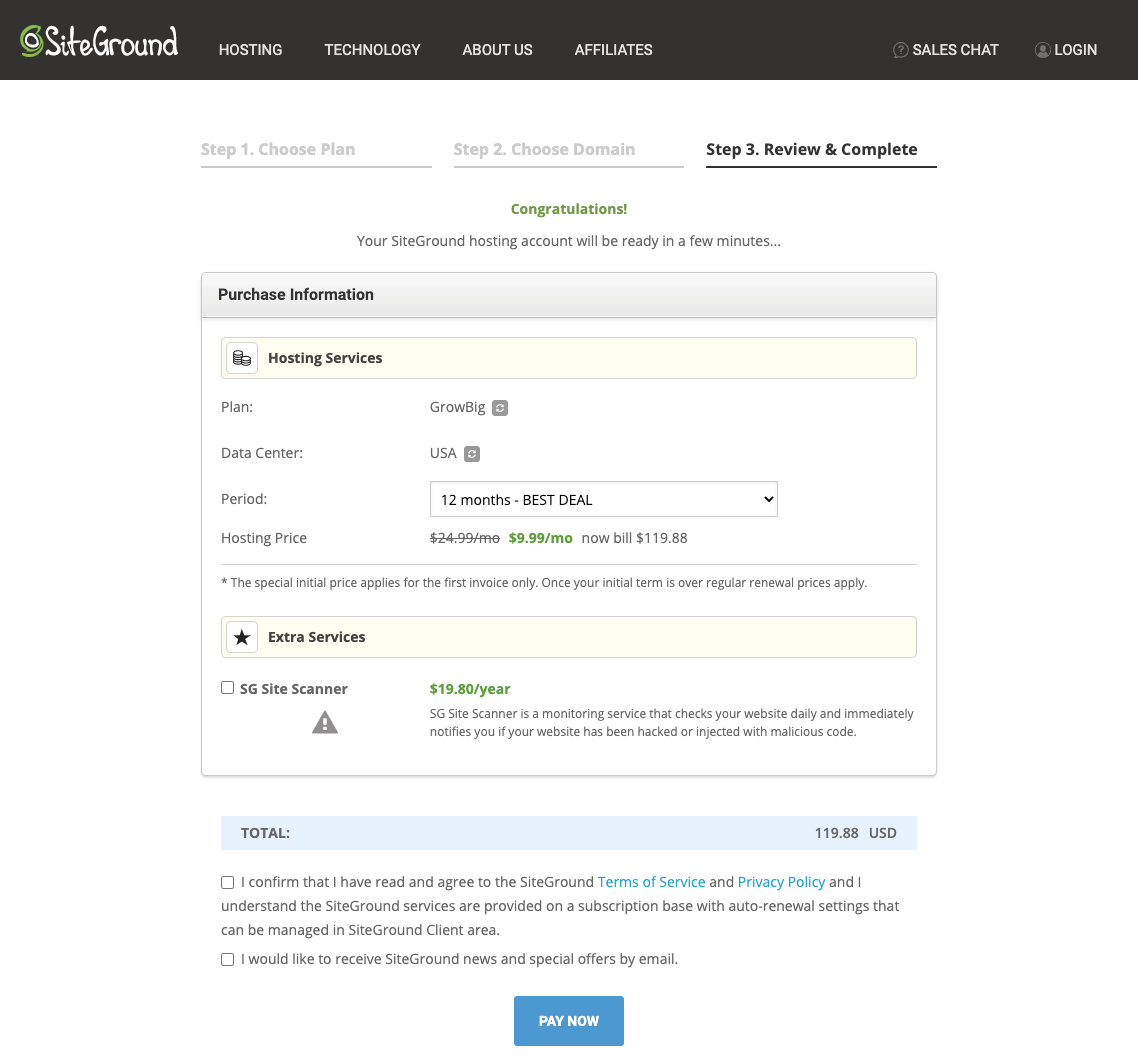 Congrats, you now own a brand new SiteGround Hosting!
Step 5: Point Your Domain To SiteGround
Skip this step if you have purchased your domain name through SiteGound. However, if you purchased your domain through NameCheap or some other company, pointing the domain to SiteGround is necessary.
I suggest using nameservers for this purpose.
Note: The nameserver pointing method is same for all no matter from which company you purchased the domain. You just have to replace the domain's original nameservers with SiteGround's nameservers addresses.
1. Get the SiteGround's nameservers
Jump into your SiteGround account and click on Websites and then site tools. Refer the image below.
On the next page you will see the nameservers which we will be using in our domain's DNS settings.
Note: Please don't copy the nameservers from the image as they are usually different in every case. You must use your own account nameservers.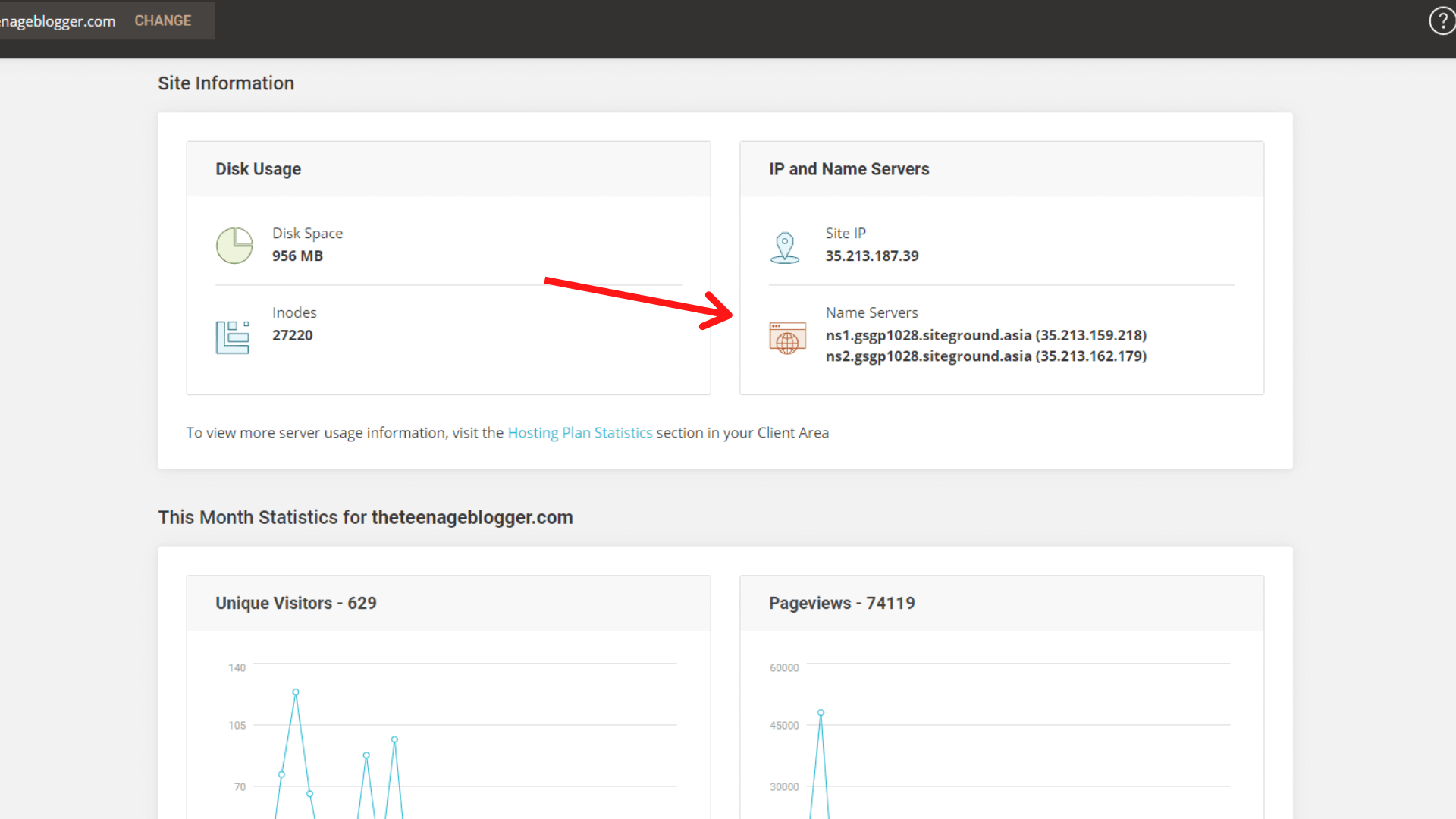 2. In this step, log into your domain company account. I will use NameCheap for demonstration.
3. In the dashboard click "Manage" next to the url you want to point to SiteGround.
4. In the following page that comes, look around and search for 'nameservers'. Choose "Custom Nameservers" from the dropdown, and add the SiteGround nameservers.
5. Then, click on the green checkmark to save your new nameservers.
And it's done. I advise you to wait for at least one day for the changes to take place completely. After that, move on to the next steps.
Step 6: Set Up WordPress on SiteGround Hosting
With a brand new Domain and Hosting, you must be very excited to install WordPress right away. But before that we need to act on a crucial step so that things go on in a meticulous manner.
Install an SSL Certificate
Ever thought what are https and http in front of website url's? These are referred to as encryptions.
An SSL certificate will make your url https://domain.com from http://domain.com. It just means that there is a safe connection between the browser and server.
With SiteGround you can get a free SSL certificate. Let me show you how you can get one for your blog.
1. In your SiteGround account, go to "Websites" in the navigation bar.
2. Next to your blog url click on "site tools". Inside the dashboard click on Security –> SSL Manager.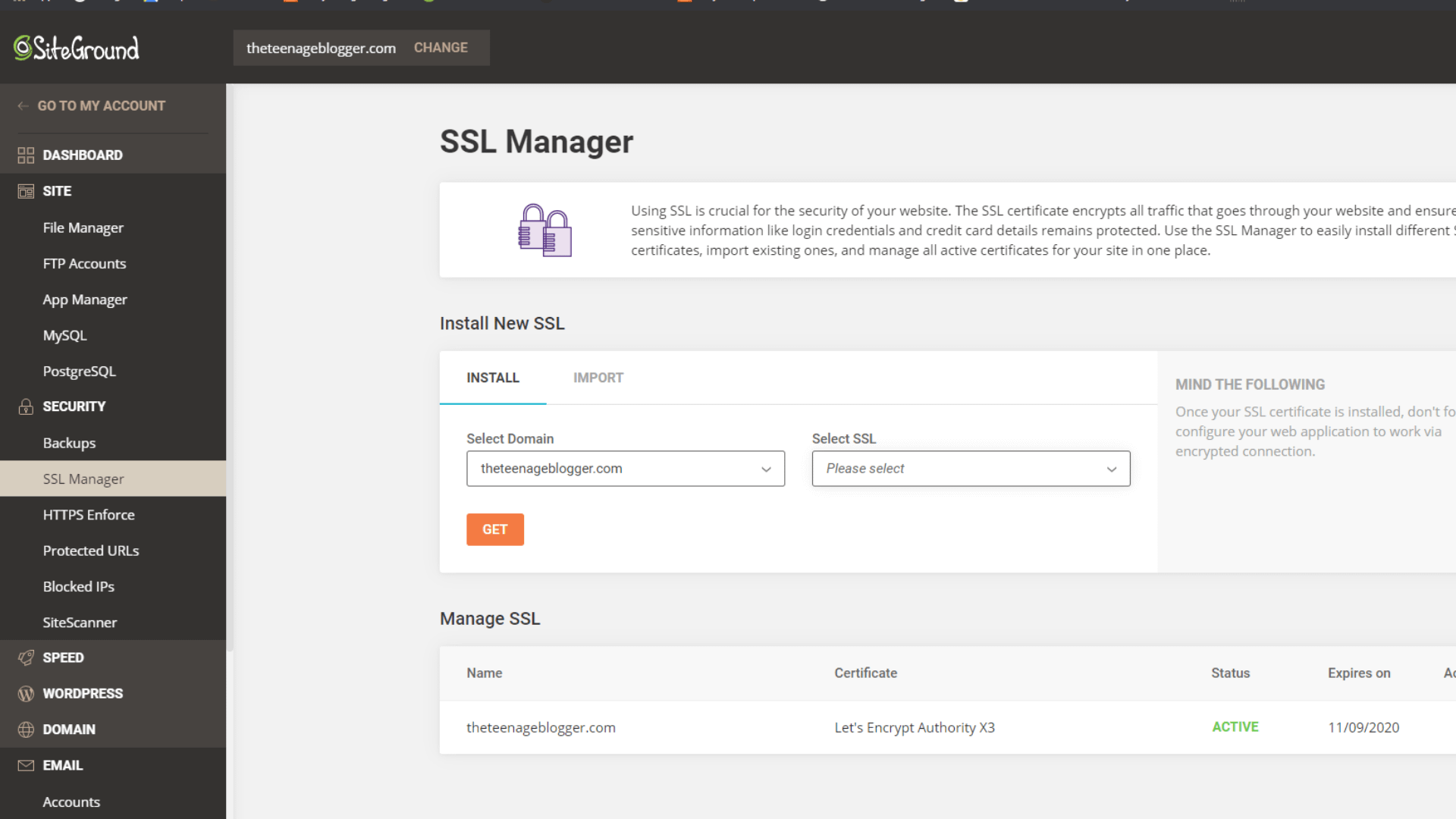 3. In the dropdown, select Let's Encrypt and then click 'Get'.

Install WordPress
Again go to your dashboard. Click on Site –> App Manager. Then under the application dropdown choose "WordPress" and click 'Install'.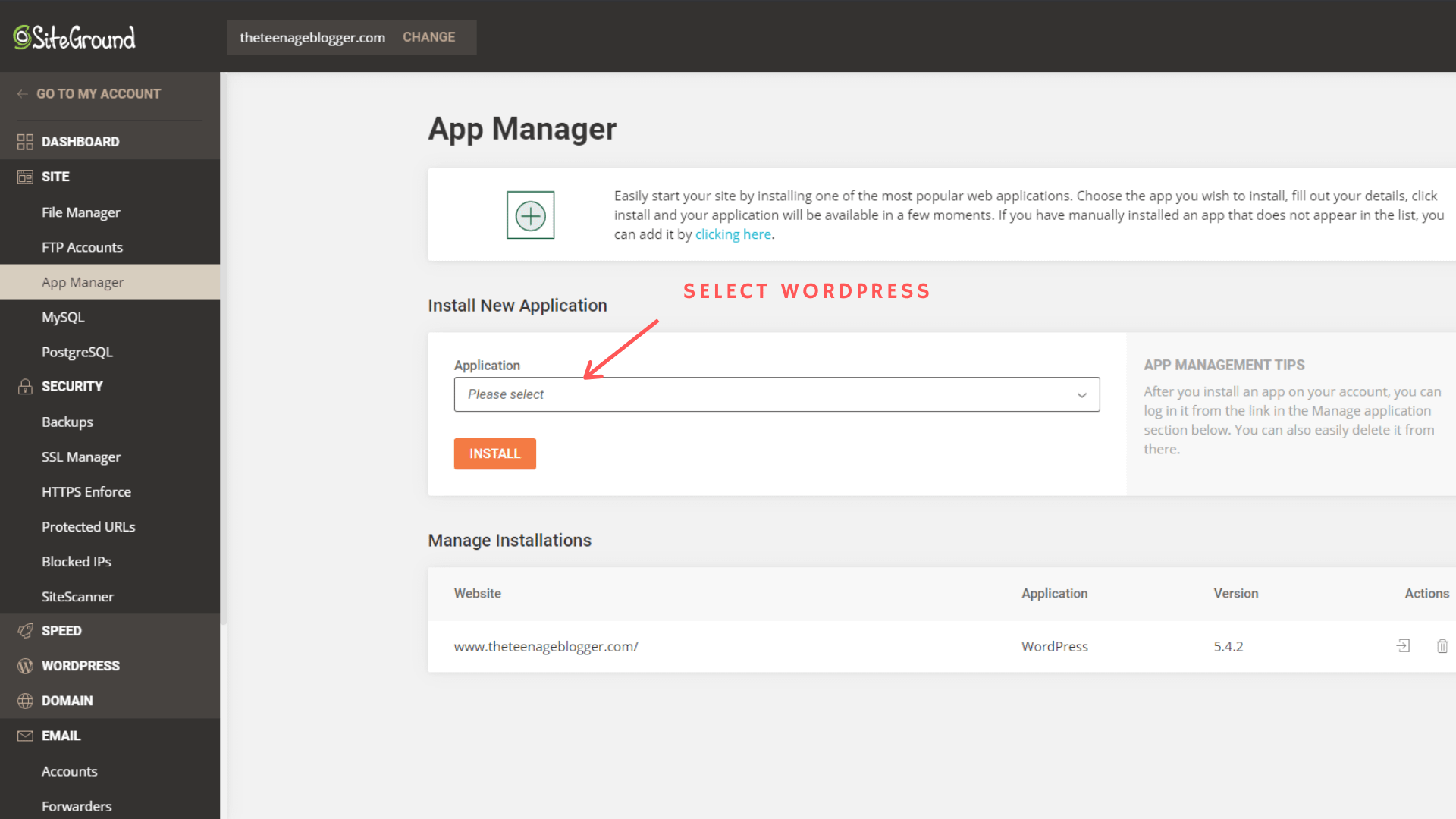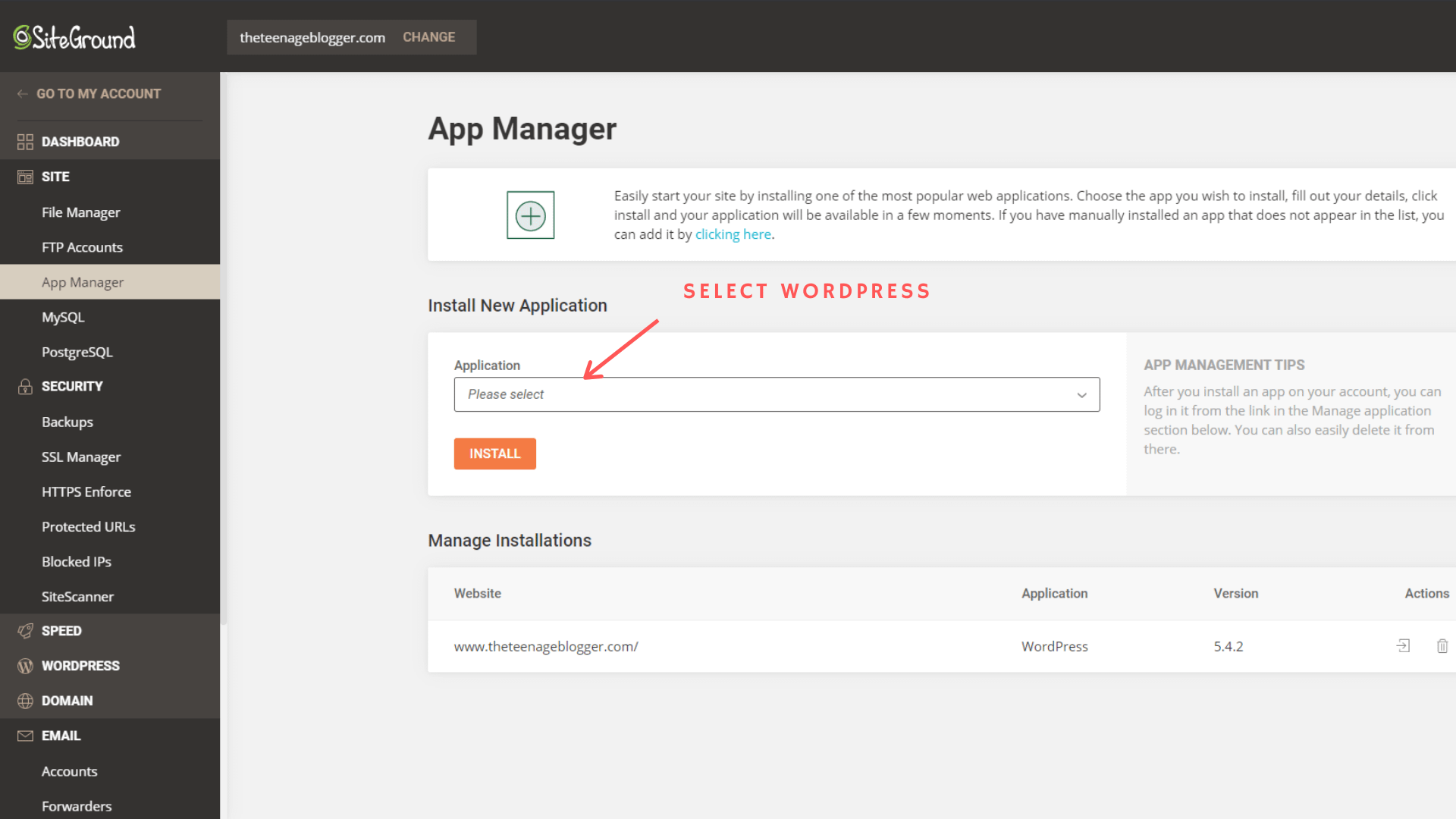 You will have to fill out a short form to install WordPress.
Make sure in the form:
The 'Installation Path' is left blank.
Pick a hard username. This is important for security issues.
Choose a difficult password that's not easy to guess. Use a mix of numbers, letters or symbols.
Enter an active email address which you check regularly.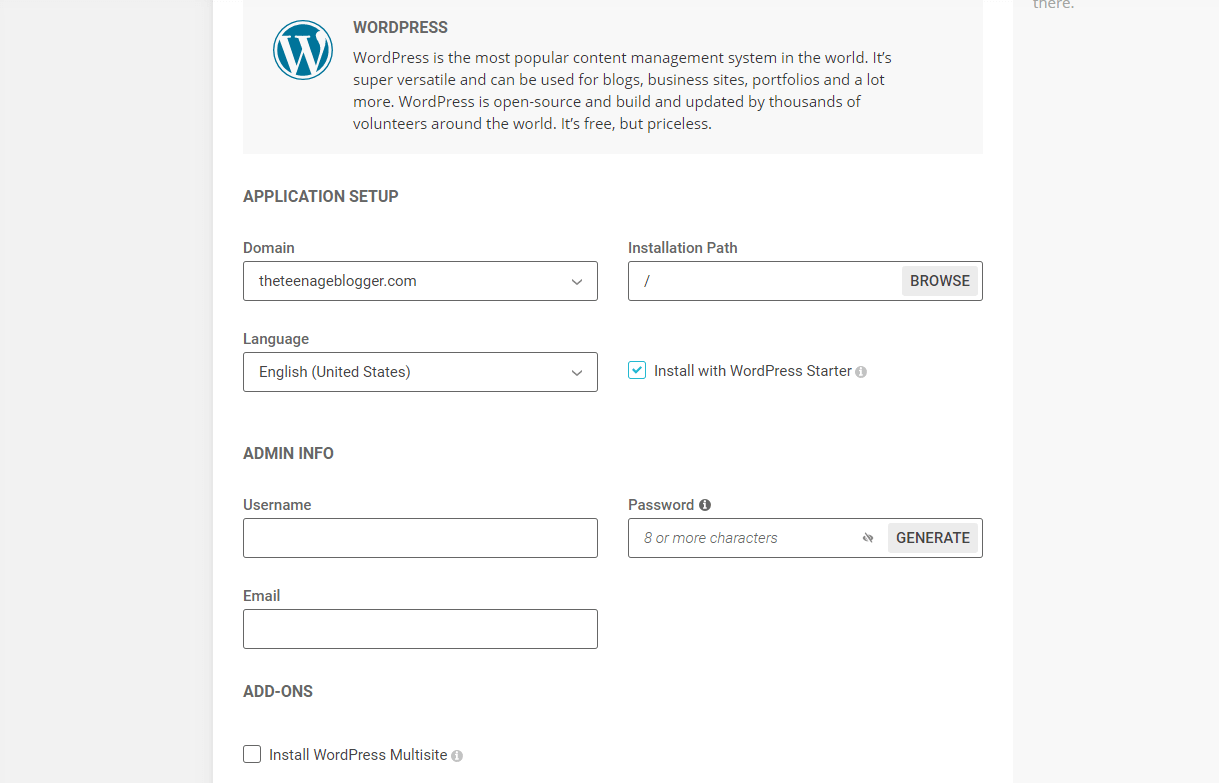 Now you have installed WordPress installed. Your website's admin url will be something like www.yourdomain.com/wp-admin. Cool, right? This is where you will be writing your posts, adding pages etc.
Step 7: Design You Blog
Now this is something fun, quiet interesting part in the blogging journey.
When you install WordPress, you will be prompted to pick up a free theme. However I don't recommend you to install that.
Free themes are not fully customizable and are not designed with new bloggers in mind whereas premium themes come with:
proper step-by-step instructions
access to customer support 24/7
responsive design
professional look
One of the best themes available in the marketplace is Divi by Elegant Themes.
The Divi themes comes with Divi Builder Plugin that helps you to build your website visually!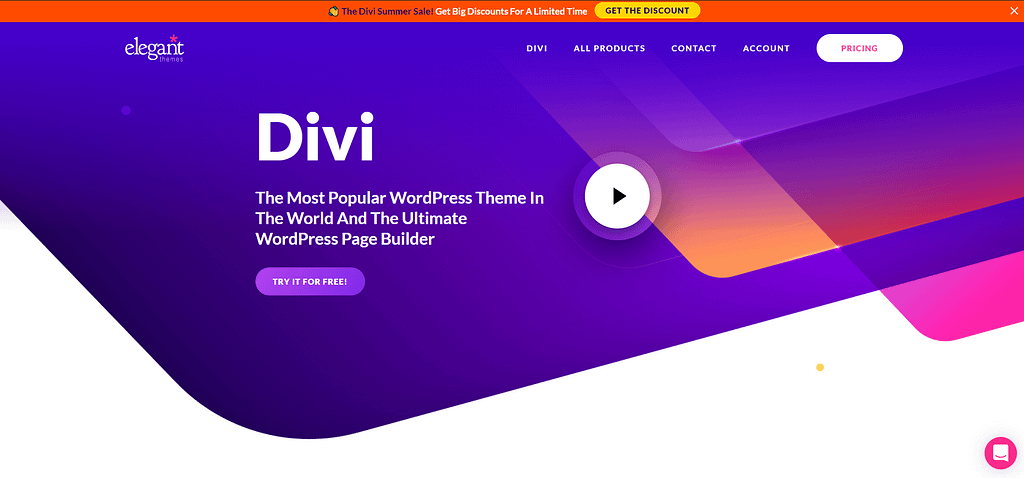 Divi theme has gained a lot of popularity because of its Easy to use visual builder that is just perfect for any newbie even with zero technical skills to build a professional looking website/blog.
If you are a female blogger and looking for some awesome feminine themes, you must check out Bluchic Themes.
There ChicServe theme and Victoria theme are quite popular and come with step-by-step instructions and tutorial videos that enables anyone to set up a professional looking website very easily.
Next comes the Astra theme. Although being free it is no less than a premium theme. Astra is a light weight, easily customizable and a very responsive theme. Even this theme is running on Astra theme paired with Elementor Pro page builder!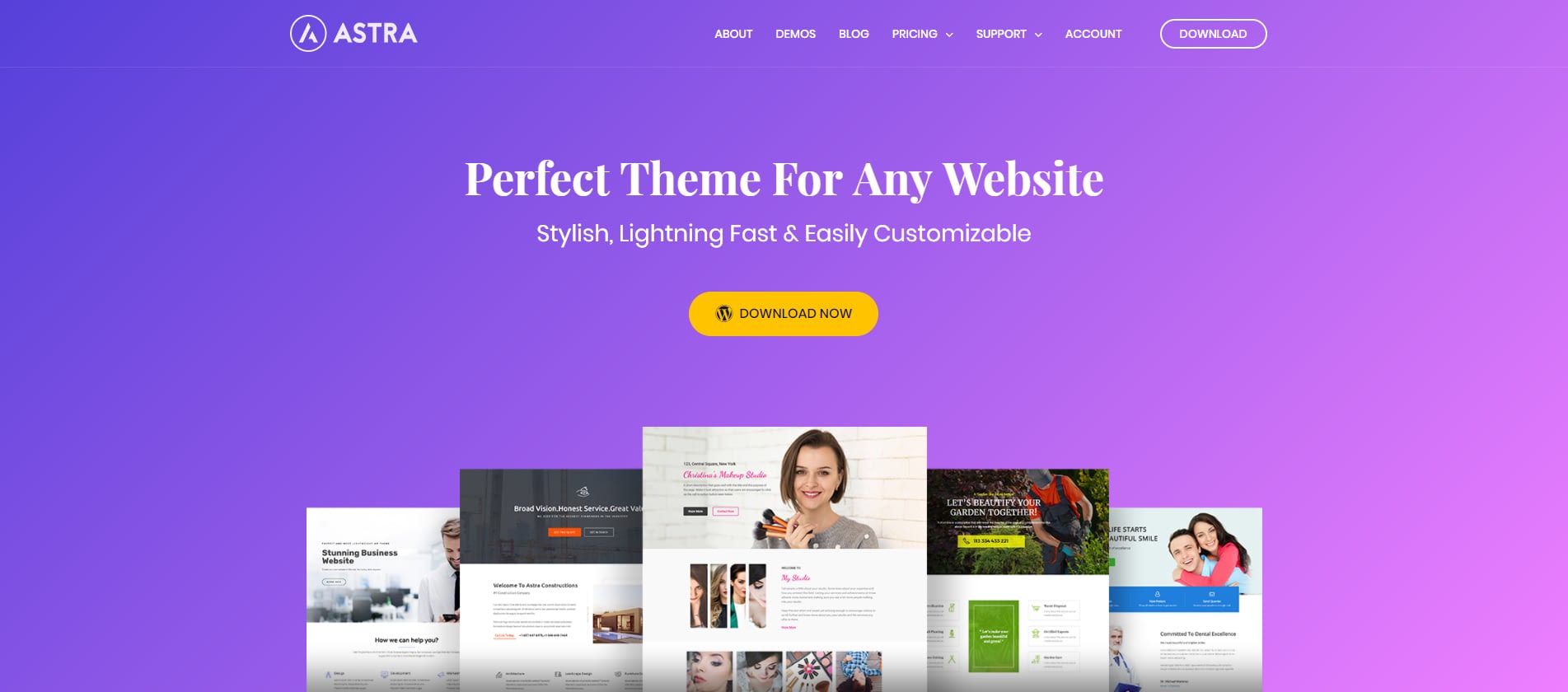 Elementor is a free page builder that helps you design your website visually.
It's free version is good for total beginners, however at some point you will need to upgrade to the Pro version for advanced options and functionalities.
Elementor has a bit of learning required, but once you are comfortable, you can build wonderful websites in no time.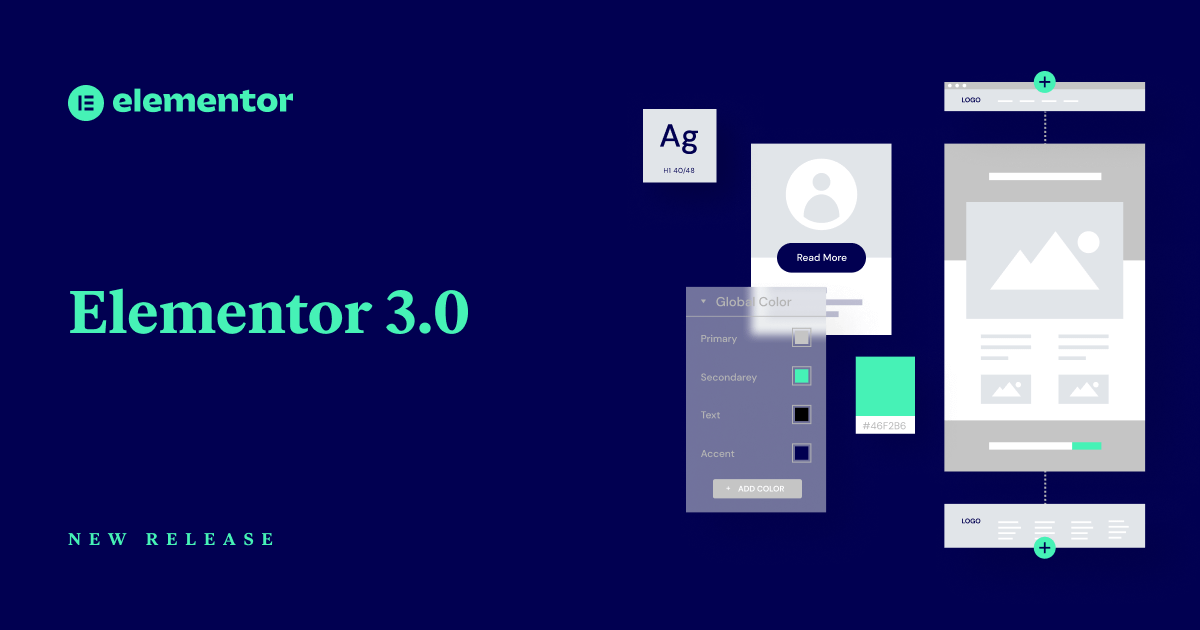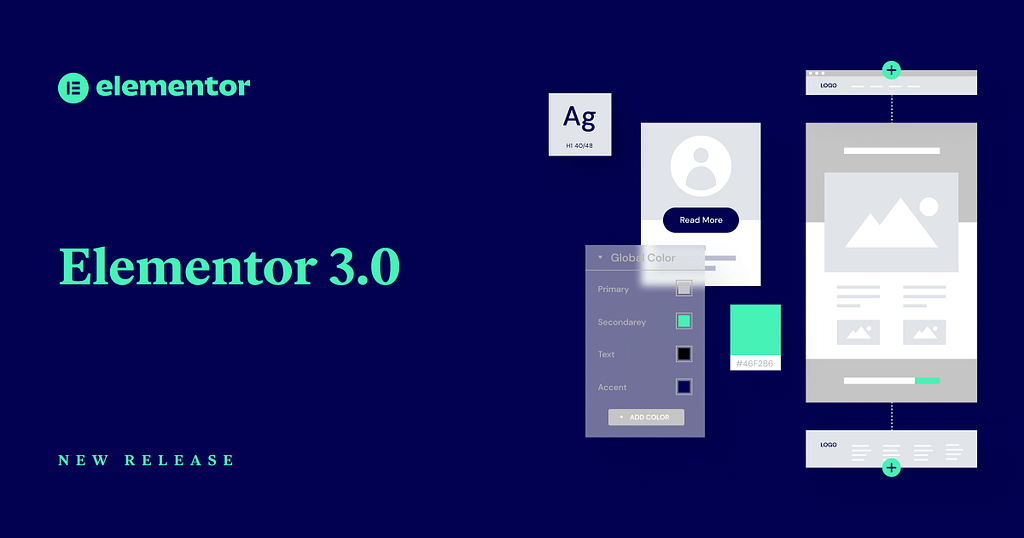 Once you decided on a theme, let's see how to install it on your wordpress dashboard:
Go to Appearance –> Themes. Refer the image below.
Upload your theme .zip file and click "Activate".
You are finally done! Now your awesome blog is ready to be filled with great content, posts, pages etc.
You will need some time to explore and get familiar with the WordPress dashboard. It may seem difficult in the beginning, but trust me you will learn to use it soon.
Whenever stuck, just Youtube it and you will find tons of solutions.
Step 8: Monetize Your Blog
To earn money blogging, you need to monetize your blog. There are a number of monetizing options, but I won't we able to discuss everything this post.
Here are four of the ways you can monetize your blog:
Affiliate Marketing: This is the one of the easiest ways you can start earning money through blogging. In brief, it means that when you promote a product and someone purchases it through your unique affiliate link, you get a commission.
Advertising: This has a pretty obvious meaning. Basically you can display ads on your blog to earn money. For a new blog with little traffic Google Adsense is a good option. However if your blog has a lot of incoming daily traffic then premium ad networks like Mediavine are for you.
Sponsorships: Many brands work with big bloggers for sponsored blog posts and sponsored social media posts. This is a great way to earn decent income once you are settled as a brand in your niche.
Selling Digital Products: Digital Products are another source of income streams. They usually include Online Courses such as E-Books, Membership courses, Video Lectures etc. Once you have a good number of readers and followers, starting to sell digital products will be a good option.
So these are some basics of blog monetization methods, here are some more posts you can read:
That's it for this post! Now you're ready to start your blogging journey.
Feel free to ask any questions or doubts in the comments section.
Wish You Success!