To become a Pinterest Marketing expert is not so easy but it's neither very difficult as well!
Pinterest is a social media platform that is evolving constantly and is becoming quite a major source of traffic for bloggers and internet marketers nowadays!
However many of them are finding themselves frustrated due to some huge changes to the platform this year.
But there's nothing to worry about it as such! No matter whether you're a pro pinner or just a beginner in this field, there are some key tips you need to keep in mind in order to build a solid strategy and stay updated on Pinterest's best practises.
So without further ado let's master Pinterest Marketing in 2020 once and for all!
Necessary Things to Focus in 2020
What's new about Pinterest this year? Let's jump in and discuss all the latest updates that are happening in Pinterest so that you can visualize your strategy accordingly and focus on what matters the most.
1. Design Multiple Stunning Pins For Your Content
Pin Design is one of the most crucial factors of Pinterest Marketing. This is the first thing that you must focus on irrespective of how big or small your profile is!
But why do you need to create click-worthy and attractive pins? One simple answer is Competition. In today's date there are thousands of bloggers pinning their pins on Pinterest and hence competition is at it's peak!
Therefore if you want to stand out of the competitive crowd as a successful bloggers or a marketer, creating attractive and stunning pin designs is a must!
Pinterest loves fresh pins! You can create multiple pins for a single piece of content; around 3-4 new pin graphics for every new blog post you publish.
This might sound a lot however having some pre-made templates makes it much more easier to create various versions of pin designs such as swapping background images, mixing fonts etc.
Check out some of my suggestions below:
Loading Preview…
Powered by Creative Market
and..
Loading Preview…
Powered by Creative Market
Constantly uploading new pins will send a signal to Pinterest that you are quite active on that platform and as a reward Pinterest will drive more traffic to your pins!
Also, you can design new pins for your older posts as well to keep them fresh and updated.
The tool that I use for designing Pinterest pins is Canva.
Canva is a free tool that let's you build amazing designs and graphics with just a few clicks! If you aren't using Canva, you are really missing a lot.
>> Click here to get a free Canva account or get a 30-day free trial to Canva Pro.
2. Focus On SEO By Researching Keywords
The next important thing to focus while doing Pinterest Marketing is SEO.
If you are not aware, SEO means Search Engine Optimization. After you have designed your Pinterest Pin and are ready to publish it, it needs to include adequate keywords in Title and description.
However one major mistake that most newbies make is that they just stuff keywords in their descriptions. This is known as keyword stuffing and please avoid that!
Pinterest is a search engine and takes up only 30-40 words per description, so you must ensure that the description or title you write is SEO friendly ( written for real readers ) and not just stuffed with keywords.
Where To Find Relevant and Niche-Specific Keywords?
Finding niche-specific keywords is very simple and Pinterest itself will help you find them!
Go to Pinterest and enter the main keyword/what your post is actually about in the search bar.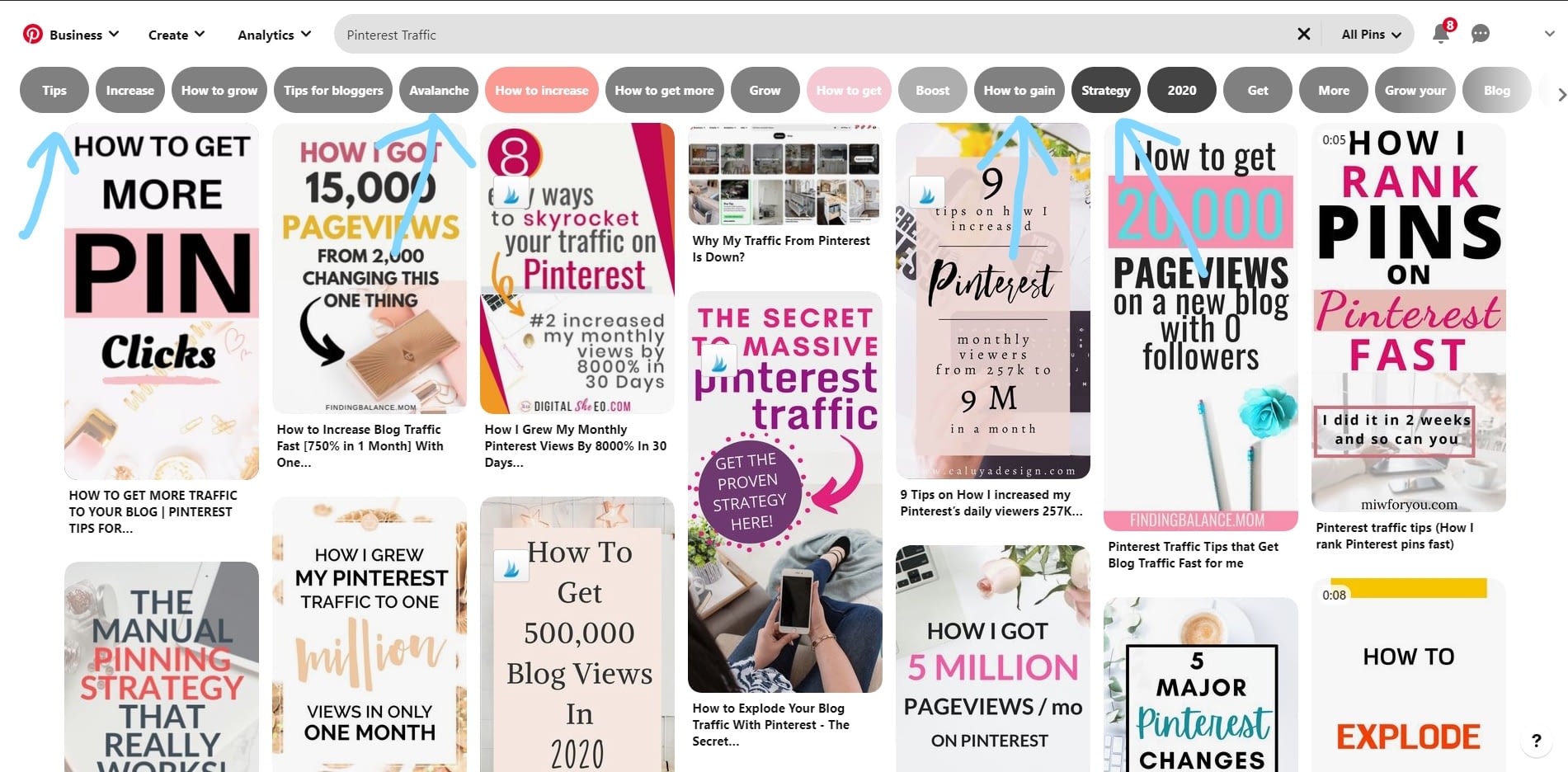 For example, I have searched for "Pinterest Traffic ".
Do you see these recommended words like 'Avalanche', 'Tips', 'Strategy' and 'how to gain'?
These are the keywords that Pinterest has already suggested to you!
Pick some of those best described keywords according to what your post is about and note them. Now write your board and pin descriptions with a few handful of sentences that contain some or majority of your keywords.
The places where you can include these relevant keywords are:
Pin Image name ( the file that you upload )
Pin title
On the pin design itself
Pin description
Profile name
Board names
Board descriptions
To say it in brevity, be real, optimize your content by being creative and not spammy!
3. Use Tailwind: Pinterest Scheduler
Have you ever noticed that when you pin something, Pinterest starts suggesting other relevant boards and pins that you might like as well?
This happens because Pinterest constantly rewards active pinners by recommending and promoting their pins to other interested users.
But the question that arises is, in 24 hours a day how can you maintain an active presence on Pinterest without manually pinning everytime?
The answer is Automation!
The best Pinterest automation software that I use and also recommend to you as well is Tailwind.
Just look at some of the amazing features of Tailwind:
Schedules your posts.
Posts at the best times for engagement.
Repeats your content at an interval you choose.
Discovers related content you can share.
Connects you with Pinners to share content in Tribes.
Monitors conversations on your Pins.
Amplifies your reach.
And measures your results!
>> Get a FREE month of Tailwind here and schedule upto 100 pins!
Believe me Tailwind is a gamechanger that will make Pinterest Marketing a cakewalk for you and your online business!
Tailwind is the tool that will help you stay up to date with the latest Pinterest practices so that you can focus more time on creating content at the best level.
5. Experiment With Video Pins
Recently video pins have gained a lot of momentum in terms of popularity and engagement.
So why not indulge with the trend and put your content at the top of the feed or in Pinterest's search results.
Try creating short ( around 5-15 seconds) videos related to your content, products or services etc. I highly recommend you to use Canva to create professional animated graphics and gifs for Pinterest, it's possible with just a few clicks!
Conclusion
As I discussed above, for being a Pinterest Marketing expert it is very necessary for you to stay updated with the latest trends and constant changes on the platform. This will enable you to maximize the potential of Pinterest to drive traffic to your website or blog.
Also Pin Design is equally important.
Even if you do all the keyword research, write perfect descriptions, put relevant hashtags and add the pin to Tailwind, but your pins are ugly, they won't get any clicks.
That's what The Viral Pin Guide is all about. It will teach you the exact techniques to design a viral pin and grow your traffic from Pinterest and get amazing results.
Keep tweaking things and play around with your strategy until you find something that works for you.
Remember, Pinterest will not give you overnight success; you need to be patient enough.
So with this I wrap up the post. Do mention your thoughts and queries in the comments. Thanks for reading 🙂.
Also read: How To Skyrocket Your Traffic With Pinterest in 2020
See You Soon!
.