Envato Elements – a sub division of Envato, offers unlimited high quality digital assets consisting of WordPress themes, WordPress plugins, photos, graphic templates, Fonts, CMS templates, stock videos etc.
This paid membership website with an affordable pricing plan has proved to be one of the best creative asset subscription platform for all kinds of entrepreneurs especially bloggers, youtubers and social media influencers.
I personally, being a blogger am a big fan Envato Elements and that's why I am writing this in-depth review so that even you can get an idea about it's features, pricing etc and get hands on such professional digital assets!
I'm sure the term 'Envato Elements' sounds familiar to our fellow bloggers. But for those who're not aware of this don't worry we're here to help you out.
In this article, we'll explore what 'Envato Elements' is all about, how the service works and review if the Envato subscription is really worth it.
Let's get started.
Envato Elements: Introduction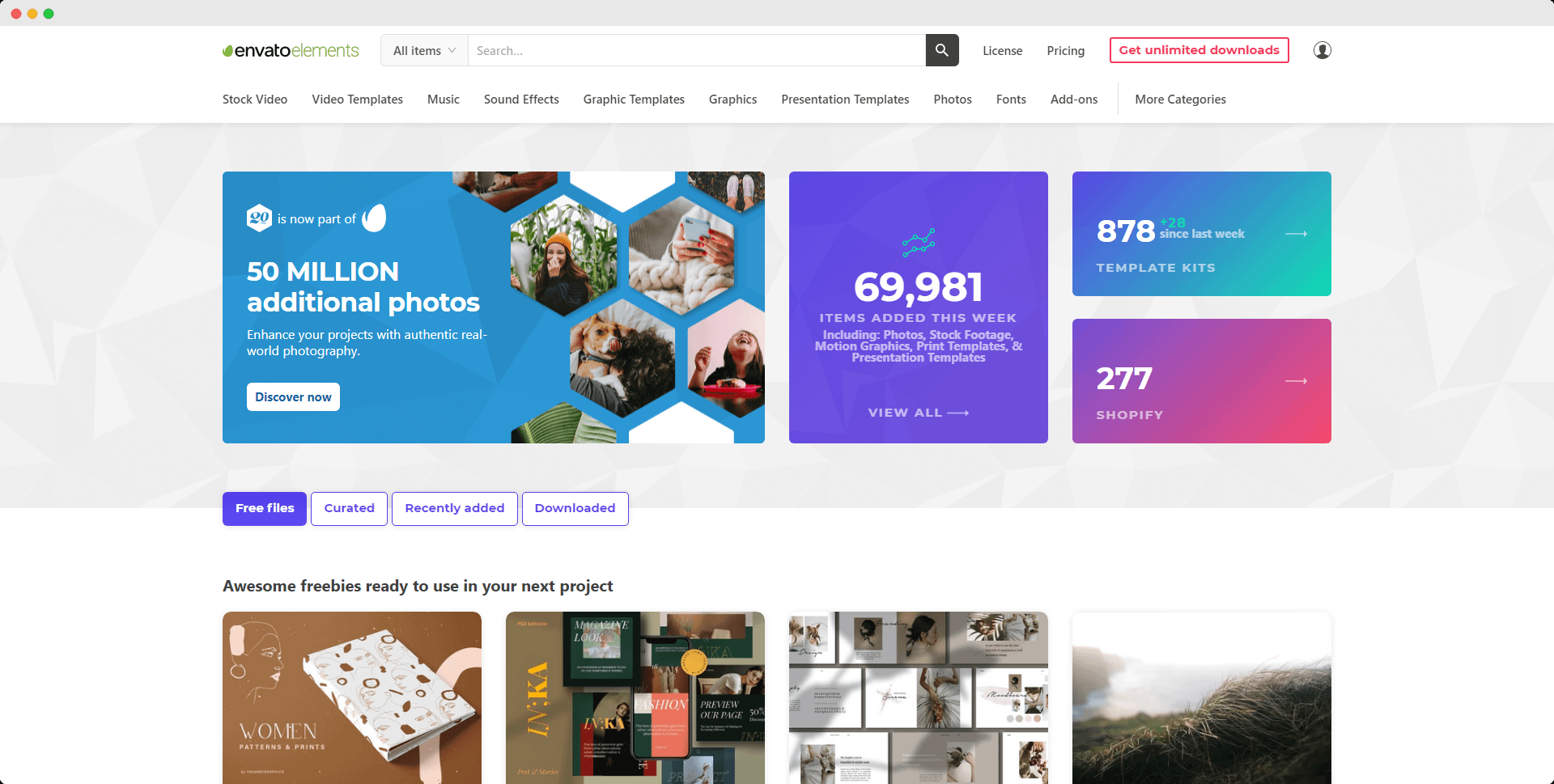 Envato elements is a paid subscription service that gives unlimited access to high quality digital asset library hand crafted to the needs of marketing agencies, graphic designers, developers and professionals alike.
Digital assets include wide range of visually appealing contents like HD and 4K images, audio clips, video footages, graphic templates, fonts, sound effects, presentation templates, WordPress themes and much more.
Once you have signed up as a member, you can readily access the resources in the homepage.
As an add-on, Envato Elements members gain free access to Tuts+, a learning platform that offers thousands of courses, e-books, how to tutorials on various package such as Web Design, Music & Audio, Business , Photo & Video and more.
With one time subscription, you get access to 2 million+ digital assets and also the educational content to up skill your blogging strategy to help you work with them effectively.
Why Should You Choose Envato Elements?
1. Exceptional Value For Money
At the moment, there are about 2 Million resources, available at Envato Elements marketplace for downloading. But the archive is continuously growing with the addition of thousands of files in daily basis.
For a minimal subscription of $33 per month or $199 per year, you get unlimited access to nearly 2 million high-quality digital assets.
2. Unlimited Downloads
There is not any upper limit on the number of downloads per month per user basis, so as part of your subscription pack, you can download as much content as you like.
3. Hassle Free Commercial Licensing
All Envato Elements are covered by good commercial license. Envato Elements licensing is a simple straightforward process.
A 'simple commercial license' tag comes along with every downloaded asset. With this license, you secure the broad commercial rights to use that particular asset or item.
4. Cancel Subscription Any Time
If you intend to cancel your subscription anytime, you can do so without worrying about the license of previously used digital content gaining lifetime access.
5. Library: What Is Included In Envato Elements?
STOCK VIDEOS
Looking to spice up your video with high-quality videos? Envato Elements offer thousands of HD and 4K videos, logo stings, motion graphics, broadcast packages and much more to choose from.
VIDEO TEMPLATES
With 19,000+ video templates, you can create engaging video posts.
GRAPHIC TEMPLATES
Bloggers understand the importance of templates used in articles and blog posts.
Content and graphics go hand in hand so choose a catchy template from a plethora of options and make sure your blog post stands out from the rest.
GRAPHICS
To increase brand awareness, visually appealing graphics is the unique selling point of any website.
PRESENTATION TEMPLATES
Feeling nervous about your first ever business presentation? Do not worry you're covered with presentation templates that helps you deliver with a greater confidence level.
PHOTOS
Beautiful photos and engaging contents go hand in hand. Envato Elements offer thousands of high quality images to fill that void.
MUSIC AND SOUND EFFECTS
With 200,000+ sound effects, you can find the perfect pitch for any genres.
FONTS
From designing logos to creating content, fonts make the content more appealing to the users.
Envato Elements Members gain access to wide range of fonts which are constantly added every day.
WORDPRESS THEMES & PLUGINS
WordPress plugins and Themes are available here to design and add extra functionality to your WordPress website easily.
CMS TEMPLATES
Templates for various famous websites like Drupal, Magneto, Tumblr etc are available.
3D ELEMENTS
Envato Elements offers us a wide range of 3D elements for designing purposes.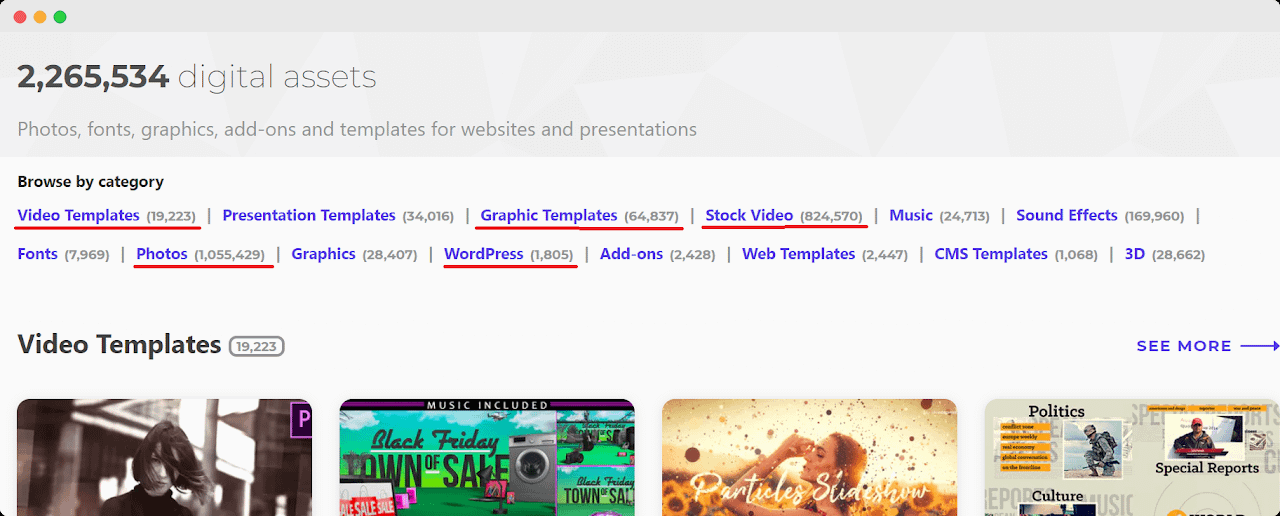 6. Accessing The Digital Asset Made Easy With Custom Search Option
One might find it extremely difficult to find the right content from such a huge digital library of the Envato Marketplace.
So, in order to make a quick efficient search, you need to optimize the search results by applying a number of filters based on your preferences and requirements.
Envato made it easy to search the categories with filters. This is to make sure the results of your search are more specific and relevant.
Your preference may vary from themes, genres, quality of content, and length of content and so on.
Let's say if I'm a vlogger and I am looking for a video template, I can apply any number of filters such as video quality (4K and UHD), video length and frame rate (23.98 fps to more than 60 fps) to optimize search results.
Feel free to choose from the library based on moods, tempo, genre, instrument and length.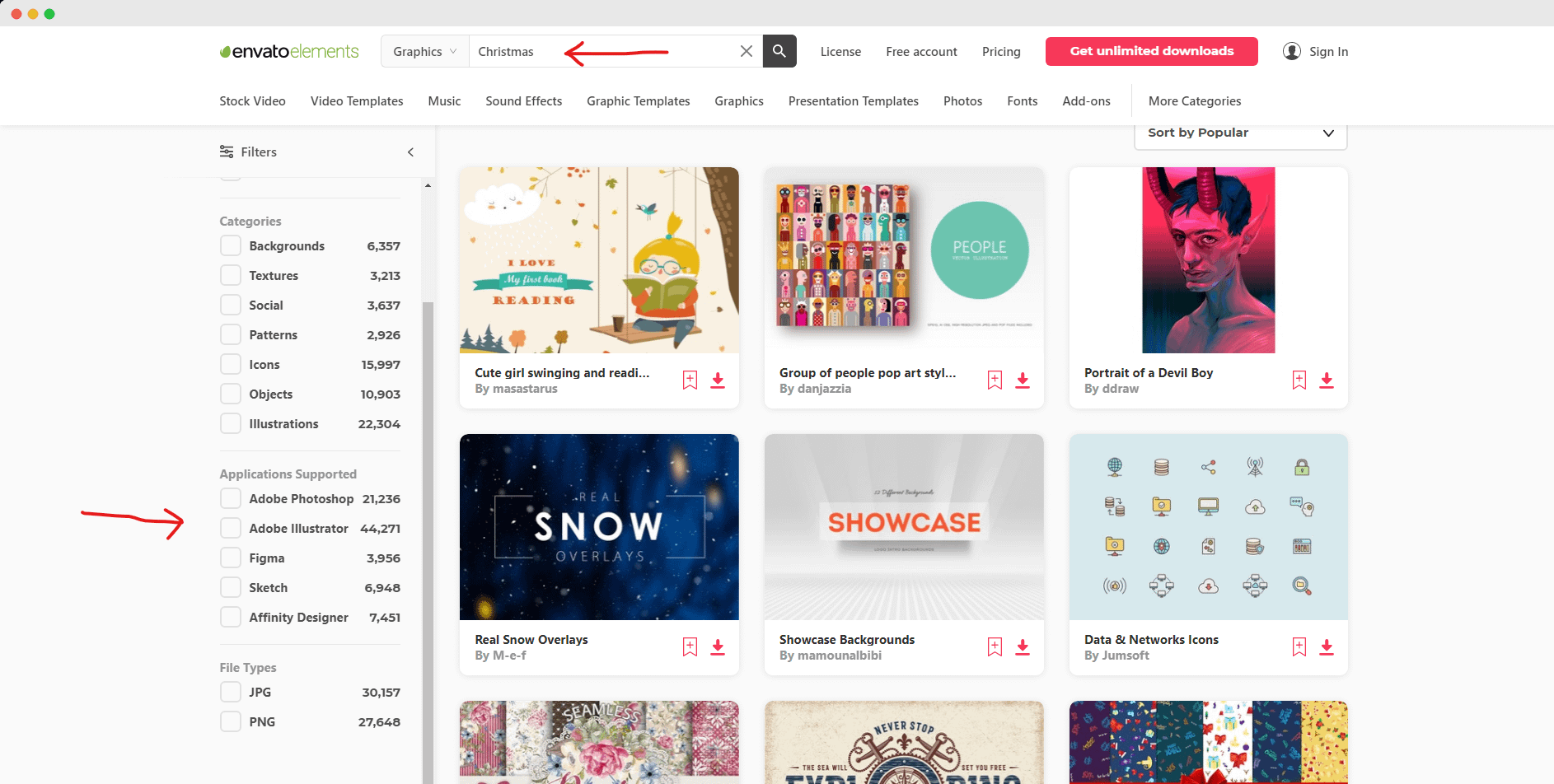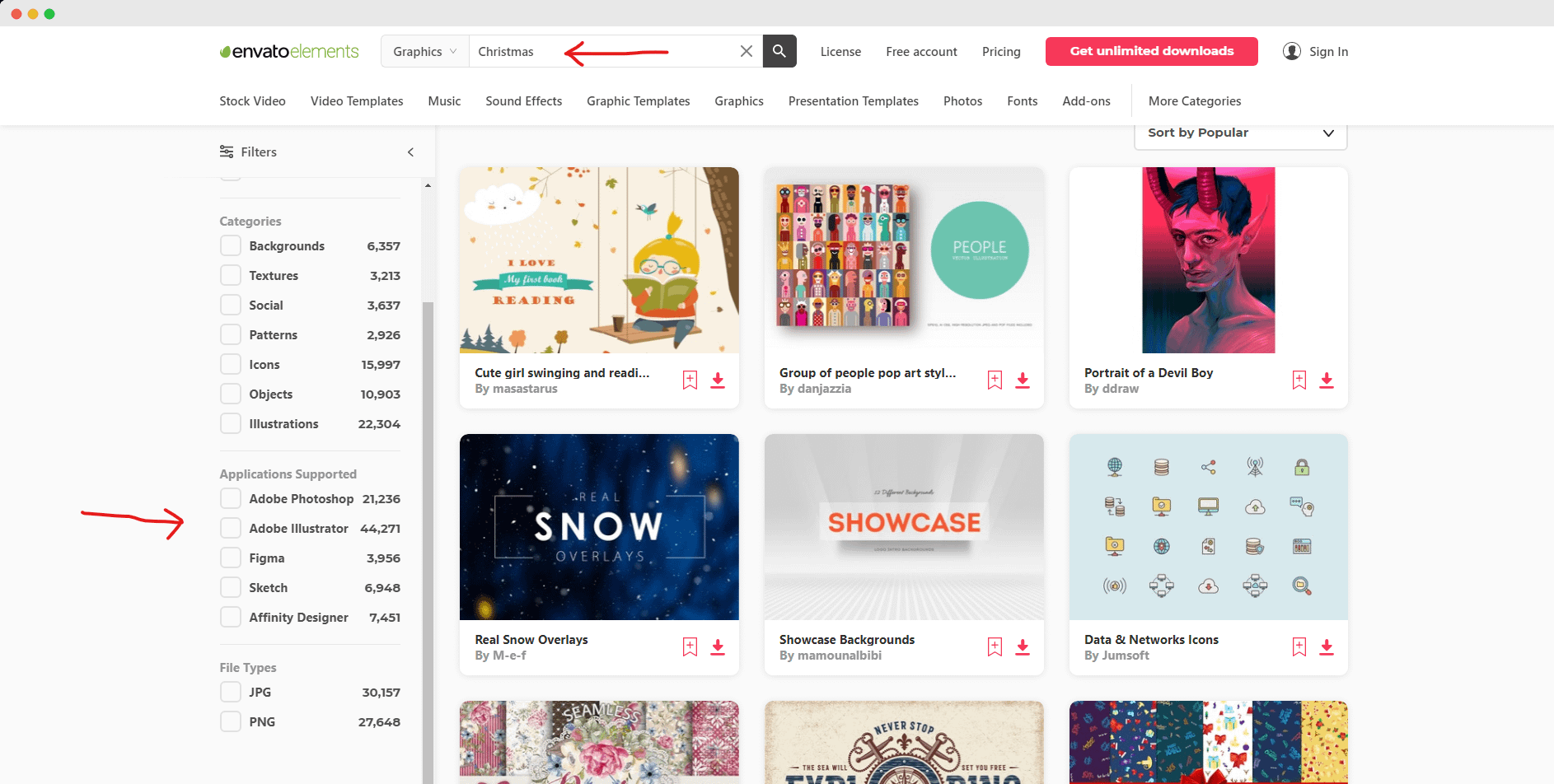 If using a specific software application, you can filter and narrow down your search result by this criterion. Some of the software specification applications include:
Adobe InDesign
Adobe Illustrator
Adobe Photoshop
Adobe Lightroom
Adobe Premier Elements
Affinity Designer
Sketch
To find just the right content, you can also type exactly what you are looking for in the search column, hit the search option and there you go.
Do I Have To Be A Web Designer To Access Envato Elements?
Well, it's not so. Irrespective of your profession, if you're looking for digital assets to go along with your content, you'll need some visual aid such as relevant images or videos and that's where Envato Elements comes into play.
Simply put together, Envato Elements help in creating engaging content.
Whether you're a web developer, graphic designer or freelancer you can find any type of digital asset of high quality in Envato Elements Membership.
Bloggers who need high quality content for their articles.
Web designers who are looking for WordPress themes, HTML Templates and other assets for their websites.
Vloggers who are seeking for stock video files and video templates for their content.
Audio Producers looking for sound effects in their music composition.
Merchandise seekers looking for inspiration and innovativeness for their products.
Website owners who want a variety of WordPress themes and plugins.
Podcasters and social media influencers who are looking for video templates for episodes.
As long as you don't violate the code of conduct, you're good to go. Do check out the terms and conditions in the licensing process in the upcoming content.
Moreover, Bloggers, web designers, Vloggers etc can even hire professional freelancers through Envato Studio to collaborate on your project!
How Does The Commercial Licensing Work?
As a creator, you probably no need to worry about licensing. Envato Elements offer a simple straightforward licensing.
Once you become a member of Envato Elements, you are given full access to library and you can download as much as you want.
Every license found in the library has the same 'Simple commercial license'. Under this license, you obtain broadcasting rights to that particular asset or item.
For this, you need to simply add the title of your project and then assign a file for the already added project. You are now allowed to download the asset with lifetime free license.
However, there are certain things that you need to keep in mind before using any asset, as an ethical user/member you are allowed to purchase and download the asset as long as you do not break the code of conduct.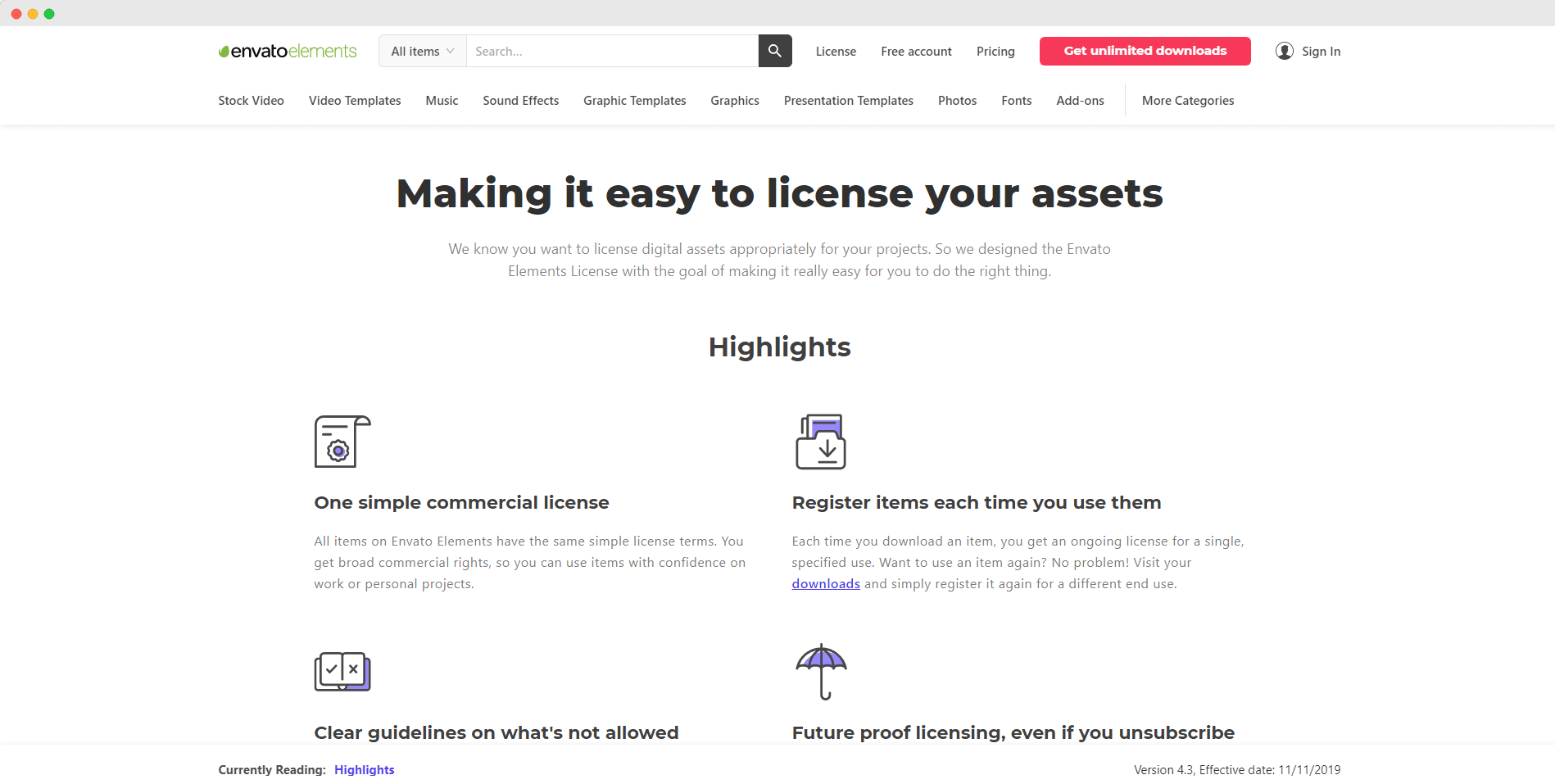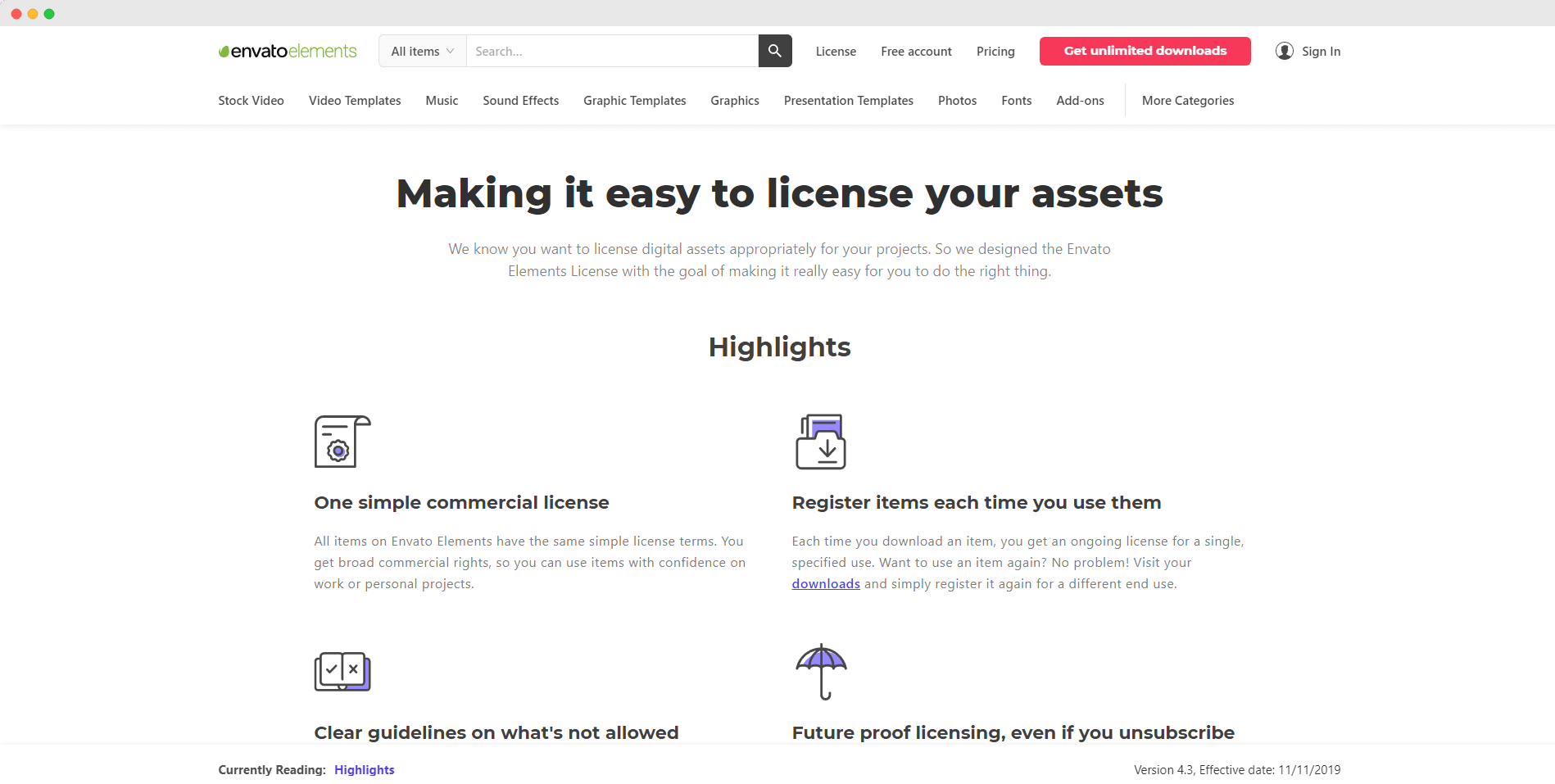 Commercial license will be categorized under fair-use as long as you do not violate the terms and conditions.
Just like any other service offering platform, Envato Elements has certain Do's and Don'ts which are not mentioned straight forward but don't worry, I'm here to help you out.
Things that you should be aware about the commercial license Items need to be registered per use basis each and every item has only single-use commercial use.
If you intend to re-use the same item, you need to re-register the asset. This can be found in the' Downloads' page.
You cannot re-sell or re-distribute assets.
As per the code of conduct, the user is restricted to re-sell or re-distribute the asset to another platform such as Storyblocks as it is considered as violation.
"Envato Elements restricts members from using the assets as a basis for merchandising Members are prohibited from using the asset as a basis for merchandising."
For instance, you're downloading an asset and using it as it is in your T-Shirt business, it is considered as a violation.
Instead you can download, make some modifications to the asset and use it on your product or service for merchandising.
You cannot create trademark or copyright claims over assets used in your project. As per the code of conduct, you can download and use the asset in your project, but you cannot claim over its copyrights.
How Does The Subscription Work?
After signing up, you can choose the appropriate package according to your needs by clicking the PLANS AND PRICING or PRICING option.
Be it individuals/students/teams/enterprises, the monthly subscription starts at $10.75/month for Teams package allowing up to a maximum of 5 members per account.
If you're a student looking for creative templates for your school project, you can avail STUDENTS PACKAGE with 30% discount.
For an Individual account membership, the subscription starts as low as $16.95/month.
As a free account membership, you gain access to 12 downloads per month which includes digital assets such as templates, fonts, audio, sound effects and video templates.
However, any Envato Elements free account members gain access to 100% regular browsing across various categories of content just like a paid membership.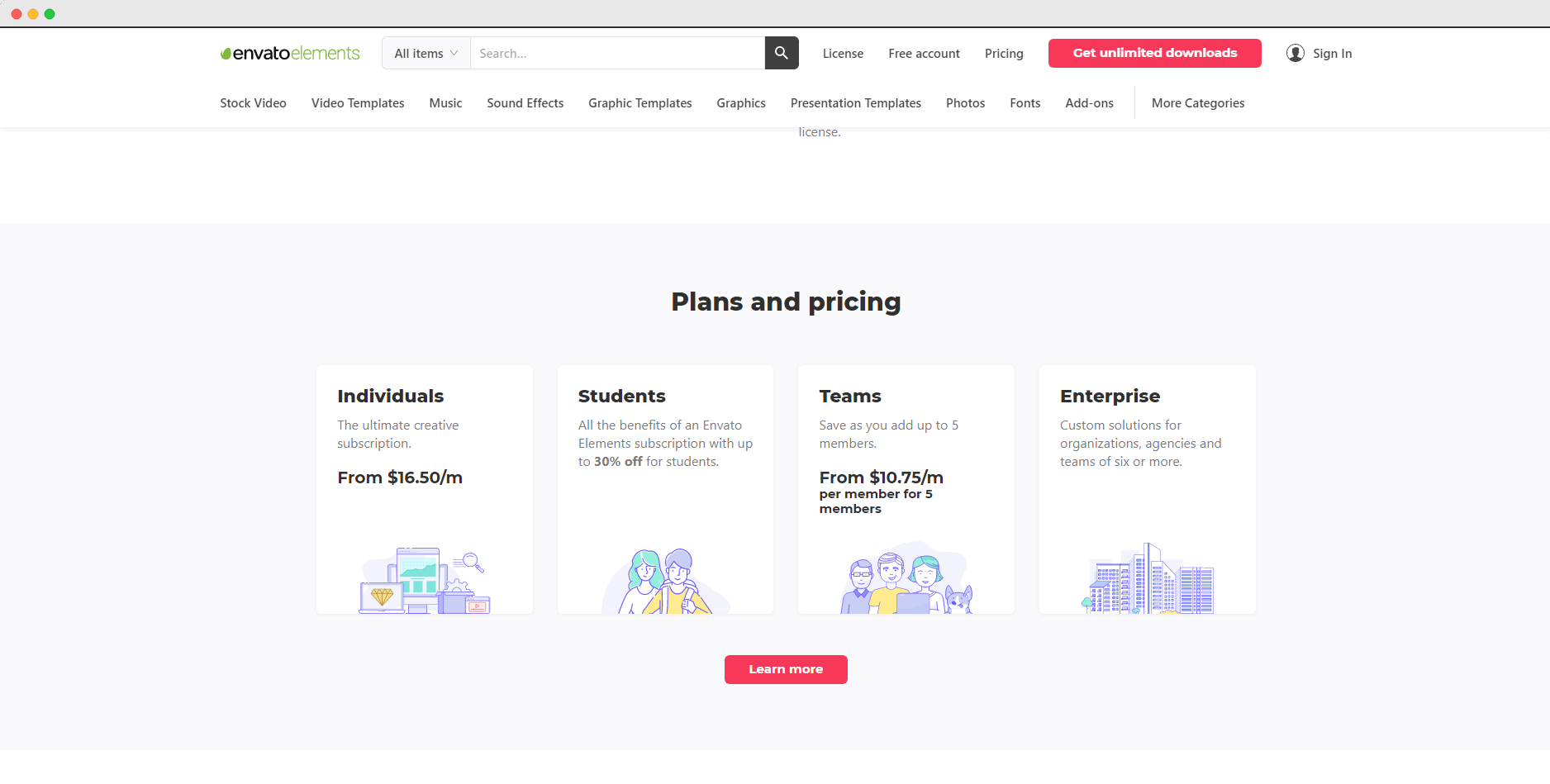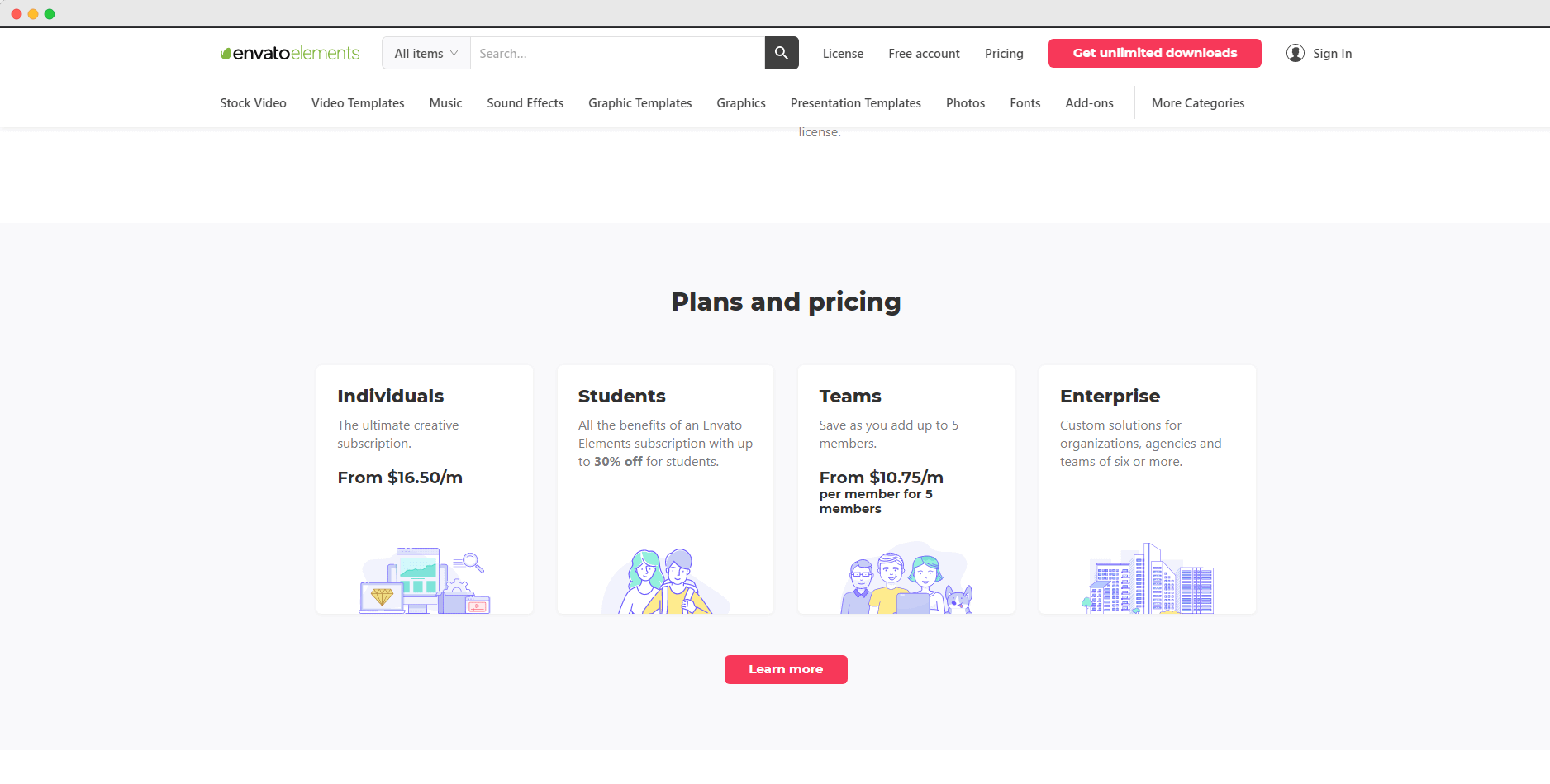 But, it is to be duly noted that with the free membership, one can only draw inspiration and references and 12 downloads from the resources.
Well, if you're a professional who deals with digital world and always in need of digital asset, Envato Elements is the one stop destination for all your needs.
Q. Does It Mean That I Can't Access The Assets In My Project If I Want To Cancel My Subscription?
No, it means that you cannot access new assets from the digital library anymore. But, you gain lifetime access of the assets that you have used in the previously created content without any copyrights.
Q. Do I Have To Pay For Envato Elements Subscription On A Monthly Or Yearly Basis?
The answer to this question depends on your frequency of download for a specific application. If you're someone who works with multiple projects at different times of the year, then it's best for you to go for yearly subscription priced at $199 per year.
But if you're a person who is looking for digital asset only during particular time of the year, then monthly subscription ($33 per month) would be my recommendation.
One can avail extra discount using promo code or during special sale day (Black Friday/ Cyber Monday).
Before coming to a conclusion, let's discuss some pros and cons of Envato Elements Membership and the benefits associated with it.
PRO's
• Affordable subscription package- Incredibly low monthly/yearly charges.
• Gains access to over 2 million resources.
• Free forever licensing- Even after cancelling the subscription, users can access the previously
used asset with lifetime licensing.
• User friendly interface and member dashboard.
• Unlimited download subscription.
CON'S
• Videos are downloaded in .mov format and it takes a while to convert them.
• Not much WordPress themes are available.
Final Thoughts
Being a content creator, I find Envato Elements really worth it and extremely helpful with seemingly endless resources for every genre to improve the quality of content.
With subscriptions as low as $16.49 per month, you get to access more than 2 million+ digital assets and unlimited downloads, I feel it is exceptional value for money.
It's not just that, the archives get added continuously on a daily basis.


You can use the asset as and when you intend to as the commercial licensing process is pretty much straight forward with no hidden terms and conditions.
On the other hand, with more than 2 million+ resources, one might find it a bit difficult to find just the right content that you are looking for.
Well it may seem obvious, but as mentioned earlier, it can be overcome using several filters to narrow down the search result or by using the exact keyword in the search column.
However, some may find this process tedious.
Another aspect to be taken into consideration is the quality of content- with a plethora of options, we may find it time consuming.
Altogether considering the highs and lows, I prefer Envato elements over any other alternatives like Shutterstock and Storyblocks owing to its relative ease of accessibility, affordable subscription packages and numerous benefits associated with it.
I'd recommend Envato Elements to fellow bloggers, web designers, content creators, podcasters and video managers.
Also, Envato Elements has improved the quality and quantity of WordPress Themes and Plugins making it the most accessible blogging friendly tool.
Related Articles:
So with this I wrap up this post! I hope you enjoyed the in-depth Envato Elements review 🙂
Do share your thoughts and suggestions in the comments!
See Ya!