Graphic Design Industry has gained quiet a lot of popularity in these years and will constantly grow in the future no doubt.
But what does Graphic Design Industry actually comprise of? There are tons of sub-elements that revolve around the industry mostly Branding, Designing, Fonts, Mockups etc to name a few.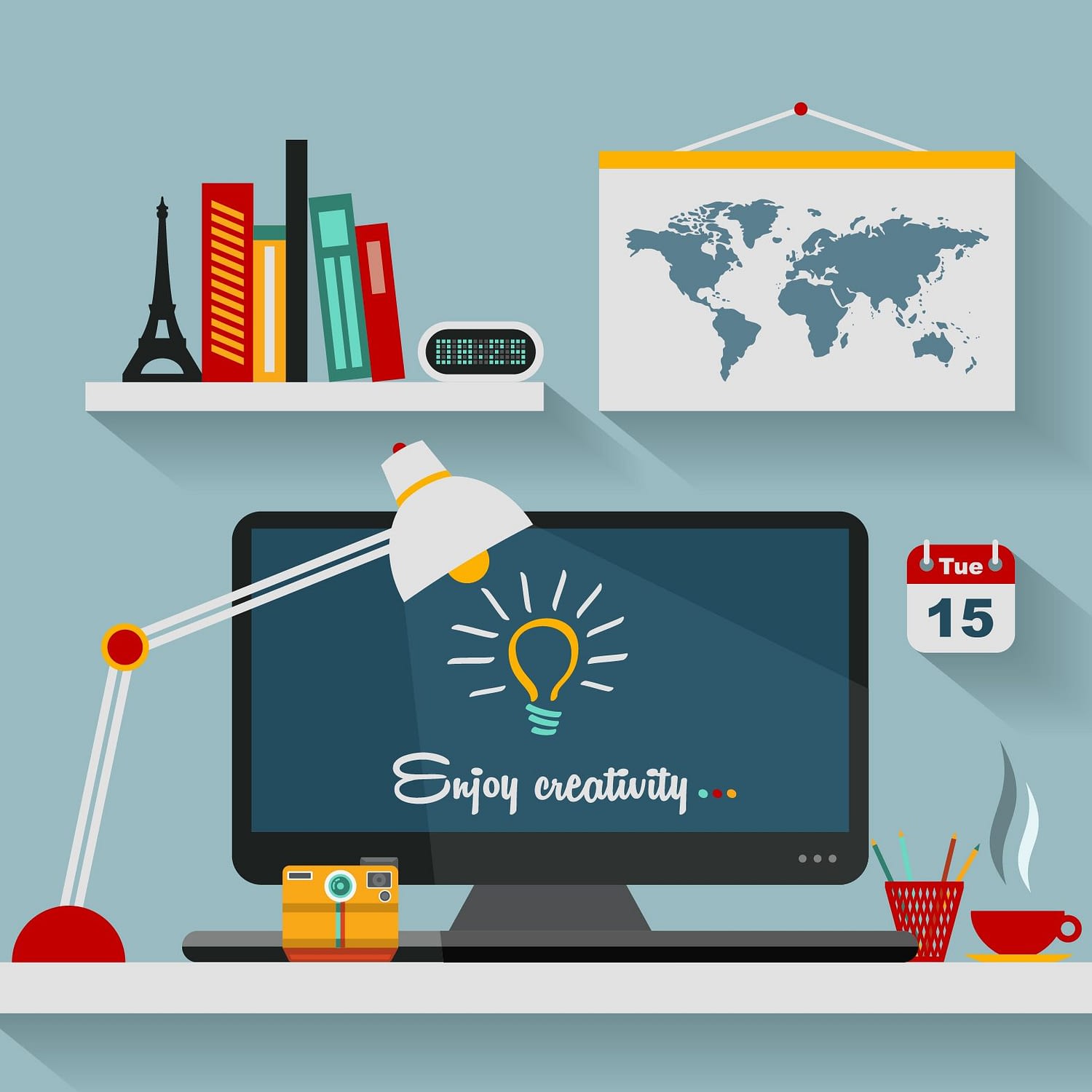 I (and maybe you too) often come around websites and brands whose amazing creative designs stimulate my motivation and inspire me to research more about it deeply.
Obviously, it is not possible for most of us to become a certified graphic designer or learn additional softwares such as Adobe Photoshop, Adobe Illustrator, Indesign etc. I really hate softwares and usually avoid them as much as I can and you can too if you are also like me.
Luckily, there are some stunning graphic design websites out there in the marketplace that provide mindblowing graphic resources designed by skilled community of professionals and are available at an affordable price.
I will be mentioning some of my favourite places to buy awesome Graphic Designs. Here are 6 of them:
1. Envato Elements
I have kept Envato Elements on the top of the list as it is one of the best go-to places for Bloggers, Web Designers and Creative/DIY marketers to find breath-taking graphic templates for any niche as well as occasions.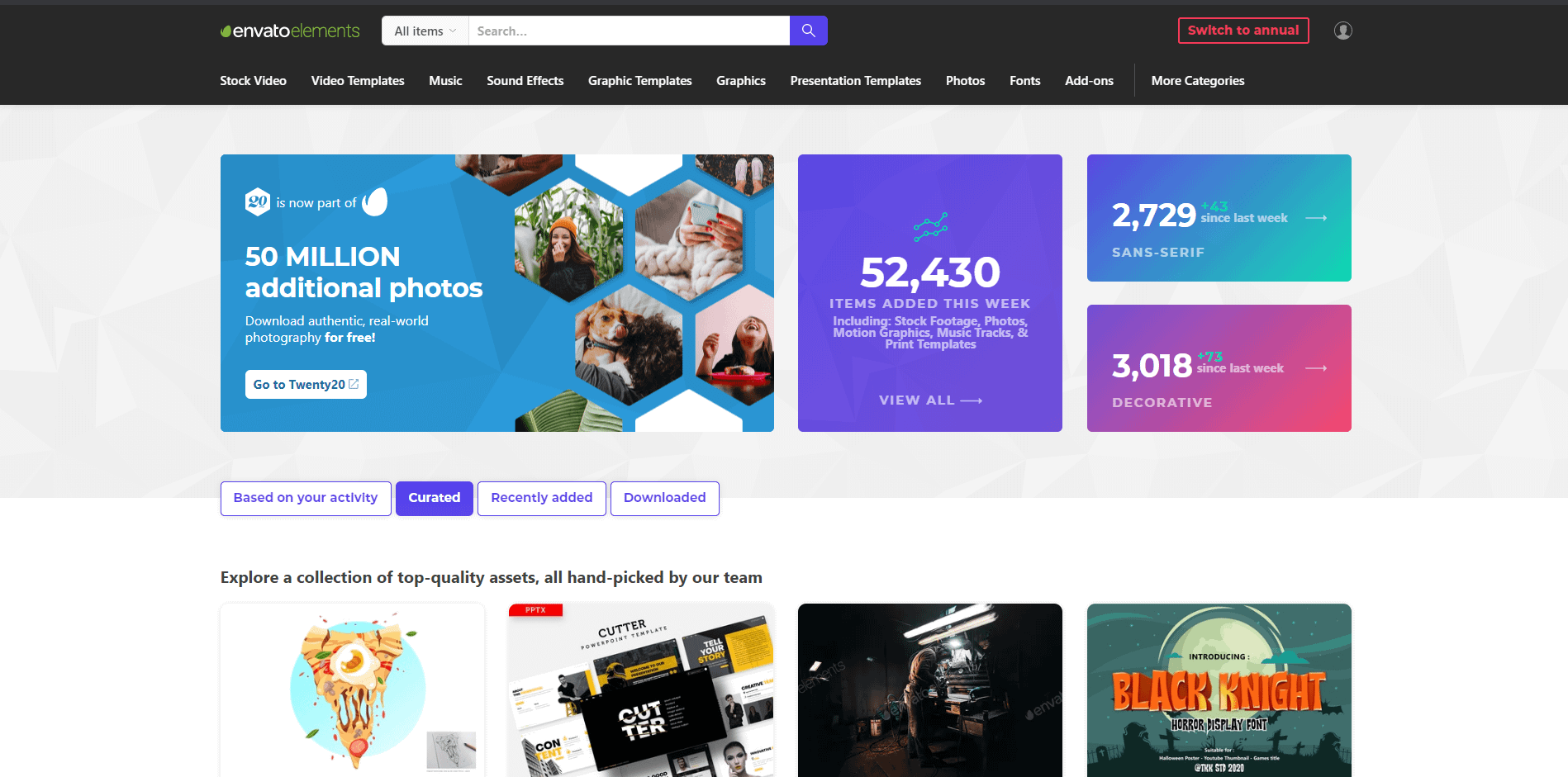 They have a wide selection of designs and templates such as:
Fonts
Stock Videos
Graphic Templates
Presentation Templates
Premium Photos
CMS Templates ( Shopify, Joomla etc)
WordPress Templates
and the list goes on…
I personally, am a fan of the product mockups as well as the Scene Generators section. Have a glimpse below.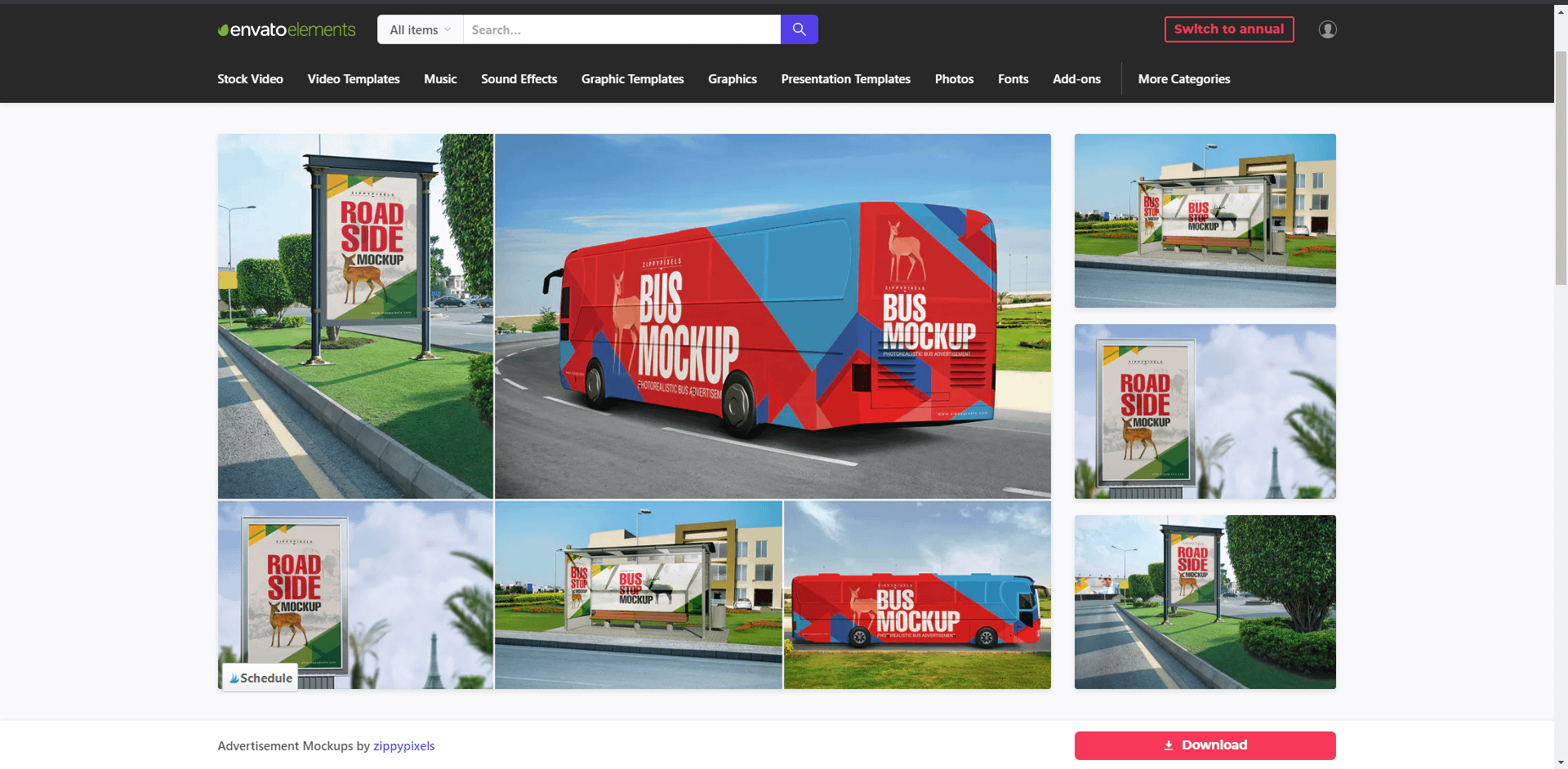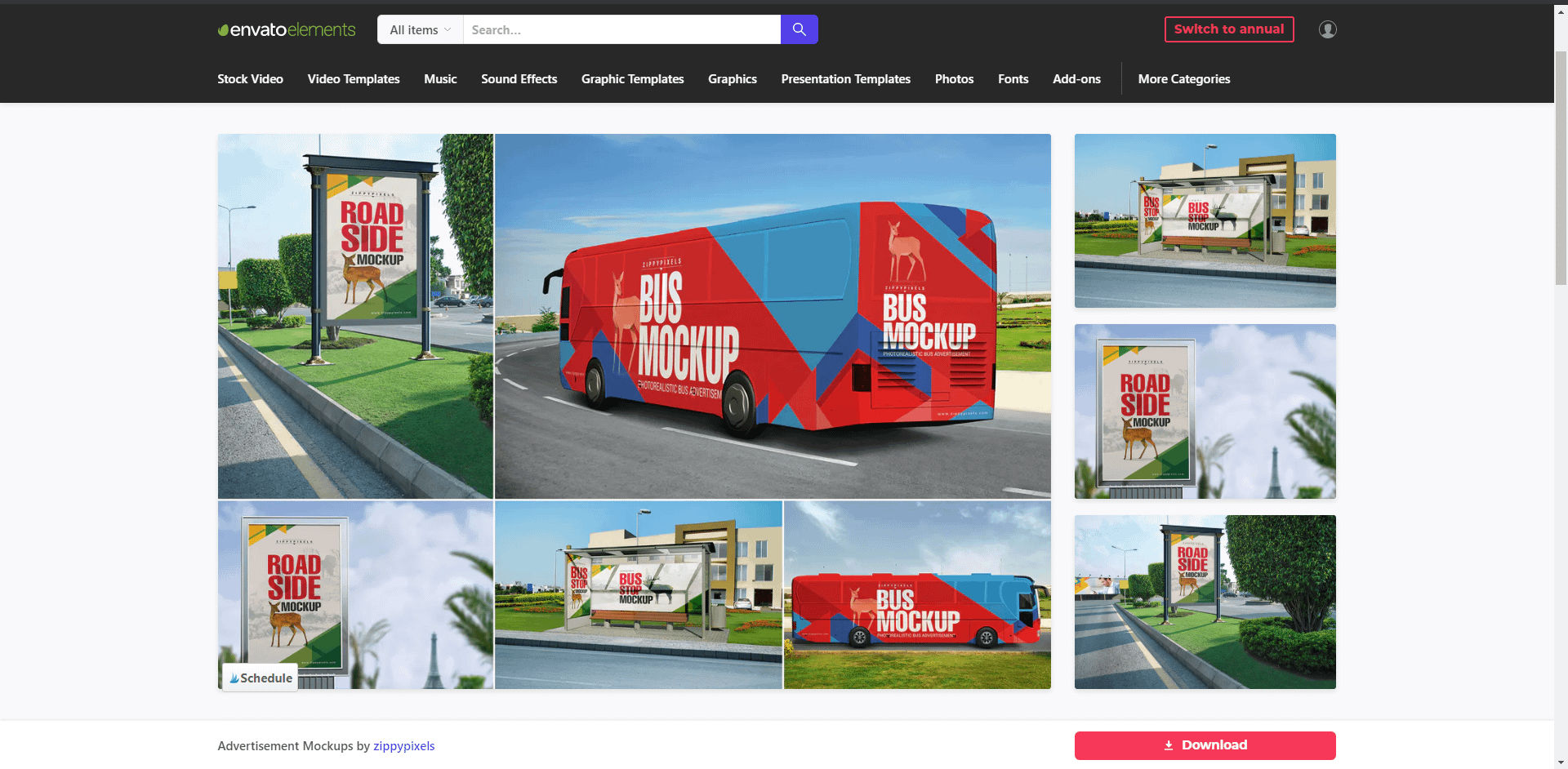 If you are in the Print On Demand/Ecommerce niche and are looking for some professional mockups, or you sell DIY Crafts like invitations, games, baby showers etc. you must check out Envato Elements for next level professional designs.
Envato Elements has two types of subscriptions – Monthly and Annual.
Monthly pricing is around 33$/ month whereas Annual pricing is for 16$/ month (upto 50% saving than monthly subscription).
If you are a student like me and want a student discount offer, then you can get it from here.
2. Creative Fabrica
The second best website is CreativeFabrica.com.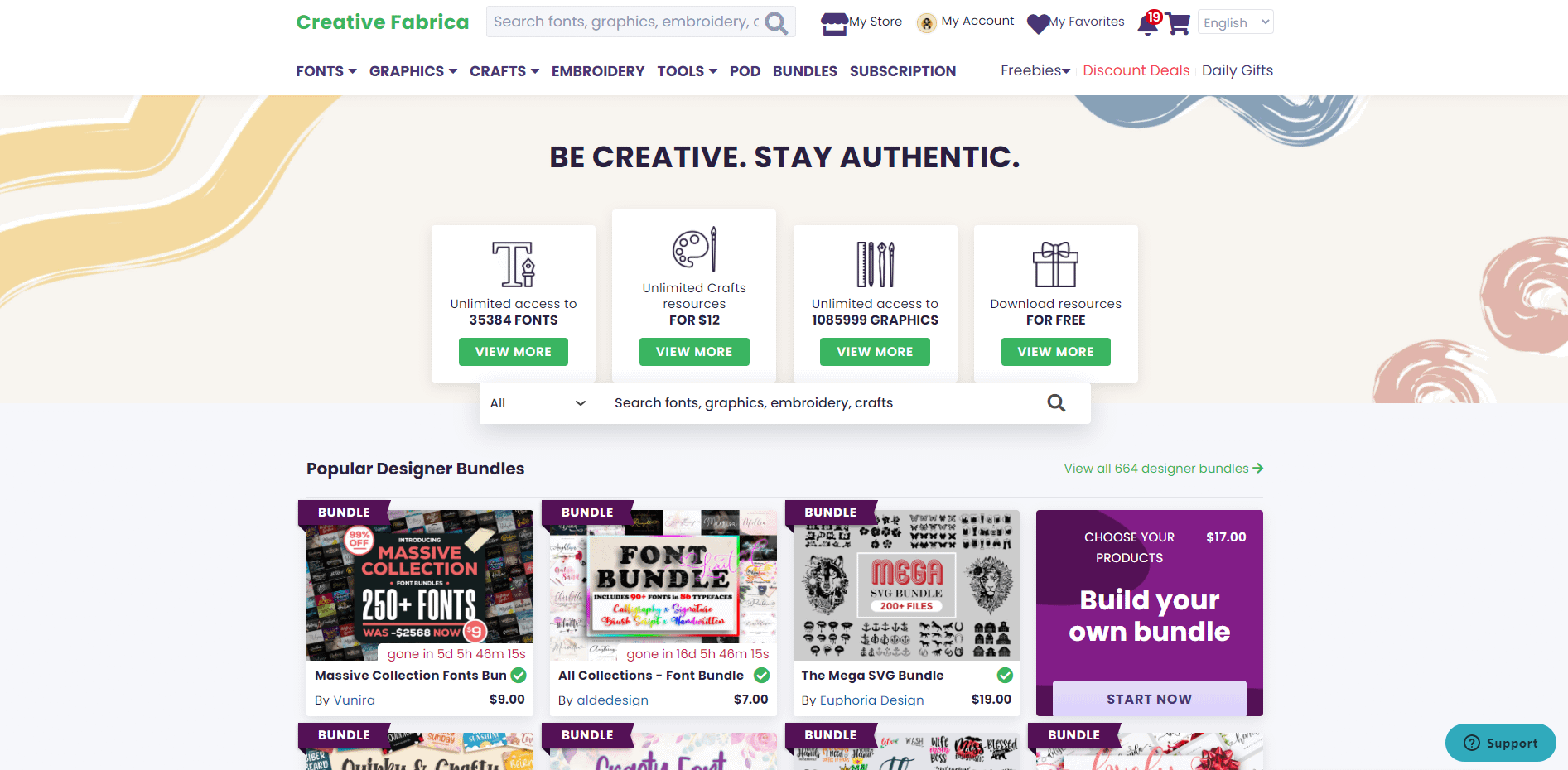 If you are looking for awesome Premium fonts, Backgrounds, SVG'S and other useful graphics at an extremely affordable price, Creative Fabrica will provide those to you.
Although Creative Fabrica has emerged as a new marketplace, and does not have much professional content as Envato Elements, still it maintains it's quality and reputation in the market.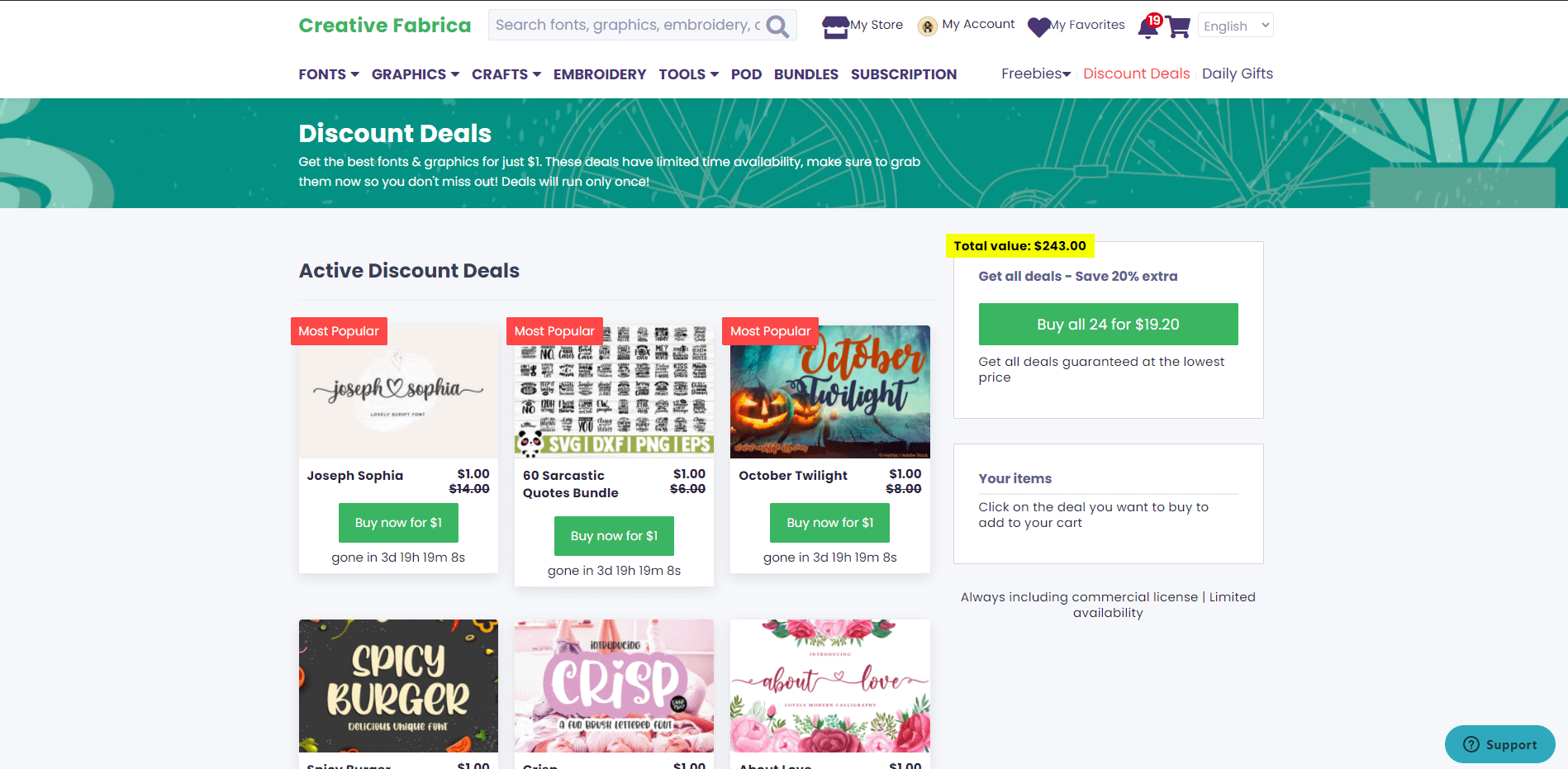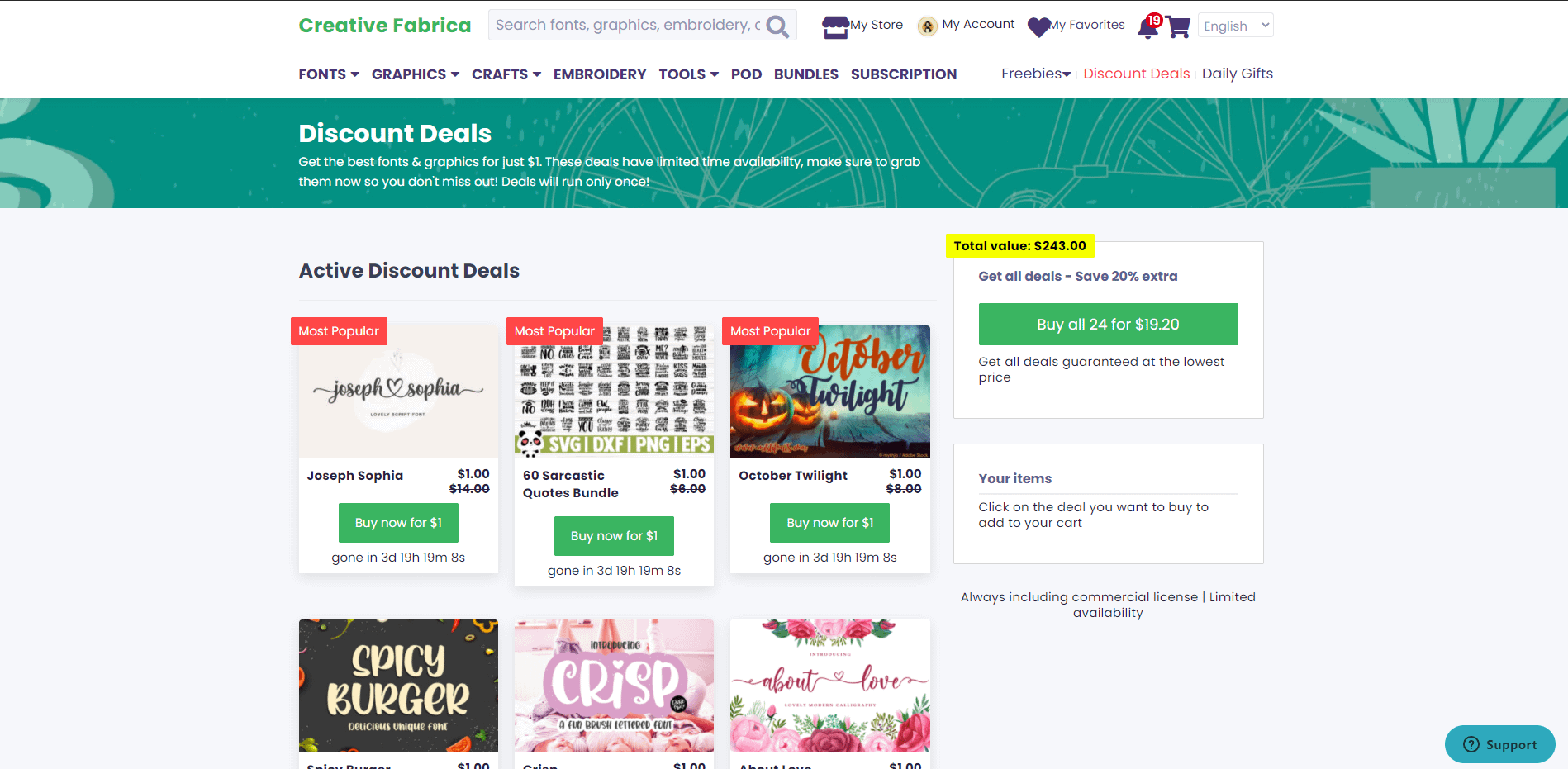 One thing that I like about Creative Fabrica the most is that they have regular promotions and deals priced as low as 1$! These include exclusive bundles of more than 100+ premium fonts as well as graphic templates and craft SVG's.
If you promote seasonal offers (festivals like Christmas, Halloween, Easter etc) Creative Fabrica is the prime location for your needs.
The pricing range of Creative Fabrica is quite similar to Envato Elements. However they offer only monthly pricing plans rather than annual subscriptions. Check out the plans in the image below: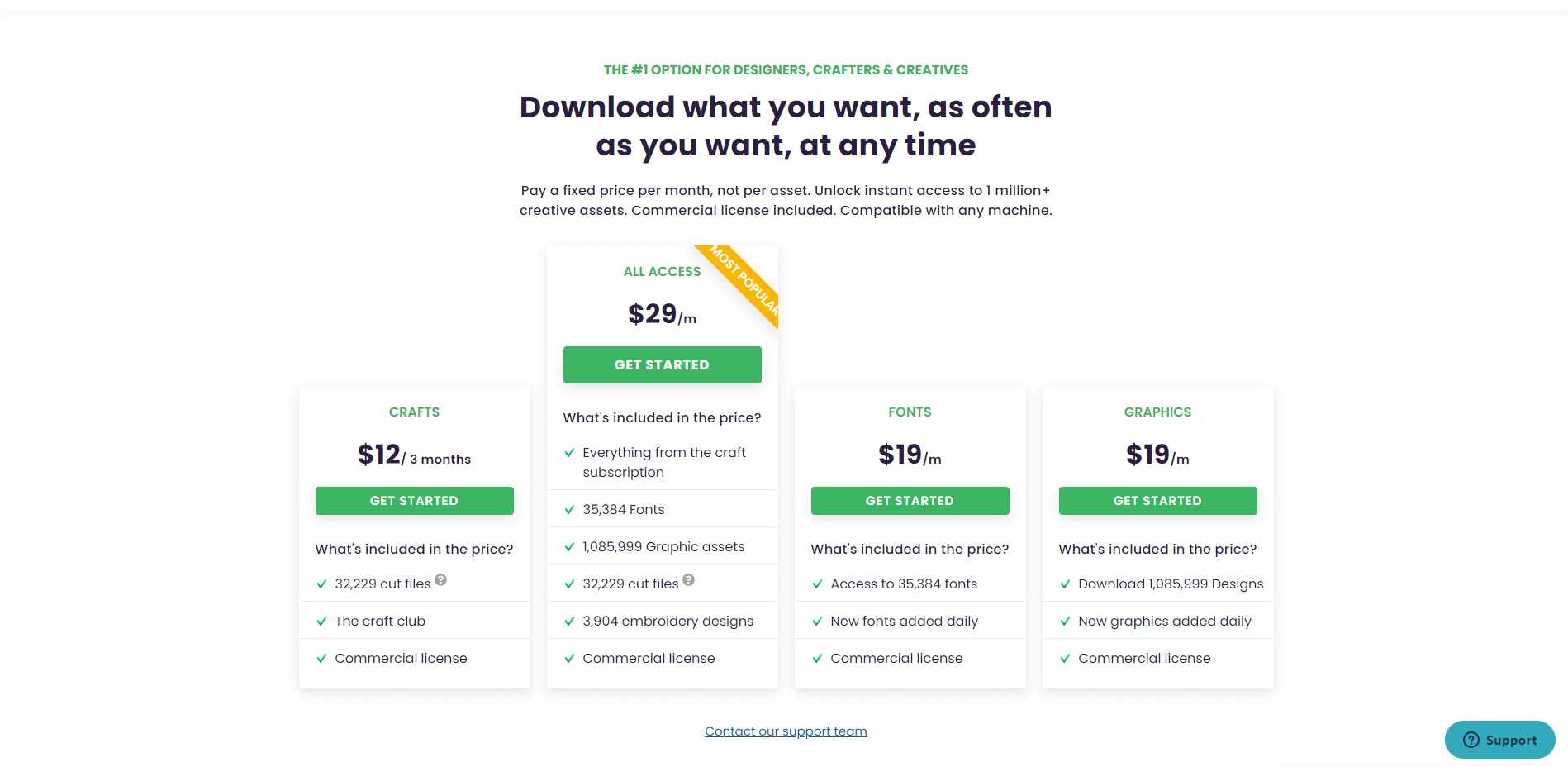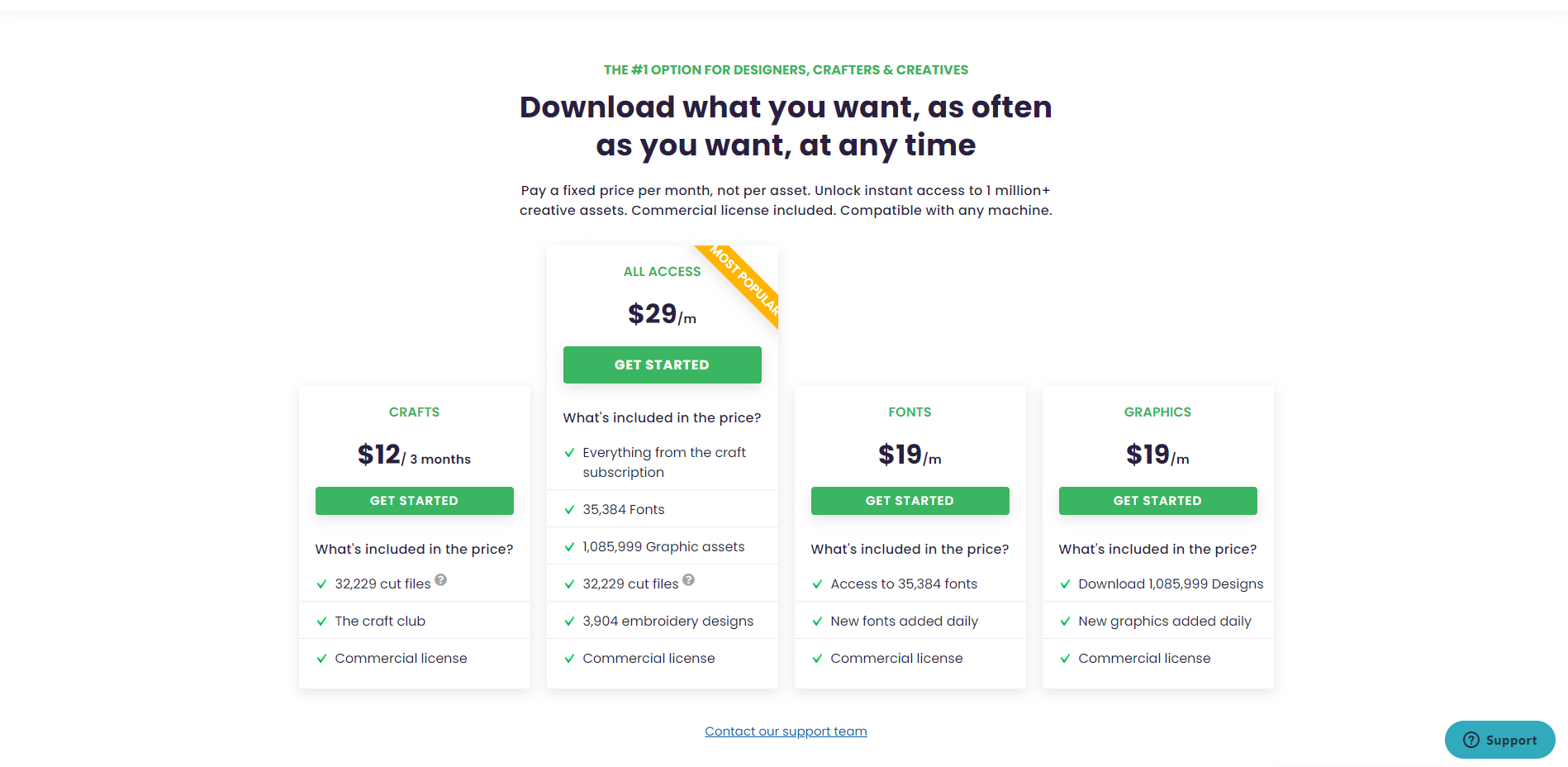 If you are a skilled and passionate Designer who wants to spread out his/her designs to online marketplaces and earn some side money, selling on Creative Fabrica can be the first and the best choice. You can apply to open a shop here.
3. Creative Market
Creative Market is an established marketplace of premium graphic designs and templates contributed by professional, talented as well as experienced Designers.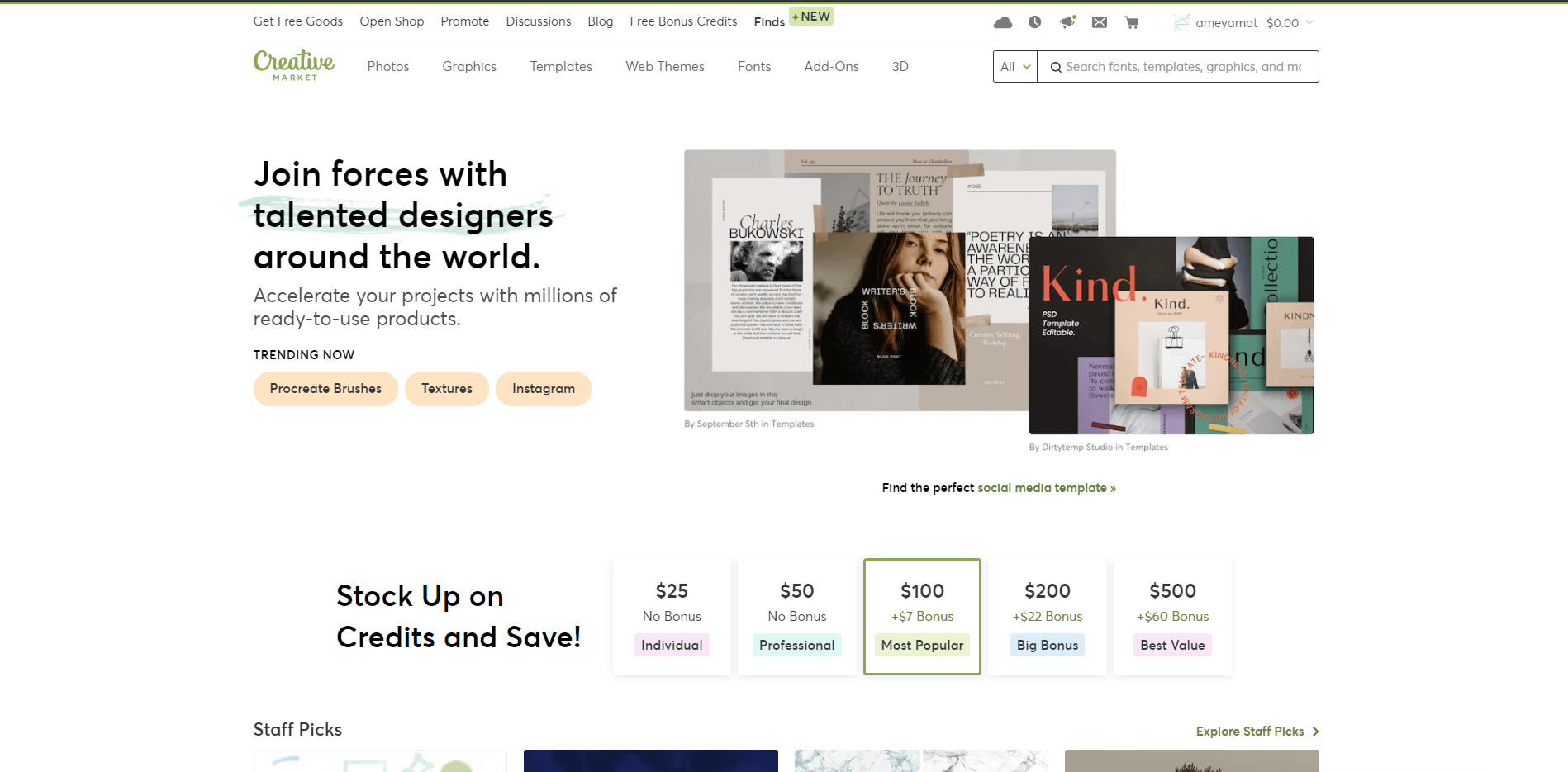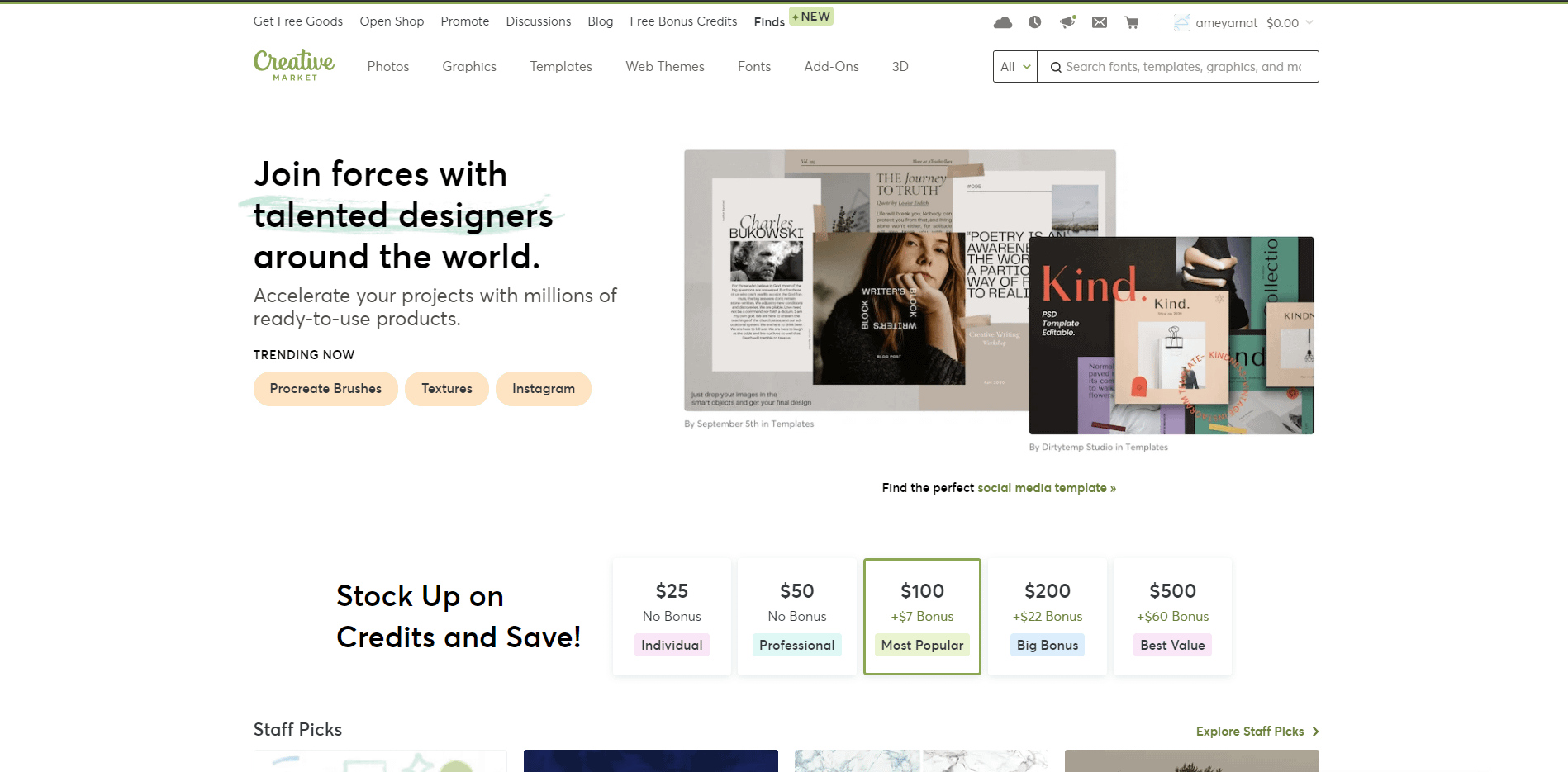 Bloggers like me often spend a lot of time hovering over breath-taking visual graphics available at reasonable prices.
The best thing about Creative Market is that visitors can explore from a wide range of products from banners, flyers, Canva templates, fonts, web themes etc.
Unfortunately Creative Market doesn't offer subscriptions thus leaving individual purchases the only option for customers.
Powered by Creative Market
However they offer some free goodies every week and also give a chance to earn more of them.
I suggest you to follow their blog where they provide quite impressive tips and tricks on topics like Business, Inspiration, Tutorials etc.
Check out the Creative Market blog here.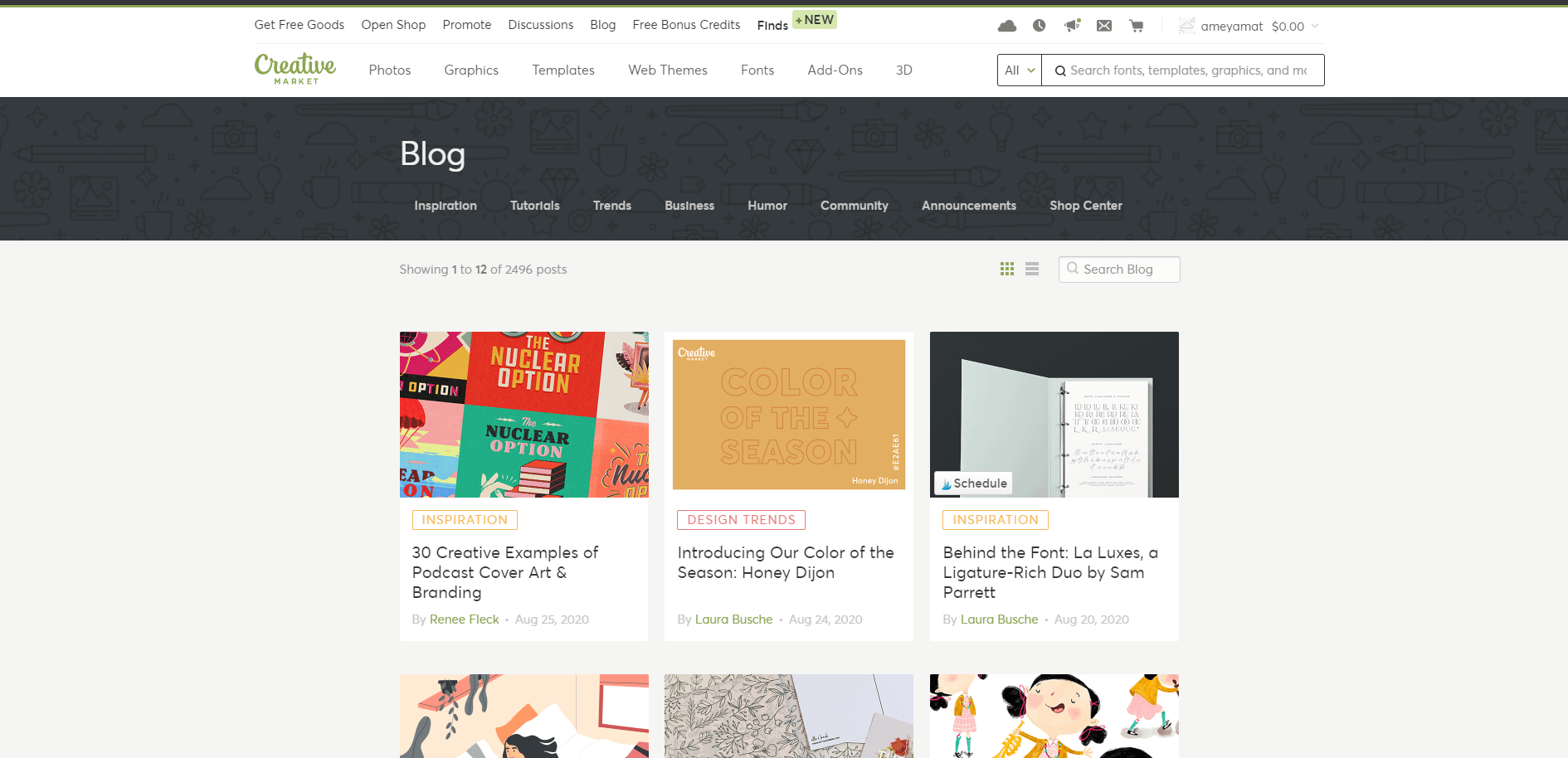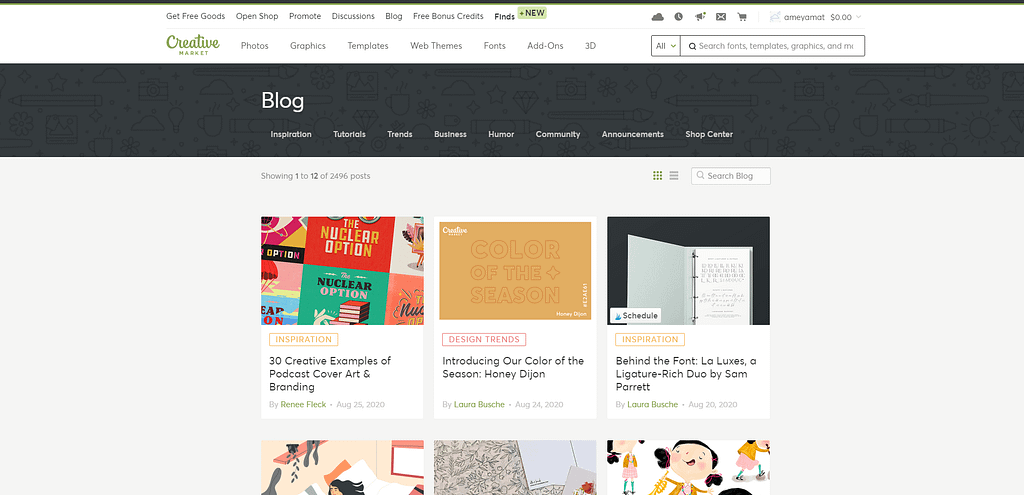 Again, if you wish to open a shop and sell your designs on Creative Market, you can request an invite over here.
Creative Market is quite strict in terms so make sure to have a strong portfolio and a great description about yourself before sending the invite.
4. Font Bundles
FontBundles offer the highest quality premium and free fonts from independent artists and designers. They claim to offer savings of up to 96% off fonts on a regular basis.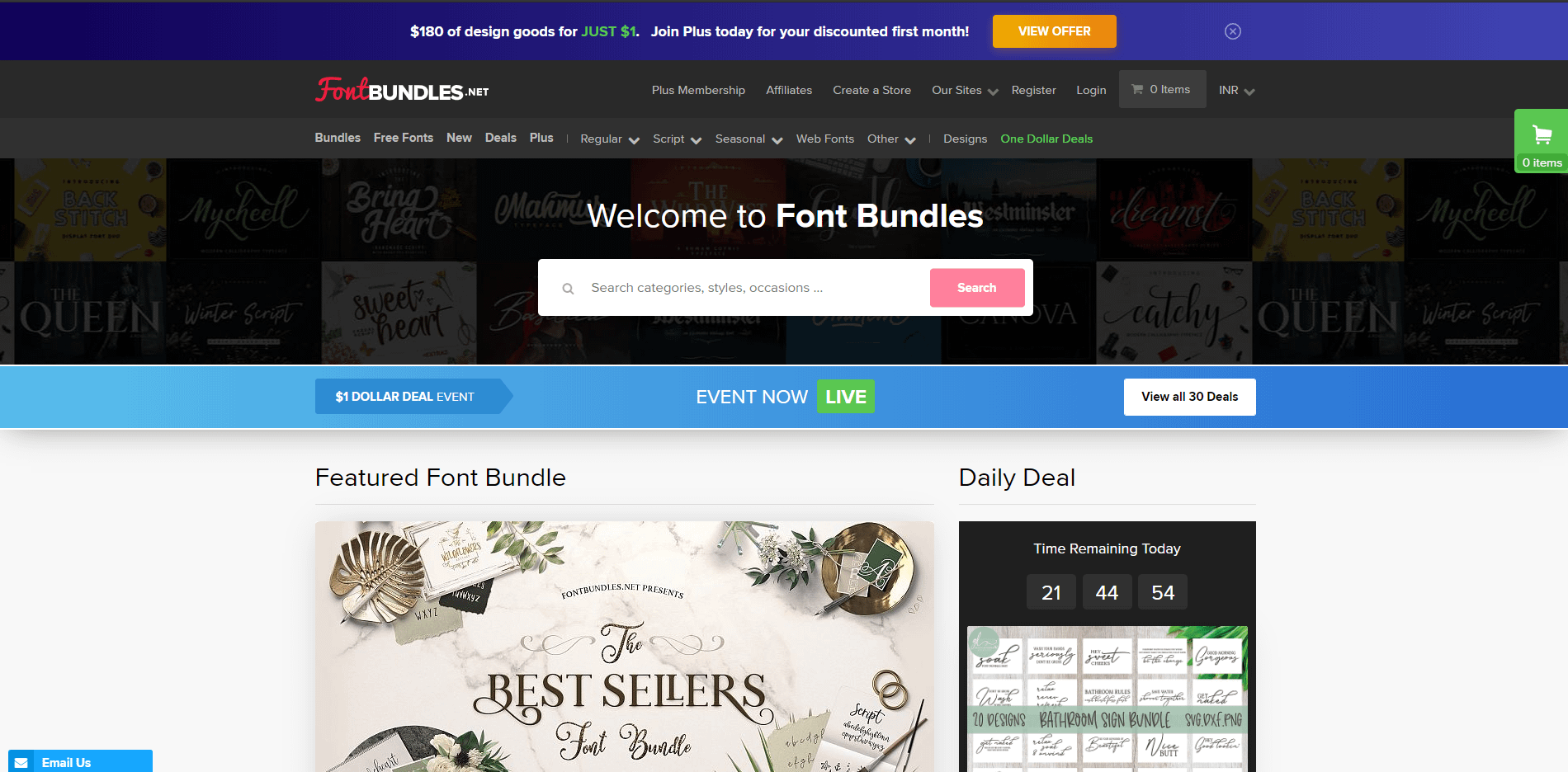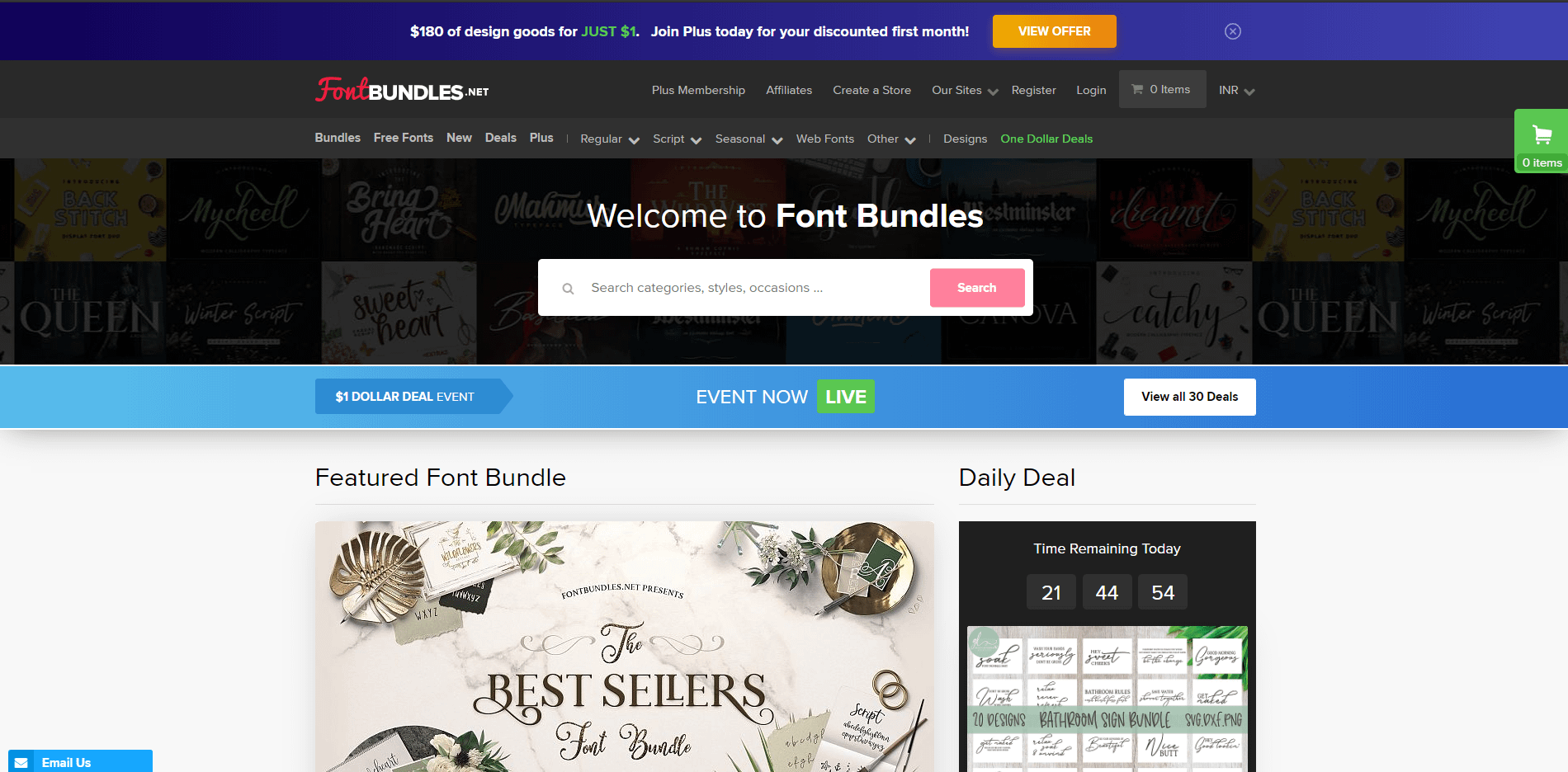 FontBundles is quite similar to Creative Market in terms of quality and professionalism. Also, they do not offer any monthly or annual subscription for unlimited downloads.
However they do have a plus membership where they offer access to 19,056 exclusive products with Commercial Use along with some additional benefits.
If you are into designing fonts, you might wish to open a shop here.
5. Design Bundles
Design Bundles is the sister website of Font Bundles and it is where you will find elite and exclusive graphics, backgrounds, texture, patterns etc. at affordable prices.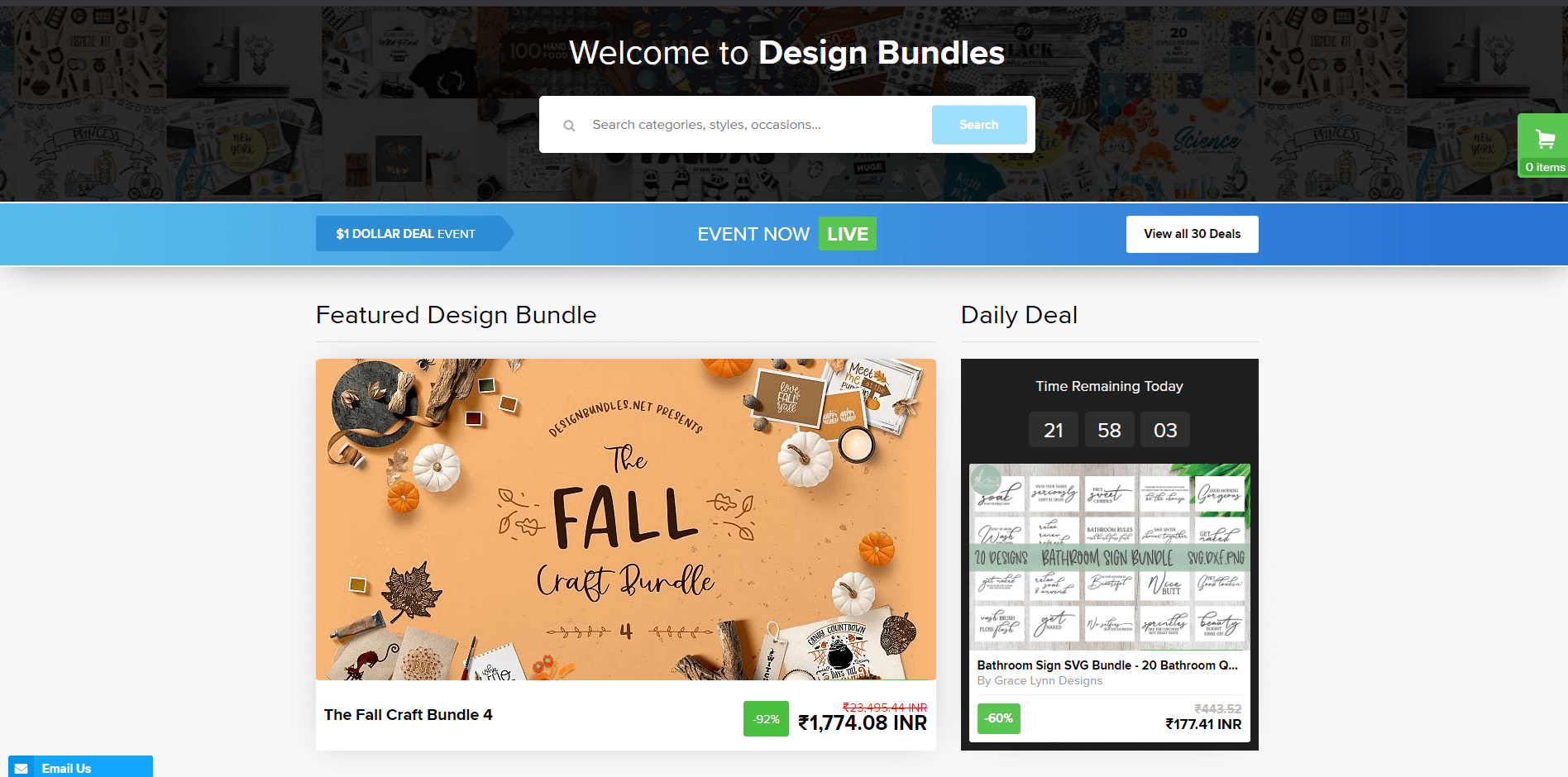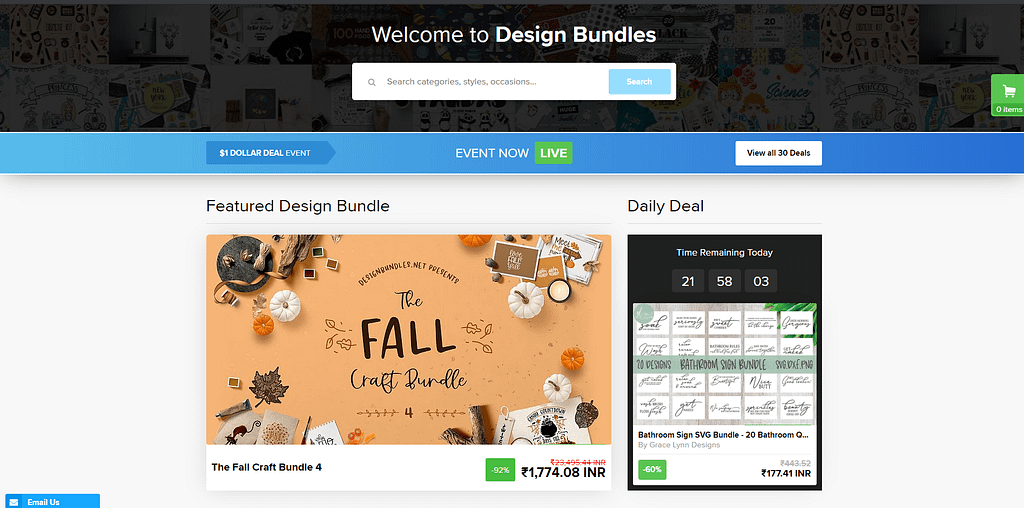 Since Font Bundles and Design Bundles are inter-related to each other, they work in a similar patter. Design Bundles too has a Plus membership with access to VIP benefits.
They often run limited time deals on various designs and bundles. Moreover, they also provide free graphic designs every week for first time users.
Check out Design Bundles and grab free goodies over here.
6. Design Cuts
Another website that I want to share with you is Design Cuts. Although Design Cuts do not have so much popularity, still most bloggers and designers prefer it for elite design resources.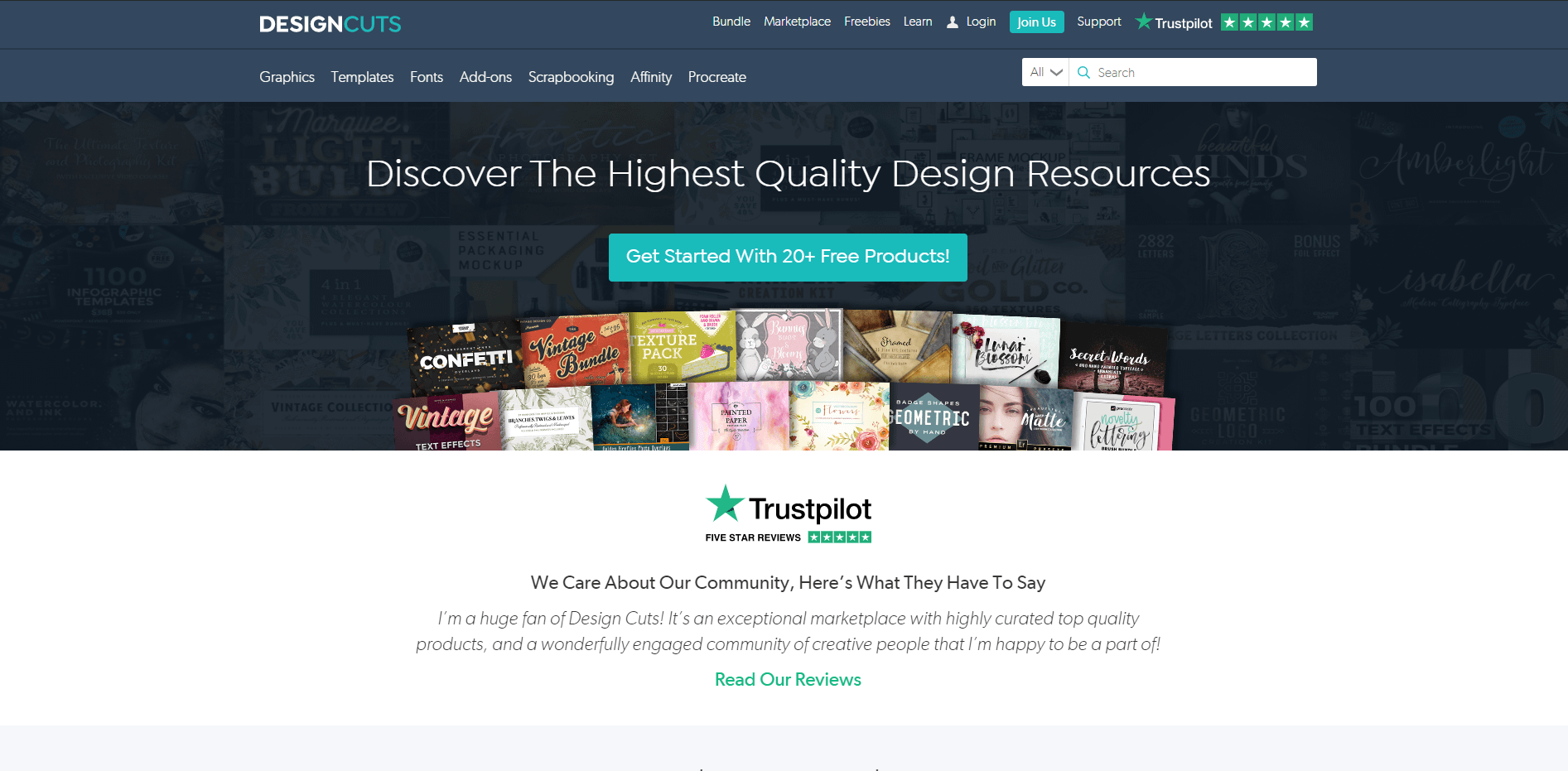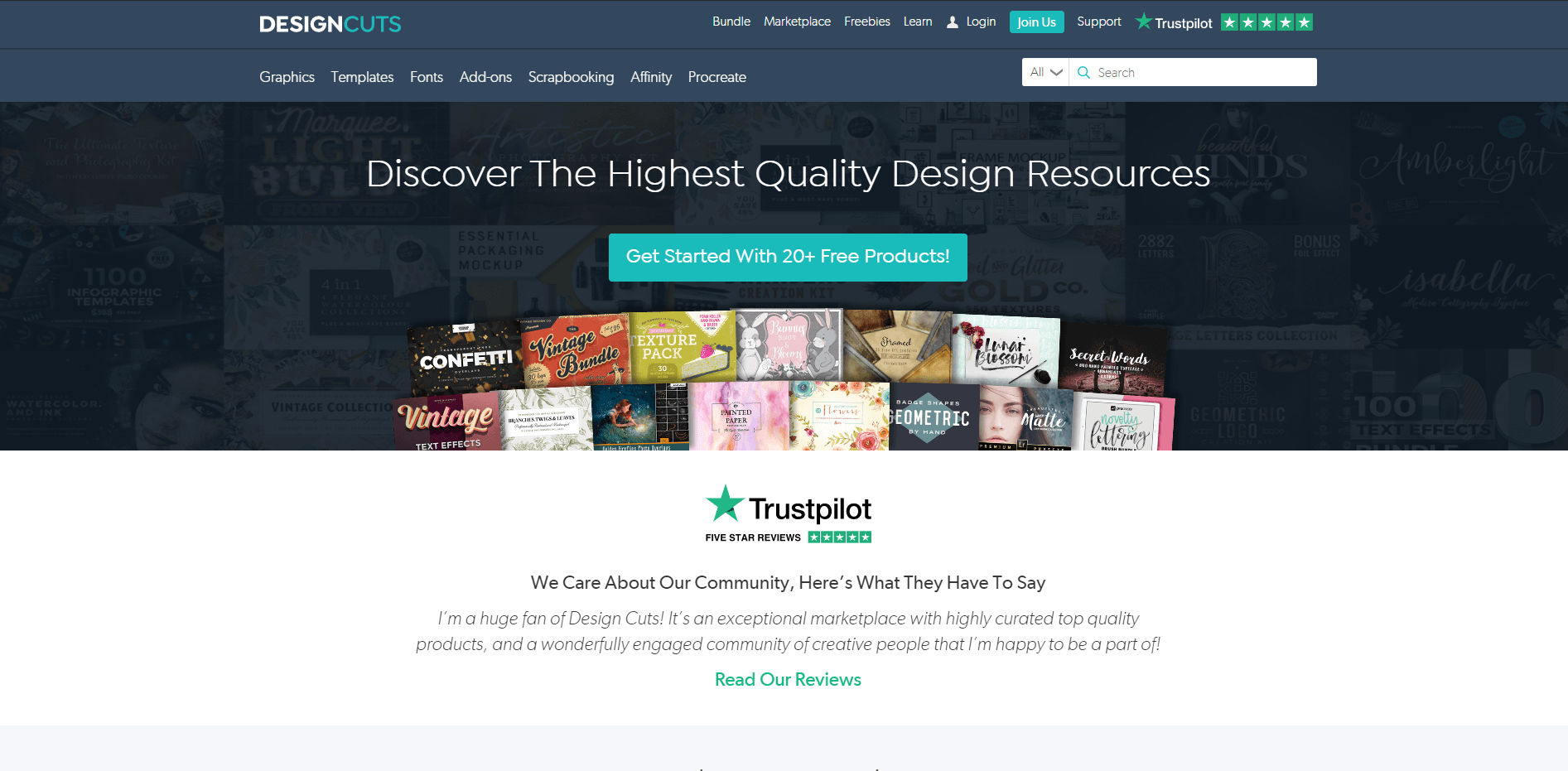 I am a great fan of their lightroom presets and brush effects. Moreover they offer Free assets to new subscribers and add on new free products to it every week! Quite Impressive.
Grab the free assets here.
Design Cuts sells only one bundle but that is the ultimate version of all the bundles out there in the marketplace!
The one single inspiring bundle consists of best-selling artistic design resources from around the world having tons of variety along with a massive 98% off the RRP! At the time of writing this post, this bundle is the one being offered for a limited time.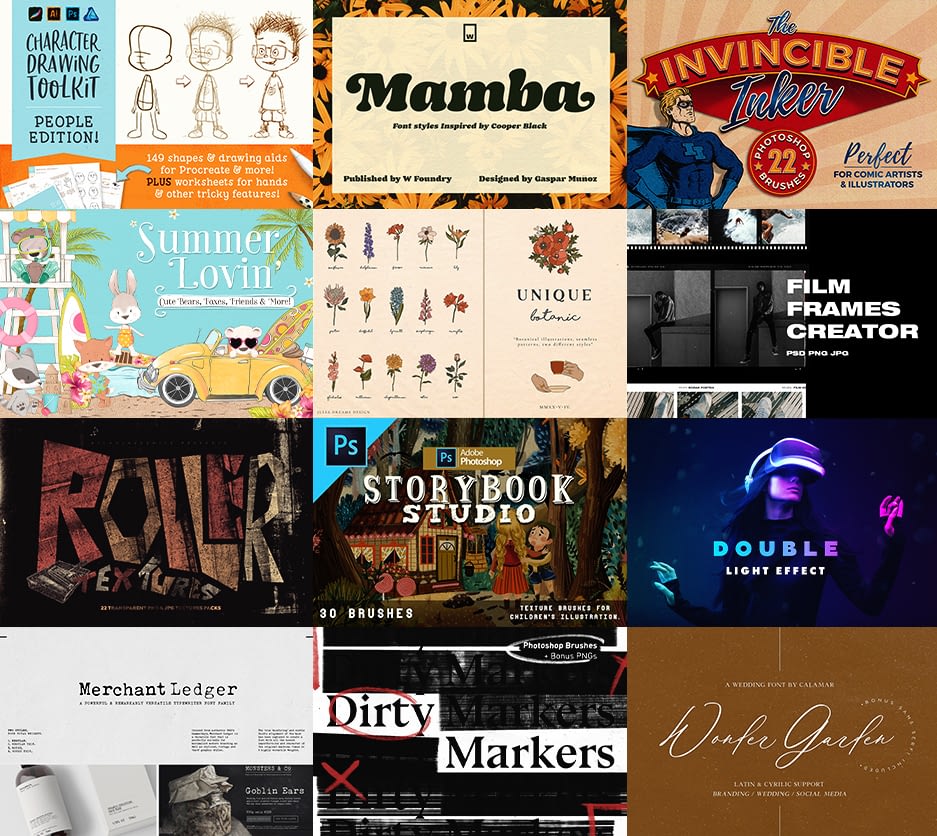 Check out the full bundle here.
7. The Hungry Jpeg
The final website I want to mention in this post is The Hungry Jpeg. This website is very similar to the ones mentioned above however it hasen't gained much popularity in the market yet.
The Hungry Jpeg sells both fonts as well as all other types of graphic designs at a reasonable price. If you have a limited budget and still want some good looking premium stuff at low prices, this is the place for you.
Just like other websites and marketplaces, The Hungry Jpeg also offers Bundles, $1 deals as well as freebies. Grab the freebies over here.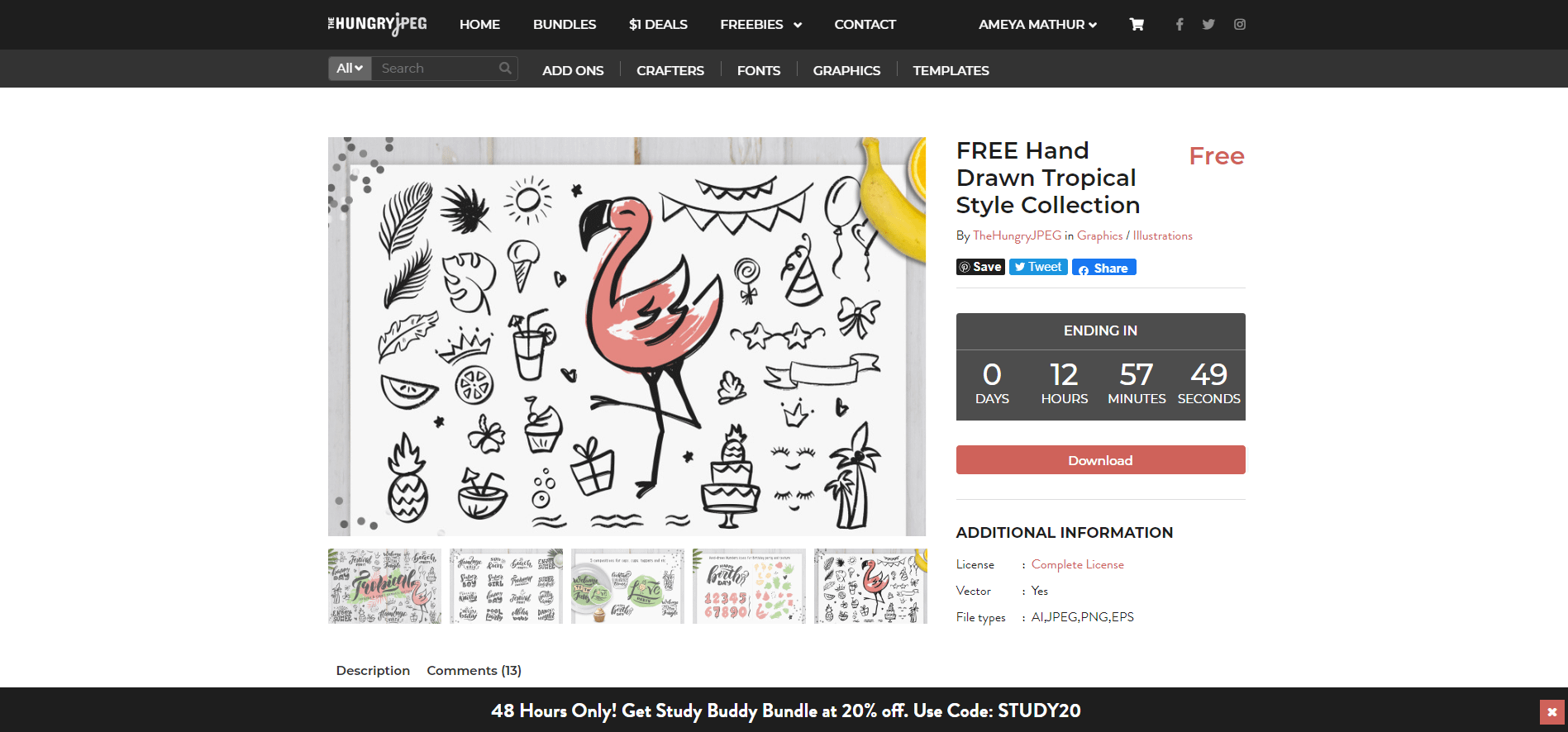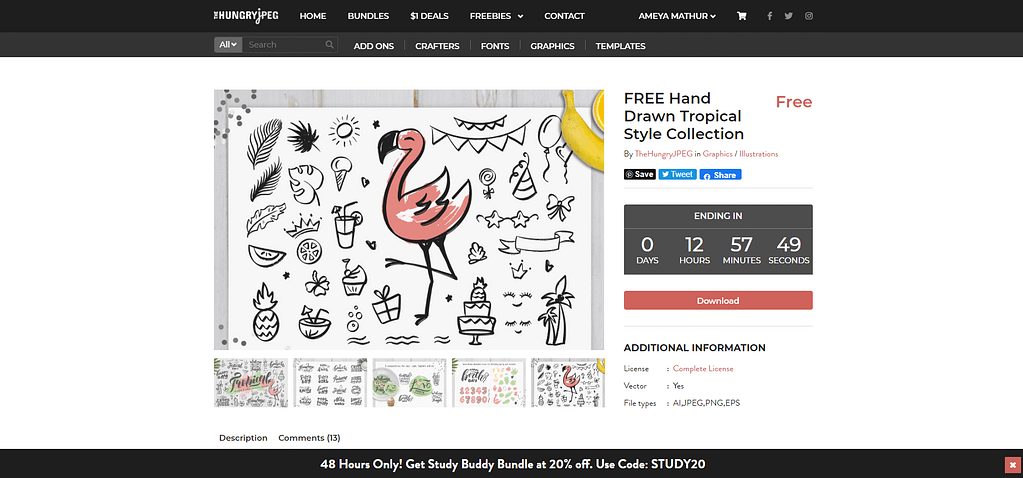 The $1 deals consists of premium fonts, graphics packs and design templates all available for only $1 with commercial licenses. These deals run every month with new and updated products.
Explore the $1 deals and awesome bundles here.
Also read:
So that's all for this post. If you have any questions regarding this post, you can ask it in the comments section and I will try to reply to each one 🙂
P.S this post may be updated in the future so make sure to bookmark this post and keep an eye on it!