Traffic is the life-line of blogging.
And what's better than Facebook Groups when it comes to free traffic?
Facebook Groups are basically groups of individuals with similar interests. For example, Blogging… to say.
This post is dedicated to Facebook groups, why the're helpful for bloggers, how to identify an ideal facebook group.
( If you don't have a blog yet, you really need one! Blogging opens up enormous opportunities to earn passive income online just at the comfort of your home. You can have a blog up and running within an hour, for less than $5 per month. Read my how to start a blog guide to start one! )
Why Are Facebook Groups Helpful For Bloggers?
Facebook Groups prove to be great for bloggers due to the following reasons:
To grow your blog – The Facebook groups for bloggers are an opportunity to promote your blog. Daily/Weekly promo threads, answers to questions from other bloggers, re-pin threads; offer a perfect chance to start getting warm audience to your blog.
To engage with like minded bloggers – Facebook Groups can be worthy enough because here you get a chance to engage with other bloggers as a community, share thoughts and have various questions answered together. It's a real exposure for new bloggers.
For Support – Beginners and new bloggers often face quite a lot of difficulties during the blogging journey either due to technicalities or lack of experience. Facebook Groups can help you sort out your problems easily. Chances are someone in a Facebook Group knows the solution to your query and it's just a comment away!
What is an Ideal Facebook Group?
Its' really essential to analyze a Facebook group before joining it anytime. You have to make sure that you're getting the most out of them. Some ideal Facebook groups can really get you high quality warm traffic while some can just be a waste of time.
Ideal Facebook Groups:
Have Good Engagements – Obviously you won't choose a group where no is posting and seems as if a silent dessert.
Have Rules and Regulations – It is sometimes necessary to line out proper rules and regulations to avoid spamming and irrelevant sales stuff.
Have a Weekly Schedule – The admin is the main identity of a Facebook group. He/she needs to be constantly active and investing by posting every week. This increases group engagement and opportunities to get more blog traffic.
Have Well Monitoring – You should check if the rules and regulations mentioned are actually followed by the group members as there is no point of joining groups without strict actions. This ensures a clean and friendly environment in the Facebook group away from any irrelevant selling or spamming.
List Of Facebook Groups For All Bloggers
Following the points to analyze an ideal group, you are now ready to join these Groups and boost your traffic and authority.
The list of 30 Facebook Groups for bloggers are mentioned here:
How To Join These Facebook Groups?
As soon as you visit a Facebook Group, click the "+ Join Group" button. See below for reference.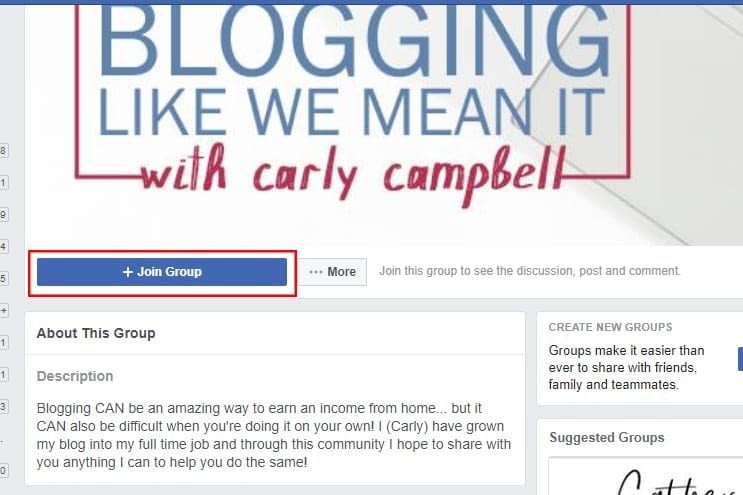 Although there are no more requirements are as such, still some groups have you fill a form before joining it. This is done mostly to ensure that only true and real people are a member of the group.
What To Analyse Before Joining A Group?
The description is the little info about the group, their rules and regulations, weekly schedules or promo threads if they have etc.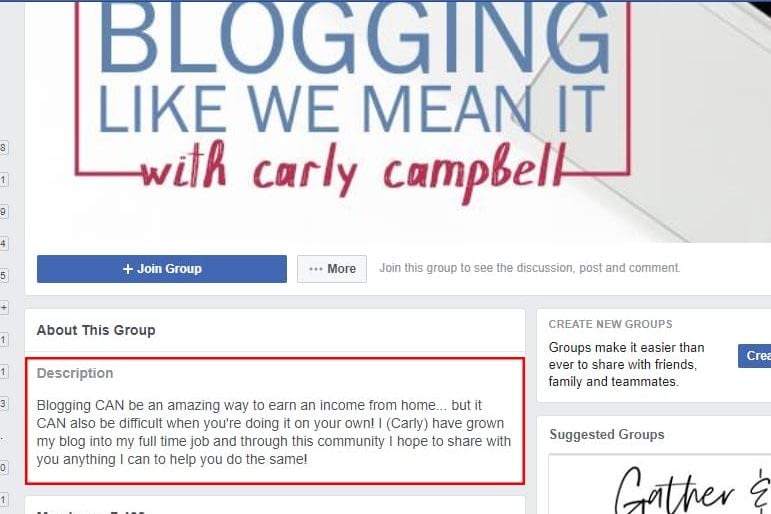 This is the first and foremost thing you should check as it gives you an idea about the group and its quality of audience.
Also make sure to follow the group's rules and regulations so that everything goes on smoothly on your side.
Let's check out some other factors to see if the group is worthful enough or not.
Search The Admins and Moderators Section
A Facebook Group having many admins and moderators indicates that the group is a busy one and well running.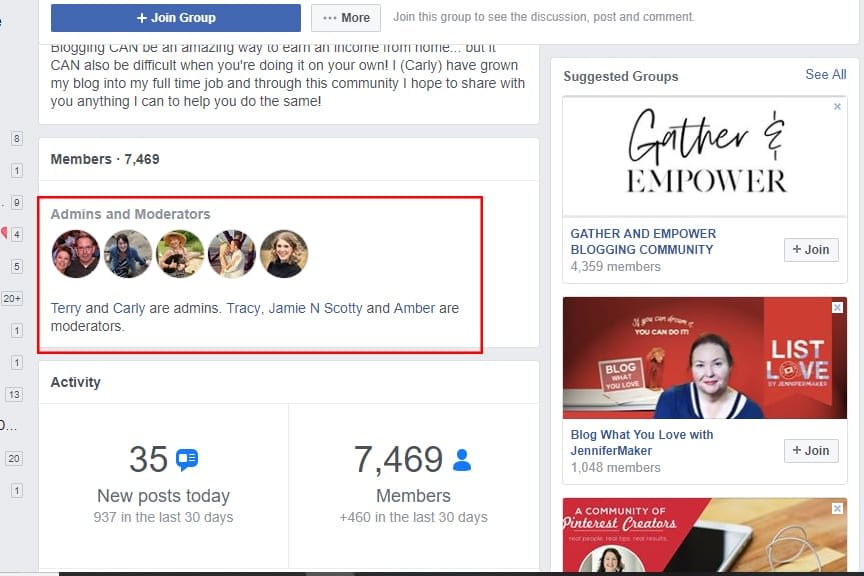 Have a Glimpse at the Activity Section
The stats here give you an idea about the engagement level in the group.
Check the Number of Members On the Right Side
Not always, greater is better. If you won't to engage really well, I won't suggest you to join very large groups.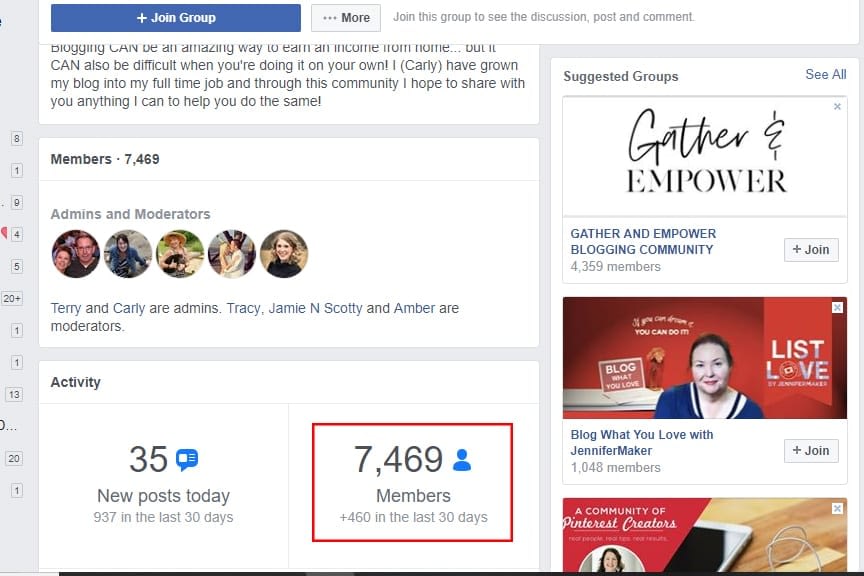 Smaller numbers work better often. Just take it like this: 100 Stars or 1 Moon.
Check the Number of New Posts On the Left Hand Side
It's pretty obvious to see that if a group is having huge number of posts every month, it is busy one!
This gives a clear idea that the group members are really engaging and making the group quite active.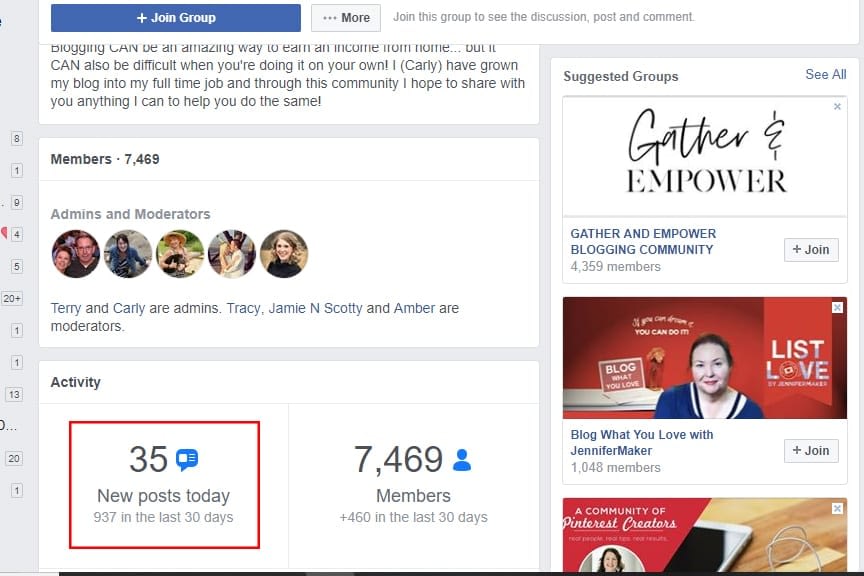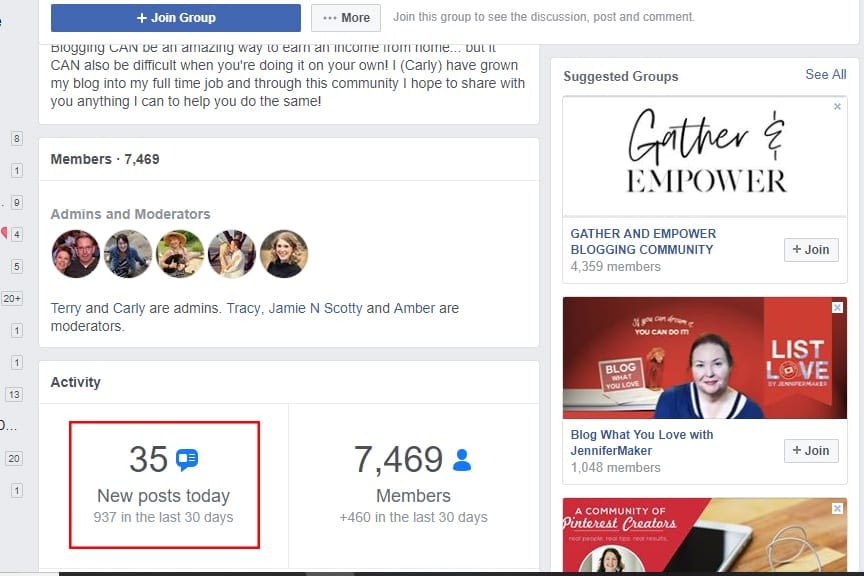 Still very high numbers are also not so good because it sometimes becomes difficult to keep a track and everything seems messed up.
Look at the other Suggested Groups
These are some good groups recommended by Facebook to join.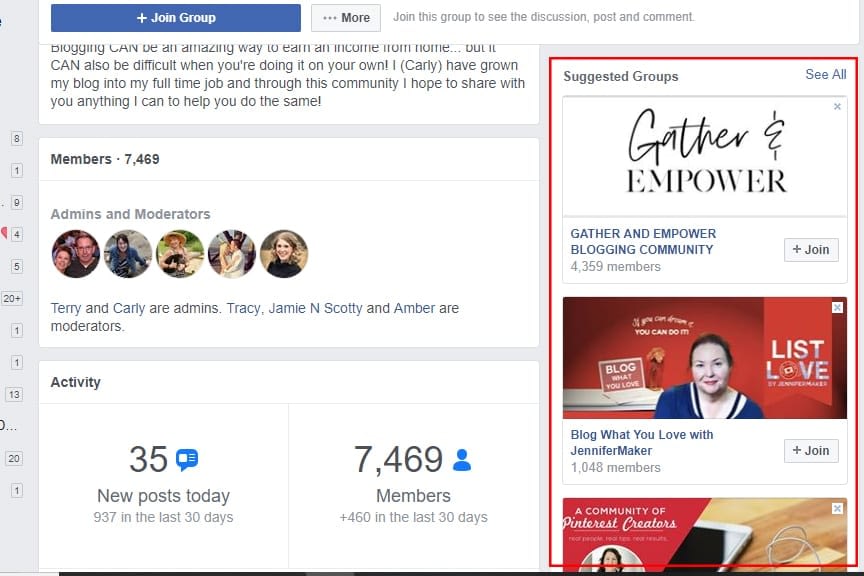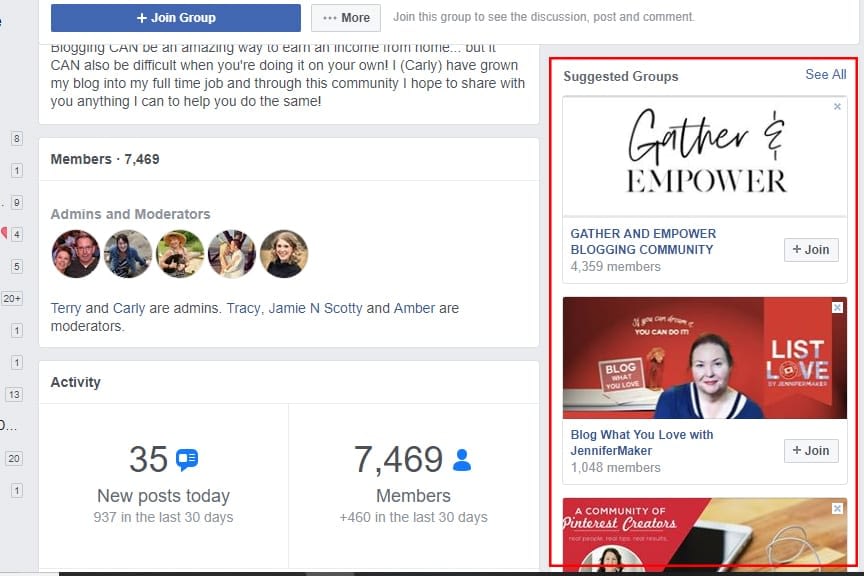 Check around to see if these groups are worth your time and whether you should join them or not.
How Many Facebook Groups To Join?
That's totally on your side. If you are very active on Facebook you can join upto 8-10 groups. You need to manage your time to comment, participate in promo threads etc. in order to attain the maximum output from the group.
However if you are not active on Facebook, I would suggest you to join 5-6 groups or less. In this way you can easily track and manage the groups and engage quite well.
Joining too many groups will make you off the track.
What If You Don't Get Accepted To A Facebook Group?
Nothing to worry about. Don't take it personally, rather move on. There might be many reasons behind this rejection so it's better to keep applying to other groups than to waste time on that group.
Also, sometimes if you join a group today, the admins may accept you after weeks. This shows that the admin is not so active and engaging and hence it is better not to be a part of the group.
You should apply to two to three groups at a time and wait for them to accept you. After analysing deeply you can decide which ones are worth your time.
With this I wrap up this post and if you liked this post make sure to share and comment!
Ask any questions or queries you have, I am there to help you 😊
See You Soon!